I posted about having a college age kid recently. I'm in my early 40s. To think I gave birth to my first child at 26. Whether I like it or not, in several years I will be 50. By then, what would life be like? Much as I'd like to stay at this age forever and ever, it's not possible is it? I'm just thankful I have no maintaining meds yet. I guess being a picky eater since childhood has benefited me somehow. When I reach the age of 50, I'd like to still be able to do the things I'm doing now.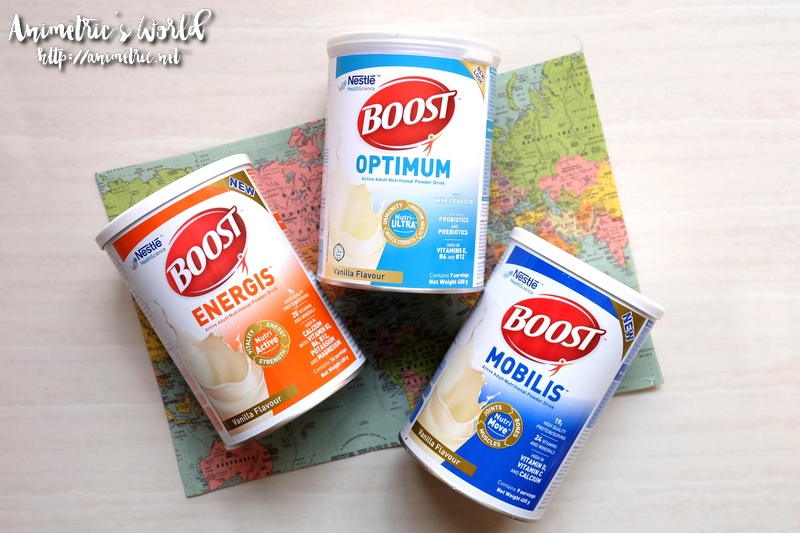 Here comes Nestle Boost, a nutritional powdered supplement drink especially formulated for people aged 50 and up. Nestle Boost addresses their nutritional needs so they can get the most out of life. Research shows that special nutrition may help manage the normal changes our bodies go through during life. Older people tend to eat less. That said, they may not be getting the nutrition they need. Nestle Boost is a nutritional supplement that can help them stay healthy and active.
There are 3 variants with very specific properties:
Optimum (P1,560 for 800g / P797 for 400g) – This enhances immunity, digestive health, and muscle strength.
Energis (P595 for 480g) – This enhances vitality, energy, and strength.
Mobilis (P595 for 405g) – This ensures that joints, bones, and muscles are ready to move with ease.
My mother-in-law who's 70+ would always buy this supplement called Move Free from the US. She says it helps her be mobile because when she takes it, her joints don't feel stiff. I'm guessing Nestle Boost Mobilis will have this effect. Since I'm several years away from 50, I gave my Boost loot to my mother-in-law.
Nestle Boost is very easy to prepare. Simply add water and it's ready to drink! It's recommended that Boost be taken 1-2x a day as part of a balanced diet. It's great as a snack in-between meals. I tried a glass and it has a nice vanilla taste that's not overly sweet.
Nestle Boost is available at Mercury Drugstore. If you'd like the convenience of having these products delivered to your doorstep, e-mail nestlehomecare@rbc-mdc.com.
Like this post? Subscribe to this blog by clicking HERE.
Let's stay connected: