I got the call while we were having lunch at Robinsons Magnolia. My paternal grandfather (or Kong Kong in Chinese) passed away today. He was 95 years old, born in the Year of the Rooster. He had been getting sick more often. He had been in and out of the hospital a lot this year.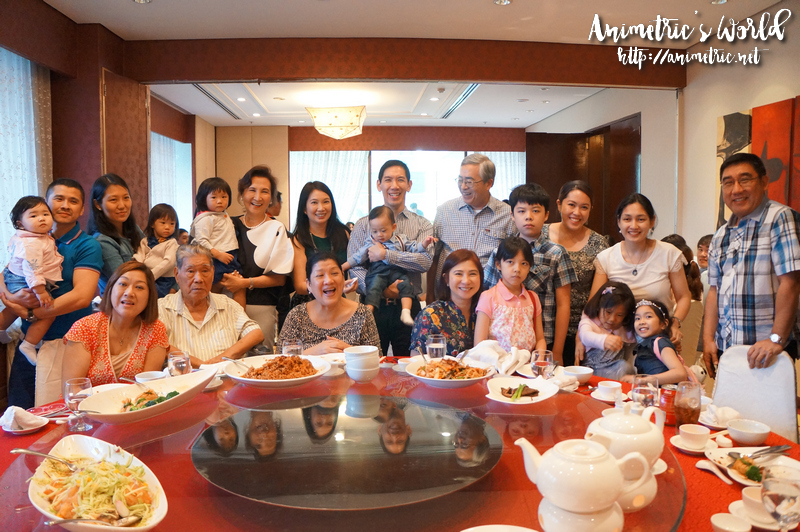 One of our last family photos with Kong Kong (second from the left, bottom row).
I can't really say we're close although my sister and I lived with him and our amah (paternal grandmother) after our parents separated. He wasn't perfect but he was remarkable. He was one of those who came to the Philippines by boat from China in the olden days. He had nothing. But he was hardworking and determined to make something of himself. My aunts used to tell me how he was the second eldest among 7 brothers and how he would work so hard to support the younger ones. They used to tell me how he eventually started offering printing services by manually lining block letters. Anyway, by the time I was born, he already had a full-blown printing press. My dad and all my uncles worked there. But yeah, he started with nothing.
Since I lived at my grandparents' house for about a decade, I saw firsthand how Kong Kong lived his life. We didn't really talk much because during the time we moved in, I wasn't that fluent in Chinese and he didn't speak Tagalog. That eventually changed, in fact these days I'm the one who teaches my kids Chinese and I can manage both Hokkien and Mandarin. But he taught us by example and I'd like to share some of what I've learned from him here:
The early bird catches the worm.
Literally. Kong Kong would always knock on everyone's door at 6am. When he did that, it meant you'd have to get up and turn off the aircon. He was most definitely a morning person. He was up early and he left the house for the office at the exact same time every single day. I used to hate it because there were times I'd be on school break and wanted to sleep. But I got used to it. These days, I'm up and about by 6:30am. I guess I'm a morning person too, even if I sleep late.
Lead a healthy lifestyle.
One of the reasons Kong Kong was able to live to 95 years of age and see lots of great grandchildren is because he really took care of his health. He was asleep by around 9pm and awake by 5am daily. He didn't eat too much meat, he stuck mostly to fish and vegetables. He would take a 30-minute walk around the compound every morning. He had no vices too — he didn't smoke or drink.
Work hard and live simply.
Back in the day, whenever we'd go out to eat, Kong Kong would always remind us not to order drinks… it has become a habit I carry to this day. I usually don't order drinks when we eat out. He also didn't approve of travelling abroad because he felt it was expensive and unnecessary. It's kind of a norm for Chinese businesses to work from Monday to Saturday, with only Sunday and holidays as rest days. I'm actually used to working Saturdays.
I loved living in my grandparents' house. The pantry was always well-stocked with food. They had a library with volumes and volumes of books (mostly encyclopedias, Childcraft, and Hardy Boys) and I'd read everything. I remember always taking out the encyclopedia volume with the letter B just to look at colorful photos of Birds. They also had all kinds of board games — Monopoly, Risk, Game of Life… plus my cousins, aunts, and uncles lived there too so I had no shortage of playmates. Every time there was a power failure we'd all gather in my uncles' room and tell ghost stories. We didn't have internet back then. I think a large part of the person that I am today was shaped by the years I spent at my grandparents' house. I had a lot of issues then stemming from my parents' separation but life was still good.
My most notable memory of Kong Kong in recent years was shortly before my dad passed away. We were at a family party, I forgot whose. How ironic that it was him supporting my dad, helping him walk. I remember thinking shouldn't it be the other way around? He must've been in his late 80's then. My dad's health had deteriorated much much earlier because of his unhealthy lifestyle.
Although I'm not nearly as simple or frugal as Kong Kong, the lessons he taught by example will forever be remembered. That was the old Chinese way, work work and work so your children and grandchildren will never lack for anything. We the younger generation now have more balance, in that we've also learned to enjoy the fruits of our labor. The important thing is, I know enough not to live beyond my means.
I will always remember Kong Kong with the loud footsteps and boisterous voice waking us up every morning in that big house in Caloocan. I'd be so lucky if I could reach the age of 95. Thank you for everything.
Like this post? Subscribe to this blog by clicking HERE.
Let's stay connected: