Aren't I just contemplative lately. I was really overwhelmed by the tremendous response my post regarding how my parents' separation affected me has gotten. I'm kind of relieved that after all these years I can finally talk about it freely, without all the fears and insecurities that haunted me as a child. I'm just hoping that my experience will somehow help / enlighten / comfort those who are in a similar situation.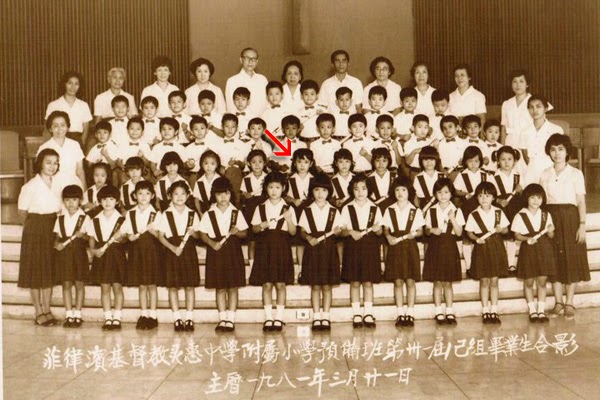 Class picture taken in 1981. I'm right smack in the middle.
One very important thing I realized is throughout my childhood, I never blamed myself for what happened to my parents (I did end up blaming them but that comes later). This is important because if a child thinks that it's somehow his or her fault that the family fell apart, it's very heavy emotional baggage that will weigh him/her down.
From day one, my mother had been brutally upfront with regards to the reason why she and my dad had to separate. Nevermind that I was only 6 or 7 when she started telling me that my father had another woman. I didn't fully understand at first but I soon did. She made sure I knew. She made sure I never forgot. My mom would talk about HER as if she was spitting out venom. There was no sugarcoating it. No making up stories to preserve our dad's image… just the cold hard truth. Looking back, I now realize that I was better able to cope with our situation because I knew exactly WHY my life was going the way it was.
Did I hate my dad? No, at that point I believe I did not. I would always tell him to stop seeing HER as my mom instructed. He would offhandedly give a vague response. That went on for a few years until my mom left for the States.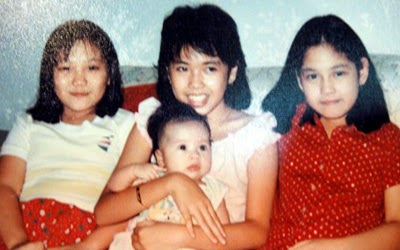 My cousin, myself w/ another cousin on my lap, and my sister
Eventually the anger and frustration I felt with regards to our family situation shifted to the two people who seemed responsible for our parent-less plight — my mom and my dad. Why couldn't they have just worked it out? Of course now that I'm older, I know that you can't always work it out. Maybe. I don't know. But I understand and I've come to accept that sometimes, things actually don't work out. I didn't start out angry… just extremely sad that we couldn't all be together. But as I grew older and the more thought I gave it, that sadness turned to disappointment and resentment.

Several years after my mom left, my dad came home with our stepmother and half-brothers. I detested them all. I remember trying to make life miserable for everybody concerned. This was what was going on behind-the-scenes while I was maintaining my perfect facade in school. When my mom came back to the Philippines several years after she left for a vacation, I resented her too. I was angry at everyone in my immediate family except my sister, although it did not seem like it because I was doing so well academically and I seemed to have no problem making friends. In fact, my aunts and uncles saw me as the model child — an independent, responsible, and frugal (I would save all of my allowance and monetary gifts) achiever who never gave them problems. Even if I was living a comfortable life with my extended family, I always had this fear at the back of my mind that one day people would get tired of taking care of us — so when that day comes, I better have enough money to send myself to a good college. I was managing my own bank account and money market placements (with my aunts' help) at age 12. I simply put together all my saved allowances and all the birthday money and Christmas money I had ever received. I remember my aunt telling me that from that point on I would need to save money for myself because no one else was going to do it for me. So I did.
I've long since made peace with everyone in my immediate family… mom, dad, stepmom, stepdad, half-brothers… and yes, we all do get along. It's unfortunate that my dad had to leave us so soon but at least I know that he found God during his final years.
Cliched as it sounds, the truth really does set you free. You may not want to hear it and it may be hard to accept but it's something you need to know and face to be able to move on. I truly understand why some parents choose to shield their children from everything bad and negative but the real world is not a place where all is well and good. You'd be surprised at how much a child can actually handle and understand. You're doing your children a disservice if you let them grow up believing things will always go their way. Things don't always work out the way we want them to. We have to adjust to the hand that we're dealt in life. It's up to us to find your own happy endings.
There's always a lot to be thankful for and I learned that too. My parents may not have been around but I had my sister, grandparents, aunts, uncles, and cousins — everyone of whom made up the family I grew up with. I never went hungry. I got to study in good schools. I never lacked for any material thing. I consider myself very blessed.
If any of you are going through something similar, whether it's from the child or the parent's side, I hope what I've shared helps somehow.

Like this post? Subscribe to this blog by clicking HERE.
Let's stay connected: