Some three weeks ago, I was invited for a hearty Filipino lunch at 49-B Heirloom Kitchen in Quezon City. It's pretty near, maybe less than 10 minutes from my house. With Carmaggedon and all that traffic nonsense these days, the closer the venue is to me the better.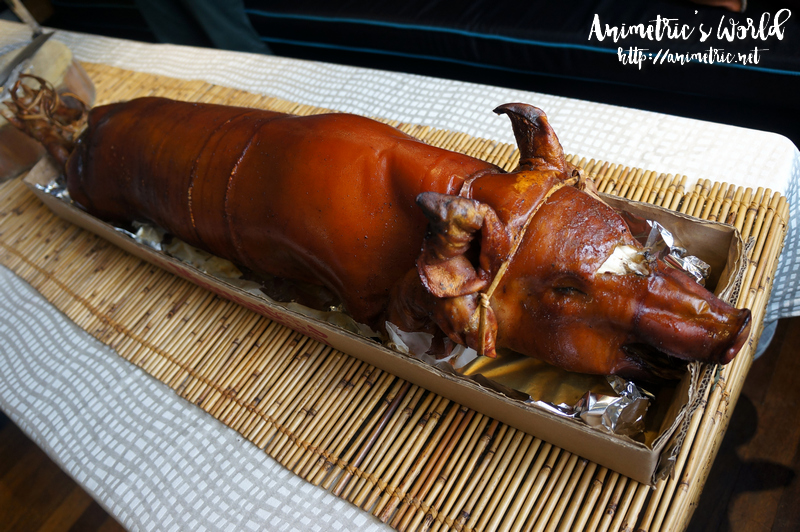 Carnivore Lechon (P6,800 to P8,800 for Medium)
So anyway, the folks over at Heirloom Kitchen decided to go straight to the main attraction by bringing out the Carnivore Lechon from Leonardo's Lechon (Small P5,800 to P6,300 / Medium P6,800 to P8,800 / Large P9,800 to P10,800). Yes, 49-B Heirloom Kitchen will be serving Leonardo's Lechon from hereon out.
Free Dinuguan with every order of Leonardo's Lechon
Every order of Leonardo's Lechon comes with FREE Dinuguan (Filipino Pig Blood Stew). This is so you use up ALL of the pig, that means even the blood.
So anyway, I shall show you WHY this is called Carnivore Lechon.
Upon slicing the belly area, the lechon was practically bursting with filling — 3 kinds of sausages (Kielbasa, Hungarian, and Chorizo), roasted baby potatoes, bacon, and roasted garlic. All that in addition to the exceptionally tender flavorful melt-in-your-mouth lechon meat and crunchy skin! OMG. I love this lechon.
Leonardo's Lechon Pork Barbecue (P30 per stick)
Leonardo's Lechon also has Pork Barbecue as part of its offerings. Perfect for parties as you can buy them in a tray.
Paella Valenciana (P355 for Small)
We had some delicious Paella Valenciana which is part of 49-B Heirloom Kitchen's menu. It's got everything — pork, chicken, and mixed seafood. I like eating it with lemon drizzled over it.
Sinigang na Lechon (P420)
Sinigang made better — this version of the Filipino classic tamarind-based soup uses tender lechon chunks instead of the normal pieces of pork. The broth is markedly thicker than regular Sinigang and it's oddly comforting (especially as I was sipping it during a rainy day). Yummy!
Here's my portion of Sinigang na Lechon.
Mary Ann's Chocolate Chip Cookies (P125)
You'd think that after all the rich and indulgent dishes we'd have no room for dessert. But no, at 49-B Heirloom Kitchen, you must make room! Mary Ann's Chocolate Chip Cookies are seriously one of the best (if not the best) chocolate chip cookies I've ever tasted. Incredibly moist, chewy, and chocolatey, they're so perfect with a cup of hot coffee or a glass of cold milk! They come out to about P25 per piece which is really super worth it.
Hot Ginger Banana Brulee (P185)
These are bananas baked like creme brulee (with the banana peel). The surface is caramelized to a crisp and it's served with a scoop of vanilla ice cream. There's a hint of ginger on the banana itself and the hot-cold flavor sensation works like a charm.
Leonardo's Lechon
89 J. Basa Street, San Juan City
724-3068 / 726-9828 / 744-5172 / 725-6071 / 725-8618 / 0917-8833391
49-B Heirloom Kitchen
49-B Sct. Tobias cor. Sct. Fuentabella St., Quezon City
239-1637
Like this post? Subscribe to this blog by clicking HERE.
Let's stay connected: