The quest for Korean BBQ never ends. I love grilling meat and eating them with lettuce and doenjang (Korean soybean paste). The latest addition to my string of eat-all-you-can Korean BBQ places is Leann's Tea House along Mother Ignacia Ave. in Quezon City. It's located near Hwaroro, another eat-all-you-can Korean BBQ place.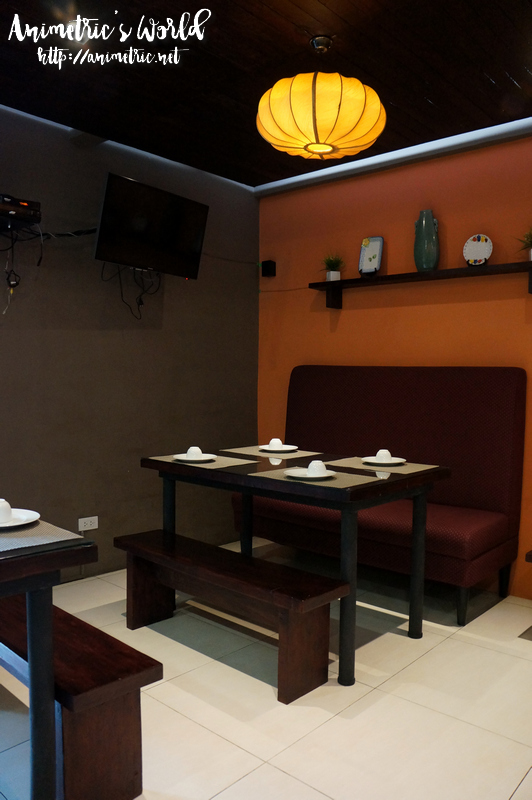 Leann's Tea House has two floors but the first floor is so tiny we were asked to go up the second floor as soon as we entered.
We were served salad and banchan right away.
If you want to have unlimited meat for grilling, you have two choices: Unli Samgyeopsal for P349 or Unli Samgyeopsal / Woosamgyup for P399. Aside from the meats you also get unli lettuce, garlic, doenjang, salad, and banchan. We availed of neither. It was past 1pm and we were in a hurry to go back to the office. We just ordered Woo Samgyup (Thinly Sliced Beef Belly) ala carte for P300 and shared.
Woo Samgyup (P300)
This is how much meat a P300 order of Woo Samgyup will get you. It's definitely more worthwhile to pay for unlimited meat.
This is how I eat my meat Korean style… wrapped in a lettuce leaf with garlic and doenjang. It's such a yummy combination.
Japchae (P210)
We also ordered Japchae, Korean glass noodles with beef and vegetables. Nice and chewy noodles, really tasty too. Pretty good.
Bulgogi Kimbap (P170)
Hubby and I also shared an order of Bulgogi Kimbap. Kimbap is a korean seaweed-wrapped rice roll similar to sushi in terms of presentation but it's not filled with raw stuff. There were a few other kinds of Kimbap at Leann's Tea House aside from the Bulgogi Kimbap we ordered. There was Tonkatsu, Tuna, and Kimchi. Bulgogi Kimbap is filled with veggies and beef. I love the fact that unlike sushi, kimbap is not drenched in mayo so it's less greasy and cleaner-tasting.
Anyhow this is the table we occupied at Leann's Tea House. We were the only ones occupying the second floor that weekday afternoon.
The food was generally okay, but overall I found Leann's Tea House to be one of the pricier Korean grill-all-you-can places for the simple fact that you get so little for the price paid — just pretty much meat, sauce, and lettuce leaves for their unlimited meat rate. Other Korean grill places like give you so much more than just meat and veggies. Leann's Tea House is closed on Mondays.
Leann's Tea House
105-R Mother Ignacia Ave.,
Quezon City
411-8902
Like this post? Subscribe to this blog by clicking HERE.
Let's stay connected: