This is my Leaders Derma Soul Detox Mask story. Almost every week, I have at least one (1) crash and burn night. By that I mean I fall asleep in my work clothes and sometimes I don't even get to wash my face lol. Often I'd wake up in the middle of the night and get up just to wash my face and sleep again. This is what happens when you're in a constant cycle of sleeping very very late and waking up very very early.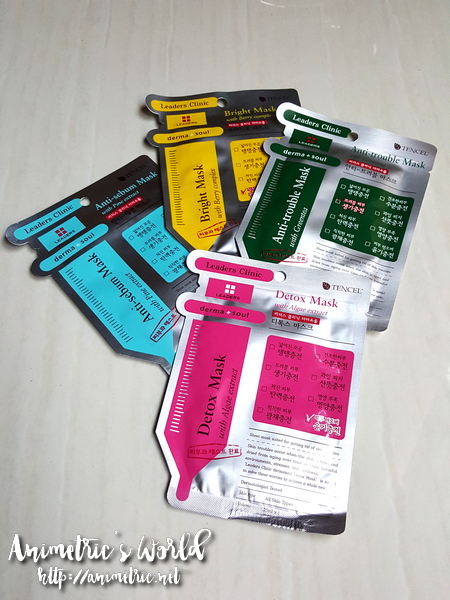 So this particular week, I had one such crash and burn night. I couldn't even get up to wash my face. When I woke up it was already 5am. Given that I use an SPF product on my face daily, that's BAD. True enough when I looked in the mirror my face had telltale tiny little bumps! DARN! My thoughts immediately went to the Leaders package I received late last year. I seem to recall there was something called a Detox Mask so I hurriedly dug it up.
I found that batch of Leaders facial masks and there were 4 variants:
Leaders Derma Soul Detox Mask (P78) – Formulated with Algae extract, it's a detoxifying and brightening mask that gently removes dead skin cells and other impurities.
Leaders Derma Soul Anti-Sebum Mask (P78) – Controls oil while maintaining skin moisture, it's main ingredient is Pine Oil which has anti-bacterial properties. It can help treat pimples, psoriasis, and eczema.
Leaders Derma Soul Bright Mask (P78) – Lightens, clarifies, whitens, and clears up skin with Berry Complex.
Leaders Derma Soul Anti-Trouble Mask (P78) – Formulated with Green Tea extract, it helps prevent treat pimples and other skin troubles.
Given my problem, I figured the Leaders Derma Soul Detox Mask (P78) was what I needed to use. I think I'll pass on the Anti-Sebum and Anti-Trouble masks to my hubby since he is more acne-prone than I am, lol.
Looks like the usual mask sheet upon opening. It's immersed in essence.
See the wavy pattern? It's one of the things that makes the Leaders Derma Soul series of masks unique. It's indicative of the material used to make this sheet mask — TENCEL. TENCEL is a natural fiber made from cellulose from found in wood pulp called lyocell. TENCEL is known for it's "drape" so using it as material for a sheet masks ensures that the mask will hug the contours of your face perfectly.
And yes, it does go on your face nicely. I've tried some very ill-fitting masks and they're a pain to use.
I washed my face and left the Detox Mask on for about 25 minutes and it was still pretty moist when I removed it. I patted in the excess essence and it felt a little sticky. I didn't want to wash it off because I was afraid it might negate the effect. What I did was wait for my face to dry before starting to put on makeup.
What I like about Leaders Derma Soul Detox Mask:
It's cheap at only P78 per sheet.
It felt soothing and refreshing at the same time.
You can put on makeup right after you let your face dry.
Your skin looks quite bright after use.
Downside? My face did feel a bit sticky after I removed it but it was alleviated when I patted in the excess essence and let my skin dry. I was able to put on BB cream all over my face afterwards. Did it detoxify? I'm not really sure lol! But I liked that it soothed and brightened my skin. I'll try to avoid not washing my face before sleeping next time lol!
Leaders Derma Soul Detox Mask is available for P78 per sheet at Leaders stores located in Festival Mall and Lucky Chinatown Mall. I'm hoping they open a store near me soon! Good thing you can buy Leaders products online at Beauty Mnl and Zalora.
Moral of the story: Don't ever go to sleep without washing your face, lol!
Like this post? Subscribe to this blog by clicking HERE.
Let's stay connected: