Facial masks are very much part of my skin care regimen. I use facial masks anywhere from 1-3x a week depending on the need. While I am open to trying out all kinds of facial masks (there are many brands and types but for today I will be reviewing the more common sheet mask), my favorite brand to date when it comes to masks is Leaders Insolution from Korea. Today I try out the Leaders Brilliant Brightening Mask.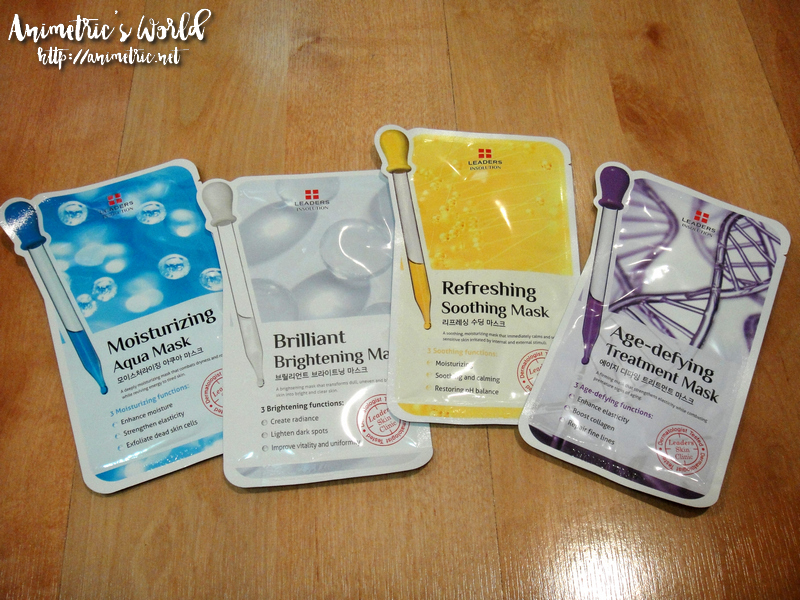 I can't get enough of Leaders masks.
Leaders Refreshing Soothing Mask (P148)
If you've been waking up with dull and tired looking skin, Leaders Refreshing Soothing Mask is an immediate pick-me-upper. It moisturizes, soothes, and calms the skin… restoring pH balance.
Leaders Age-Defying Treatment Mask (P148)
If you're in your 30s, 40s (me!), or higher, this is one mask you shouldn't pass up. It's a firming mask that enhances skin elasticity, boosts collagen, and repairs those telltale fine lines. I think I'll use this one before sleeping tonight.
Leaders Moisturizing Aqua Mask (P148)
Dry skin? I get dry skin when the -ber months arrive so it's good to have this handy. This one is all about moisture but the great thing about it is, it also exfoliates dead skin cells at the same time!
Leaders Brilliant Brightrning Mask (P148)
If you have skin pigmentation problems, uneven skin, or dark spots, Leaders Brilliant Brightening Mask is for you. It makes skin instantly radiant, lightens dark spots (with prolonged use), and evens out the skin tone. This is what I'm going to review in this post.
Like I said, these are all sheet masks. I don't exaggerate when I say Leaders has the best fitting masks of all the brands I've tried. The sheet is elastic so it "hugs" your face in all the right places plus the size is just right. I put a mask on after I've washed my face then leave it on for 20 minutes.
This is it! I snapped this photo right after taking off the mask. I didn't put a before photo because my son said it looked exactly like the after photo hahaha. But still, I love how my face feels every time I peel off a Leaders mask sheet.
What I like about Leaders Brilliant Brightening Mask:
Like all the other Leaders masks I've used, it fits perfectly… like a glove.
I love the way my face feels after use.
There's an immediate brightening effect, not as dramatic as the Leaders Coconut Bio Mask but still pretty nice.
The scent agrees with me, I don't find it overwhelming which is important when something is staying on my face for 20 minutes, lol.
Downside? Leaders Brilliant Brightening Mask is priced the same as the Leaders Coconut Bio Mask at P148 so if given a choice, I would buy the former (because it's my fave!). However this one is solely dedicated to brightening so if dull, uneven skin is your main concern, this may be more suited for you.
Leaders Brilliant Brightening Mask is available for P148 per sheet. So far Leaders has only two stores located in Festival Mall and Lucky Chinatown Mall. You can however purchase Leaders products online at Beauty Mnl and Zalora.
Animetric and Marj Sia's Beauty Workshop!

Oh yes, before I forget… Leaders is one of the brand partners at my upcoming beauty workshop with Marj Sia. All participants will be taking home Leaders masks so they can all experience the immediate effect of Leaders for themselves! As of today, we have 8 slots left. You can check out the full details at http://www.animetric.net/my-first-beauty-workshop-with-marj-sia.html.
Like this post? Subscribe to this blog by clicking HERE.
Let's stay connected: