Touted as one of the best lash serums in the market, LashEM All Eyes On You Eyelash and Brow Enhancing Serum (P3,599.75) is the first ever lash serum I've ever tried.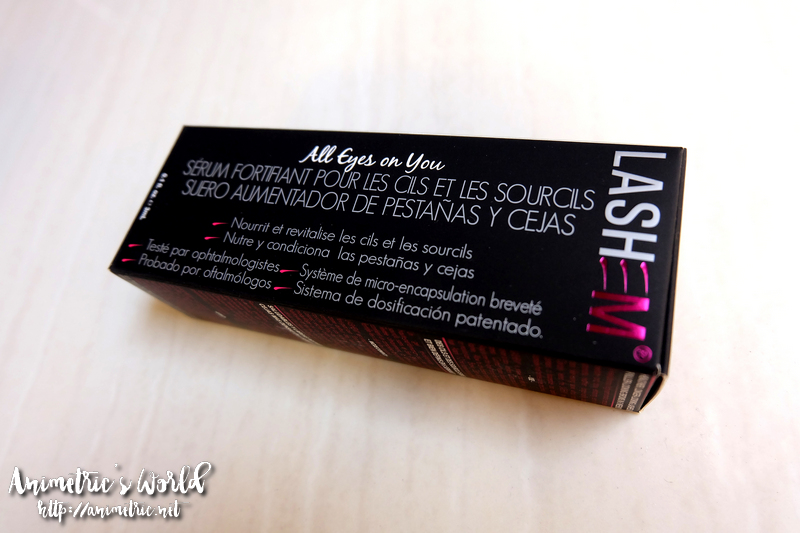 See, I was born with long, thick, and dark eyelashes. Honestly I've never really felt the need to lengthen or volumize, which is why I prefer lightweight mascaras that look natural. All I want is definition. But when I was asked to try LashEM All Eyes On You Eyelash and Brow Enhancing Serum, I thought why not? I'm getting older by the day and my mom told me that the older you get, the thinner and more sparse your lashes become. Besides I could easily incorporate it into my skincare regimen.
So anyway, LashEM All Eyes On You Eyelash and Brow Enhancing Serum comes in a sleek silver tube… just like mascara. But that's where the similarity ends.
It comes with a fine brush tip. The product itself is a clear liquid which you apply by brushing onto your eyebrows and eyelashes. You apply it 2x a day, in the morning before you put on makeup and at night before you go to sleep.
I used LashEM All Eyes On You on and off for about a month — straight for a week, then on and off for the next 2, straight again. I didn't mean to use it inconsistently, but I forget since I'm not used to the extra step. But even then, I could see and feel a difference with every use. For me there is an instant volumizing effect (see above photos). My lashes plump up after every application. Continuous and consistent use will surely yield more dramatic results.
LashEM All Eyes On You makes mascara work a lot better (again it's the instantly plumping effect). Whenever I use this under mascara people are always asking if I'm wearing falsies… even if I actually use the same mascara every time.
What I like about LashEM All Eyes On You:
The effect is instant… like my lashes are obviously fuller right after application.
It doesn't sting my eyes. Brushing it onto my eyelashes inevitably brings the product really really close to my eyes. I think some of it even went in my eye on one occasion. No stinging.
It really strengthens lashes. I noticed that after I started using this, my lashes NEVER come off anymore whenever I remove mascara. I used to occasionally lose a strand or two. Now… never.
As I've mentioned earlier, it makes mascara work better.
It's free from parabens, fragrance, and prostraglandin.
It's hypoallergenic — I haven't had any adverse reactions.
Downside? It's pricey at P3,599.75 but if it works why not? Also, I noticed it spoils easily due to the absence of parabens which are commonly used as preservatives for cosmetics. That said, you need to use it religiously right after opening.
At the moment, LashEM products are available exclusively at the G/F The SM Beauty Store at SM Makati. For more information, check out @lashemph on Instagram.
Like this post? Subscribe to this blog by clicking HERE.
Let's stay connected: