Here's something new from my favorite Korean beauty brand Laneige — Laneige Two Tone Lip Bar (₱1,200)! I've been seeing teasers on Laneige Philippines' social media accounts and I just knew I had to have one. Lucky for me they sent me one in my preferred shade! But seriously, for a product like this one isn't enough so I will most probably end up buying more, lol.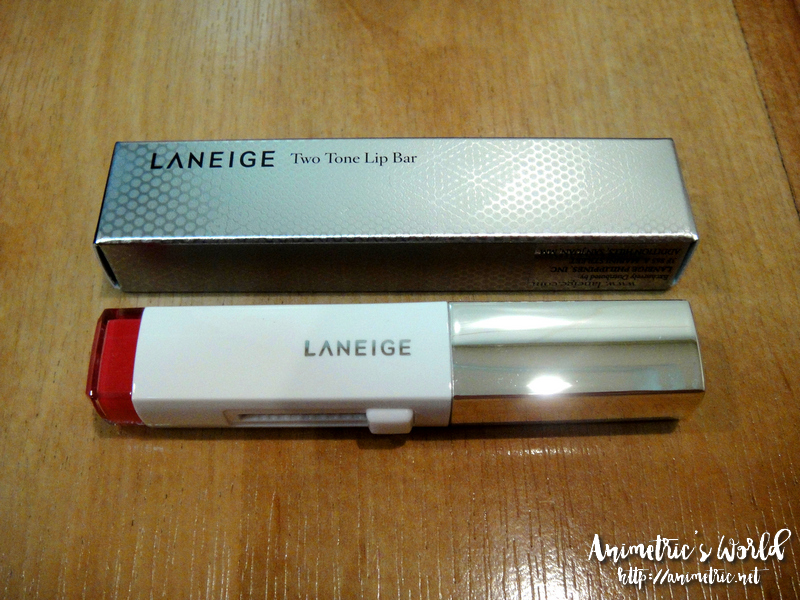 I've always been intrigued by the popular Korean gradient lips look, which some people refer to as ombre lips. I haven't really tried doing it but Laneige Two Tone Lip Bar promises to let you achieve that look with a couple of swipes.
I got Laneige Two Tone Lip Bar in No. 6 Pink Step. OMG I had such a hard time choosing a combination shade, I wanted at least 3 of them! In the end I opted for No. 6 Pink Step. Yes, like the name suggests, one lipstick will give you two shades.
So the actual lippie shade looks exactly like what's printed outside the box.
I so love Laneige Two Tone Lip Bar's innovative design! You use the slider on the lipstick tube to push the product up.
Here's a swatch of Laneige Two Tone Lip Bar in No. 6 Pink Step. You can clearly see two different shades on my hand.
Okay so I tried applying it with the darker shade on the outer part of my lips and the lighter shade in the inner part. This is what it looks like indoors under my room's warm yellowish light.
This is what it looks like under natural light as taken by my bedroom window. I look like I have lip liner on the outer rim of my lips because of the darker shade.
Later on during the day I did the opposite, lighter shade on the outer rim of my lips and darker shade in the inner part. It's not so apparent here because I did it inside the car and mixed the two hahaha but I like the bright pink shade I ended up with nonetheless.
Okay so here's a better attempt at darker shade inside and lighter shade outside the lips. Achievement unlocked — Korean Gradient Lips!
What I like about Laneige Two Tone Lip Bar:
It's a very versatile product. One tube can give you at least 5 different lip looks depending on how you apply it.
The pigmentation is excellent — all you need is one swipe on your upper lip and one swipe on your bottom lip for a vibrant wash of color.
It glides on your lips smoothly.
There are 10 lovely shades to choose from.
I love the innovative packaging.
Considering it's like getting 2 high quality lipsticks in one tube, I think the P1,200 price tag is reasonable. It's about the same price as a lipstick from Shiseido, Shu Uemura, Bobbi Brown, Lancome, and MAC.
The unique shape of the lipstick lets you achieve gradient lips easily.
Downside? While I think the cost is normal because my fave lipsticks are in this price range, some may find it a bit high. Also it might take a bit of practice to get the gradient effect you want (I myself went through several attempts lol).
You can purchase Laneige products at the Laneige Flagship Store on Lazada.
Like this post? Subscribe to this blog by clicking HERE.
Let's stay connected: