Oh the things I do not to look 41… that includes using only the best eye creams in the market and one of them is Laneige Time Freeze Eye Serum (₱2,500).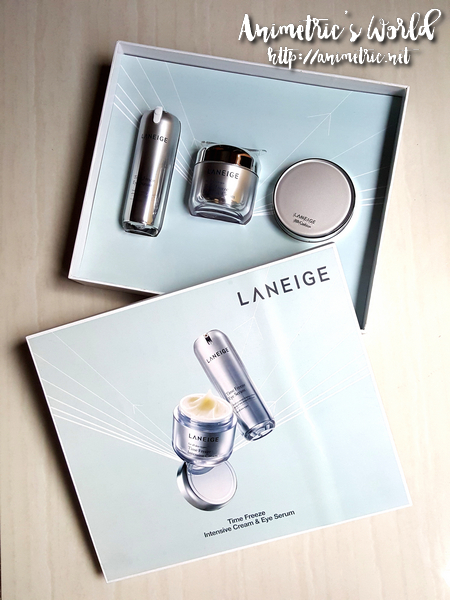 I got these nifty products from Laneige just before leaving for the US last December. Really, this is the best gift I can receive — youth in bottles since these products are from the Laneige Time Freeze line. While I will be reviewing the Laneige Time Freeze Eye Serum in this post, I'll talk a little about the other two products first.
First we have the Laneige BB Cushion [Anti-Aging] (₱1,950). Laneige BB Cushion is my HOLY GRAIL when it comes to BB Cream. Other brands have come and gone on my dresser but this one is ALWAYS a staple. When I started using Laneige BB Cushion some years back, there was just one variant available. Now there are three: Laneige BB Cushion [Whitening], Laneige BB Cushion [Pore Control], and Laneige BB Cushion [Anti-Aging]. Now I've been using the original first incarnation of Laneige BB Cushion ever since it launched. I think I've finished maybe 5-6 compacts already haha. One compact lasts around 2-3 months if I use it often, a little longer if I don't.
Imagine my excitement when an Anti-Aging variant came out. I will be reviewing this separately. All I can say is, this will definitely help me in my quest to look forever young lol. My shade is #21 Natural Beige.
Good news! Laneige BB Cushion will be on sale at 20% off tomorrow at the Laneige store in SM Mall of Asia only! I'm planning to hoard some refills haha.
Next I'd like you to meet Laneige Time Freeze Intensive Cream (₱3,100). It enhances your skin's elasticity and gives your face that instant lift.
Since it's on the thick side, this is an ideal night cream for when it's cold and dry. I used it religiously every single night before March (it's just too hot and humid now) and I love how my face looks and feels when I wake up in the morning.
I find it a tad to thick for daytime use so I slather it all over my face before going to sleep. When I use this, I forego the serum/essence because it's already very potent on its own.
Finally we get to the Laneige Time Freeze Eye Serum (₱2,500). I'm telling you this is the BEST EYE SERUM I've ever used and I've used a ton.
I love the sleek silver container and the pump dispenser. I hate dipping my fingers into a jar because even if I wash my hands I feel it contaminates the rest of the product.
Laneige Time Freeze Eye Serum is lightweight yet creamy but non-greasy in terms of consistency. That said you can easily wear it under makeup. It goes on super smoothly. What I do is apply generously all over my eye area — over the lids, on the sides (where crow's feet usually appear), and underneath.
What I like about Laneige Time Freeze Eye Serum:
The consistency is perfect. It's creamy but it's lightweight, not thick and greasy.
It glides on smoothly all over the eye area… definitely very easy to apply.
It doesn't irritate the eyes — I've actually tried getting some product IN my eye (blame it on my mega-exaggerated eye cream application) and well it didn't sting. Of course there was a bit of discomfort but that was it.
It lasts long. I've been using it for 2 months (and I apply a lot 2x a day, sometimes even 3x) and my container is still more than half full.
It's fragrance-free… well at least I don't smell anything.
Downside? Well it is kind of pricey but hey if it lasts 5 months that's just ₱500 a month. I think I can live with that as long as I can continue to look younger than my actual age. Time Freeze is Laneige's most premium anti-aging line after all.
I'm 41 but I don't have any crow's feet and so I must be doing something right! I can't really show you any before or after photos because I've never had visible wrinkles around the eye area… not even wrinkly lids which makes it hard to apply eye makeup (I have actually encountered wrinkly lids on models when I was studying makeup before — that's why you need to put eye cream on your lids as well).
You can purchase Laneige products at the Laneige Flagship Store on Lazada.
Like this post? Subscribe to this blog by clicking HERE.
Let's stay connected: