I use face masks / packs 1-2x a week. I'm such a skin care addict. I try my best to take care of my skin because I know no amount of foundation and concealer can replicate the look and feel of good skin. So now here I am sharing my latest discovery… Laneige Pore Minimizing Pack!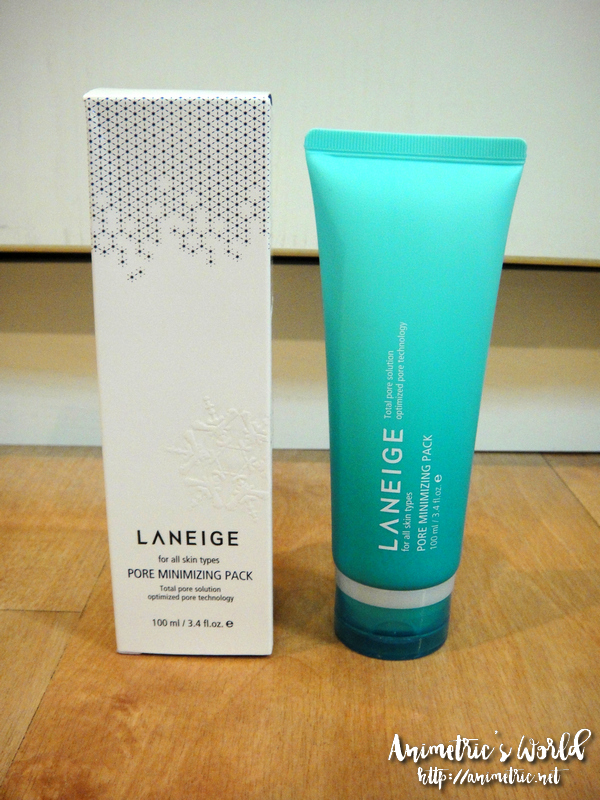 I bought the Laneige Pore Minimizing Pack because it said it's a Total Pore Solution. My face is such a warzone. My T-zone tends to be a bit oilier than the rest of my face. My cheeks tend to get dry. Then I have large pores on my nose and forehead area! I'm a huge believer in Laneige products and so I did not hesitate.
I love the cool aqua-colored tube that fits perfectly in my hand.
It's sealed for your protection.
The mask starts out as a thick and pasty white-colored cream.
According to package instructions, this is how you use Laneige Pore Minimizing Pack:
Soothe skin with toner first. I use Laneige Power Essential Skin Refiner in Moisture.
Spread a nickel-sized amount all over your face avoiding the area around the eyes.
Wait for the pack to dry and then wash off completely. It dries in about 3-5 minutes.
Laneige Pore Minimizing Pack contains contains white clay and Morocco clay which purify the skin, absorb excess oil, and eliminate dead skin cells for a smoother skin surface. It's recommended that you use it 1-2x a week depending on your skin condition.
This is a photo of me right after washing off Laneige Pore Minimizing Pack. I don't have any make-up on. What I like about it:
I always get an instant glow.
It's a great pick-me-up for my face in the middle of or at the end of the week when all the dirt and grime sort of accumulate.
I feel so poreless after use, haha!
It doesn't overdry the rest of my face.
Downside? None, not even the price because it's really worth every cent and it's not that expensive.
Laneige Pore Minimizing Pack costs P1,150 for a 100ml tube. It's cheaper here in Manila compared to Hong Kong or Singapore. It's very economical because you only need a small amount to cover your entire face so one tube will last a long time. I will be 40 in a couple of years so I need to take extra care of my skin, hehe!
I've said it before and I'll say it again — I love Laneige! It's really my go-to brand for great skin.
Laneige boutiques are located at the following malls:
SM Mall Of Asia (Level 2)
Robinsons Place Manila – (Level 1 Pedro Gil side)
Trinoma (Level 3)
Robinsons Galleria (Level 2)
Robinsons Magnolia (Upper Ground Level)
SM Aura Taguig
For more info, check out Laneige Philippines on Facebook.
Like this post? Subscribe to this blog by clicking HERE.
Let's stay connected: