My personal choice when it comes to BB creams has always been Laneige BB Cushion (P1,950). When I started using it there was just one variant. Years later, there are three — the original one I had always been using (I think I've gone through 3-4 compacts and 6-8 refills hahaha!), Pore Control, and Anti-Aging. Guess which one I'm using now? You got it — Laneige Anti-Aging BB Cushion (₱1,950). This is BB Cream review no. 34 or 35… I'm not sure.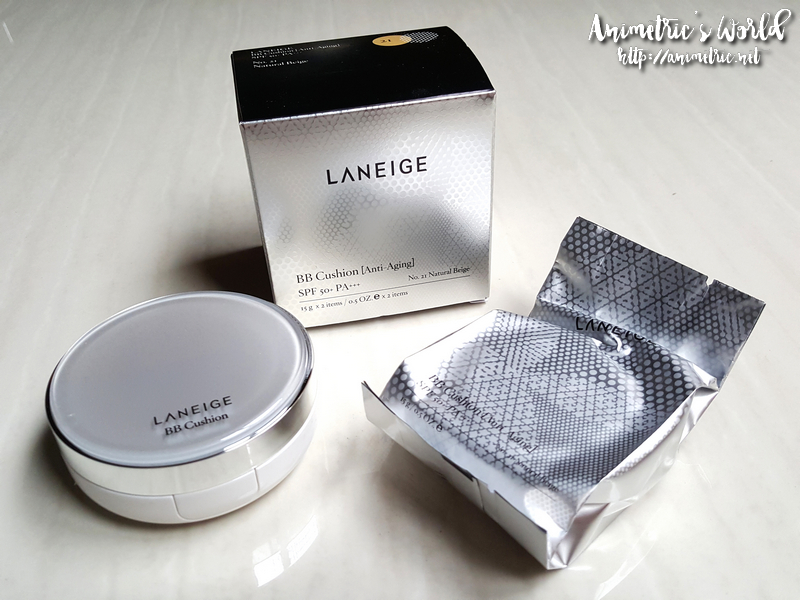 Don't be scared of the ₱1,950 price tag. You actually get two (2) cushions at this price. One is already inside the compact and one is individually wrapped as a refill. When you run out, refills sell for ₱950 each. Anyhow I got Laneige Anti-Aging BB Cushion in 21 Natural Beige which has always been my shade. The nice thing about all Laneige BB Cushion variants is there are five (5) shades available that go all the way up to 31 Brown Beige which is great for darker-skinned women.
Physically, Laneige Anti-Aging BB Cushion looks just like the Original and Pore Control variants. You'll know which one it is by looking at the back of the refill. So if somewhere along the way you decide you want Pore Control you can just get a refill and pop it into the same compact.
This is how the actual cushion looks like up close. It's kinda like a sponge.
You press the puff onto the cushion and then pat on your face.
Here's a swatch of Laneige Anti-Aging BB Cushion in 21 Natural Beige.
Wahahaha sorry I just woke up in this photo. But I've done the whole skincare routine — cleansed, toned, and moisturized.
Since I'm sleep deprived I have severe dark undereye circles so I need some Tonymoly Baby Doll Pot Concealer to hide them.
This is what I do — I draw an inverted triangle using the concealer and I blend. Then I pat on the Laneige Anti-Aging BB Cushion all over my face.
After patting the BB cushion all over, I finish with the Shiseido Snow Beauty Maquillage Powder. Then I do all the other stuff — eyebrows, eyeliner, mascara, blush, and then lip color.
What I like about Laneige Anti-Aging BB Cushion:
OMG this is the ultimate as it promises anti-aging benefits like wrinkle-prevention, high UV protection at SPF 50+ PA+++, blemish coverage, cooling (perfect for the summer!), and a long-lasting effect.
It's super easy to apply. Just use the included puff and pat on the product until your face is evenly covered. I don't really like tube type BBs anymore because they're so much messier to use.
It evens out skin tone. My skin reddens easily as you can see in the before photo. I puff away all the redness with this product.
It feels so cool and light on the face, perfect for this sweltering hot summer.
It dries to a semi-matte finish so skin never looks powdery or cakey. I finish with a bit of powder if I want to make it more matte.
When people see me and say I have nice skin this (or the original Laneige BB Cushion variant) is what I'm always using, hahahaha!
Downside? None for me, the price for some. You get 2 refills for ₱1,950 so it comes out to less than ₱1k per refill. If you already have the compact, the refill is ₱950.
You can purchase Laneige products at the Laneige Flagship Store on Lazada.
Like this post? Subscribe to this blog by clicking HERE.
Let's stay connected: