Have you been to the shopping wonderland that is Landers Superstore? I haven't… until yesterday! Some months ago, I started seeing Landers Superstore on my feed. It reminded me of Costco in the US with its high ceilings and spacious aisles piled high with merchandise. I've been meaning to go but haven't been too successful finding time to drive to Balintawak.
And then they opened a branch in Otis. Otis is so much more accessible to me so finally I found myself at Landers Superstore! My goodness, I was impressed the moment I parked my car.
Before you can check out all the wonderful things Landers Superstore has to offer, you have to be a member. Now is the perfect time to be one because membership is at 20% off until December 15, 2016. There are two kinds of membership: Premium and Business. Premium membership is for individuals. It costs P800 a year (P640 now that it's 20% off). Premium members can have one extension for P400 (P320 at 20% off). Business membership costs P1,000 (P800 at 20% off) and can have up to four (4) extensions for P400 (P320 at 20% off) each. Business membership requires the presentation of valid business documents though.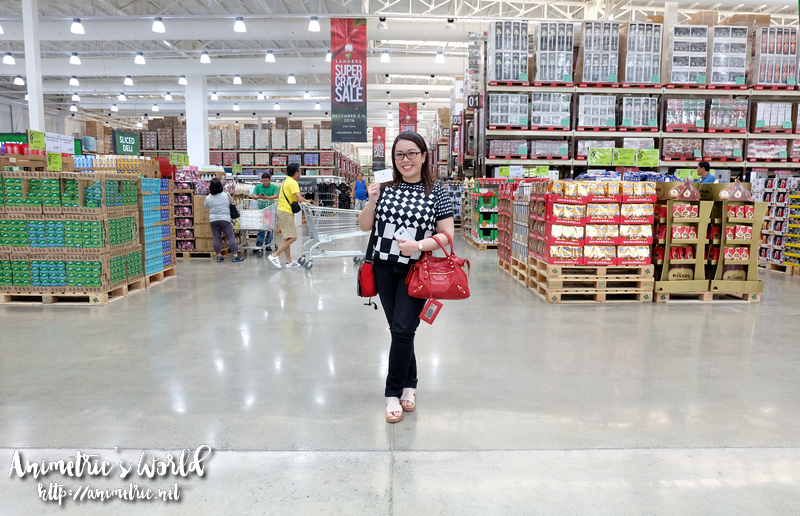 Membership card in hand, I excitedly went in the shopping area. I love how the entire place is so bright, shiny, and spacious. Good vibes all the way!
I'm in the market for a slow cooker so I promptly visited the kitchen appliances area. I was sooooo tempted to buy a KitchenAid Hand Mixer. I now bake from time to time and I can imagine how much more convenient my life would be.
OMG it even comes in PINK! Landers Superstore is selling these babies for P5,799.75 each.
Everything is arranged so nicely. It was such a pleasure to shop at Landers Superstore.
I don't go to the market and so these veggies lined up in rows got me all excited.
The first thing I put in my cart was a tray of Australian Sukiyaki Cut Beef which cost P307 for half a kilogram.
It seems that every conceivable kind of sausage was on display at Landers Superstore.
Three shoppers with carts can easily fit beside each other in the aisles. I seriously love all the space! Shopping has never been so nice and relaxing.
The freezer section had a lot of unique items like Cadbury Ice Cream — in several flavors too!
There were also several variants of cheesecakes from the Cheesecake Factory, all selling at a discounted price!
Wow, they even have Contadina Pizza Squeeze which was quite a steal at P75 for a bottle. This product isn't even part of the local Contadina lineup.
See… told you 3 shoppers can fit beside each other in an aisle! Here with Jane and Shen, both of whom I've known from the start of my blogging days.
Lookie… Red Velvet Cream Cheese Oreos!
This Crayola Gingerbread House Kit costs only P549.75. I'm thinking of giving this out to kids on my Christmas list!
Since I didn't feel like cooking yesterday I grabbed a whole Rotisserie Chicken off the shelf. It's only P219 and it's soooo good! Flavorful and juicy, we had it for dinner and loved it!
Welcome to another edition of What's In My Cart. As you can see, my purchases reflect the new me who cooks dinner almost every night hahahaha! I bought Halibut Steaks, Tuna Steaks, Meltique Striploin Steaks, Australian Beef, Parsley, Cheesecake Factory Red Velvet Cheesecake, and a few other items. Total spent on these? A little over P5k.
After shopping your heart out, you can chill at the food court area which looks more like a posh cafe. I'm sooooo impressed.
To celebrate Landers Superstore Otis' opening, even their dreamy Doppio ice cream is on sale for P65 per gigantic scoop.
So let's sum up why you should go to Landers Superstore NOW:
Membership is at 20% off until Dec. 15, 2016.
The food… their food is good! I was surprised at how eating their hot dog sandwich made me feel like I was in the US. They also have chicken and pizza aside from ice cream and coffee.
One whole Rotisserie Chicken at P219… for those days you don't feel like cooking.
Super Crazy Sale from Dec. 3-4, 2016. Lots of Buy 1 Take 1 deals and marked down stuff. Imagine imported soaps like Dial, Zest, and Irish Spring are selling for only P55 per set of 2 bars!
Parking is not a problem.
You get P2 off per liter at the Caltex gas station in their compound if you become a member.
You get a free haircut at their barber shop if you become a member.
They sell freshly baked bread at their bakery EVERYDAY.
They have a lot of imported goods.
It's so bright, shiny, and spacious that shopping is a pleasure!
OMG I love Landers Superstore. I seriously cannot wait to go back with hubby and the kids! At the moment they have two branches:
Landers Superstore Balintawak
1240 EDSA, Balintawak,
Apolonio Samson, Quezon City
Landers Superstore Otis
1890 Paz Guanzon St.,
Paco, Manila
Their next store is opening in Cebu. 🙂
Like this post? Subscribe to this blog by clicking HERE.
Let's stay connected: