Today I'm sharing something my daughter and I cooked up over the weekend. We made Lady's Choice Chicken BBQ Shawarma! I got a set of Lady's Choice sandwich recipes a couple of months back. I remember praying please let me be assigned the easy no-cook one hahahaha! Well, I've been cooking full meals for over a month now. As fate would have it, I was tasked with making Lady's Choice Chicken Shawarma which involved some cooking. Easy.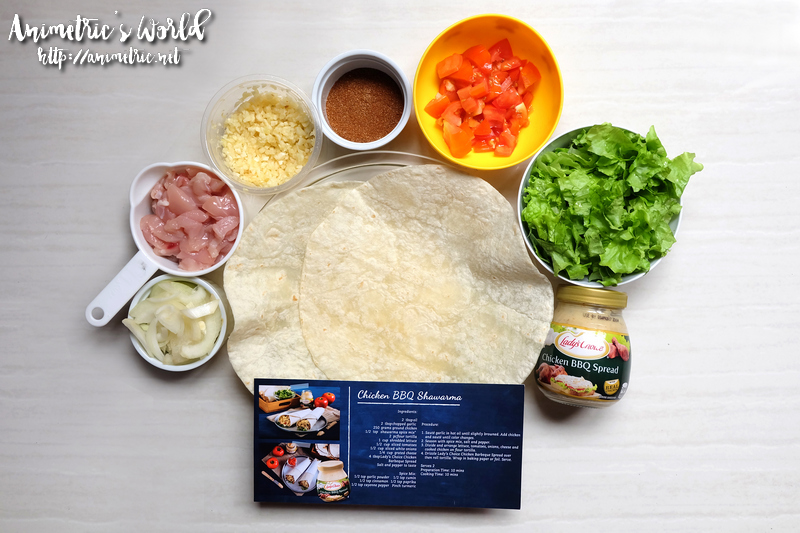 I prepared all the necessary ingredients. This recipe actually also calls for 1/4 cup grated cheese — I forgot to include it in the photo boo! By the time I realized it, I had already cooked the chicken so I couldn't redo the shot.
Anyhow here's the recipe for Lady's Choice Chicken BBQ Shawarma. I made the Spice Mix first. This is so everything is ready for use. It's so much easier to assemble shawarma that way.
I've never really liked ground chicken and the recipe called for it. I replaced ground chicken with cubed chicken breast. As per the recipe, I cooked the chicken first.
The chicken smelled really really good! It was ready after a few minutes in the frying pan — easy peasy! I'm getting ideas about making my own versions of the spice mix for future use.
I called in my daughter for the Chicken BBQ Shawarma assembly lol. For this we would be using Lady's Choice Chicken BBQ Spread.
She laid out all the ingredients on the soft tortilla wrapper. Lady's Choice Chicken BBQ Spread was the finishing touch.
We were actually serving Chicken BBQ Shawarma for lunch along with some leftover pasta lol.
Tadaa! I can already imagine how yummy it was going to be! Instead of shawarma sauce, we had creamy Lady's Choice Chicken BBQ spread to balance out the spicy chicken. It's really the perfect sandwich — it has meat and veggies plus it's really delicious.
We had to wrap our shawarma real tight so they wouldn't fall apart. I haven't quite mastered the art of wrapping but I'm happy to say that all the shawarma we made were wiped out. We assembled five total, even if the recipe said it's only good for two. Wow, I never thought we'd be making shawarma at home but here we are!
Lady's Choice Chicken BBQ Spread is now available at leading supermarkets nationwide. Do try this recipe at home… not only is it yummy, it's a great weekend bonding activity for moms and kids!
Like this post? Subscribe to this blog by clicking HERE.
Let's stay connected: