Last Saturday, after spending the earlier part of the day shopping at Roy & Biv in Glorietta, my daughter and I drove over to La Tienda. La Tienda is a quaint Spanish restaurant located along Polaris St. It was a 10-minute drive from Glorietta on a Saturday.
It was my daughter's first time at a "serious" Spanish restaurant. She was awed by the way everything was set up. It certainly was a lot different from the usual family type restos (think IHOP, Denny's, CPK) she was more accustomed to. The diners were mostly foreigners too.
Of course I reserved our table via BigDish. Saturdays are slow days in Makati (nights are a different story!) so I took advantage of the Bigdish discount. It was a whopping 30% off our bill!
While we were waiting for our orders we were given some crusty freshly baked bread. We had creamy butter to go with it too.
My daughter ordered Sopa De Cebolla (P210) which was actually French Onion Soup. She was surprised to find bread and mozzarella cheese in her soup. I told her that's really the way they serve this. She loved the clean yet flavorful taste (I tried a bit of it).
I decided to get Gambas Al Ajillo (P360) which was marked as a bestseller in the menu. I explained to my daughter that Gambas is a popular Spanish appetizer. I found it a bit pricey since it was a pretty small serving but all my doubts melted away after a bite. OMG. BEST GAMBAS EVER. Their combination of olive oil and garlic was just perfect. Each piece was succulent, juicy, and tasty. Yum! I was inspired to try cooking it at home.
We tried their Salpicado (P695) too. One order comes with your choice of 2 side dishes. You can choose from Mashed Potatoes, French Fries, Green Salad, Grilled Vegetables, Garlic Rice, and Steamed Rice. We picked one side dish each. I opted for Grilled Vegetables while my daughter chose French Fries. The side dishes were really really good. The Grilled Vegetables were naturally sweet and crisp while the French Fries were cooked perfectly. The beef was nice and tender but I found the sauce a tad too salty.
When we ordered Paella Valenciana (P630), the server warned us that it would take 45 minutes to make. We really wanted paella so we waited. Let's just say it was soooo good that my daughter and I finished one order by ourselves. It's supposed to be good for 3 people lol.
For dessert, we ordered Churros Con Chocolate (P250). Yup, same price as La Lola but less than half the size. We did however like these better. Whenever I have one big hulking stick of La Lola Churros I feel like I don't want to see another one for at least a year. It gets really cloying. These churros were the perfect size for dessert. They were served with the richest and most decadent dark chocolate dip too. My daughter was eating the dip with a teaspoon way after the churros were gone.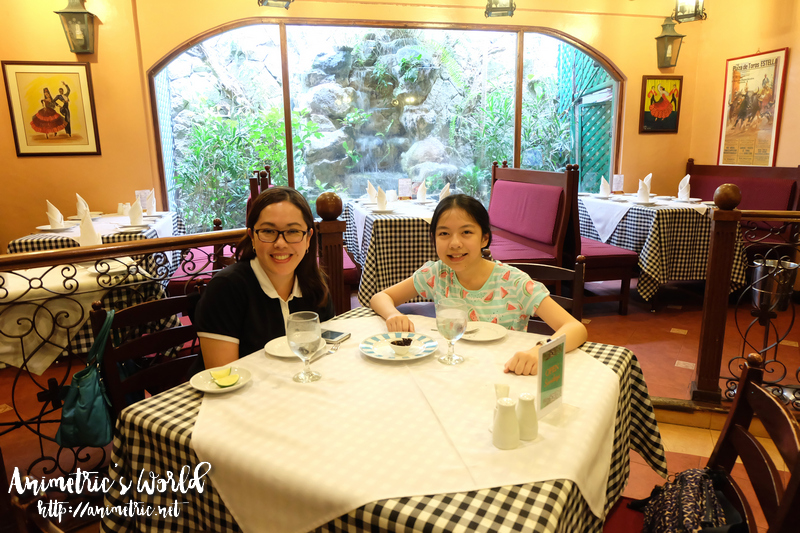 My daughter and I had an absolutely wonderful lunch at La Tienda. Yes the food is a bit more pricey compared to what we normally have but with 30% off because of BigDish, the gambas became P252 from P360, the paella P441 instead of P630, and so forth. In fact, the discounted churros was down to P175 so it was actually cheaper than La Lola. Service was pretty good. The servers were attentive so we never needed to call them to refill our water glasses.
These days whenever we eat out, I make sure to check BigDish before deciding where to go. The discount we get from booking is really worth it. 🙂
La Tienda
43 Polaris St.,
Bel-Air Village, Makati City
890-4123
Like this post? Subscribe to this blog by clicking HERE.
Let's stay connected: