I can't believe it took me 3 years to try out Kyochon, the Korean chicken chain being endorsed by Lee Min Ho. Kyochon opened in the Philippines back in 2013.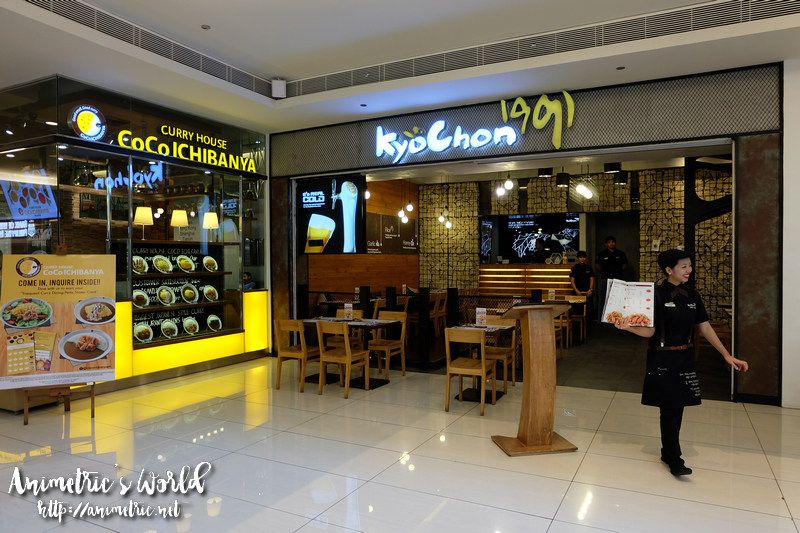 Hubby and I stopped by Estancia Mall on the way back to the office one weekday to have a quick lunch.
Wow I really like the bright and woody interiors.
Soonsal Wrap (P130)
We were really hungry and so we ordered a lot. First dish out was the Soonsal Wrap. Soonsal is boneless chicken breast strips in special rice batter — as in the coating is sprinkled by tiny crispy rice puffs. You can actually choose to have your Soonsal in Original (soy), Red (chili), or Honey. We opted for Original (soy).  Yum, I loved it! It was crunchy but not greasy. The combination of the Soonsal chicken, fresh veggies, and chewy flour tortilla is a winner.
Tteok Boki (P180)
Tteok Boki is a dish made of chewy and sticky Korean rice cakes. Kyochon's tastes amazingly like beef yakiniku, even if chicken tidbits are what's actually mixed in. Delicious, plus it's not often that I come across a place that serves Tteok Boki. I wish the serving size was bigger.
Drumstick (Small – 2 pcs / P149)
Finally we get to the chicken. We had an order of Drumstick. We chose to have the Honey version. Wow, the aroma of natural honey was just amazing. I mean, I've had a lot of dishes cooked in honey but this one actually smelled like the real deal. I loved how crunchy the chicken was. The meat was juicy. Delicious! I actually prefer Drumsticks to Wings.
Wings (Small – 5 pcs / P149)
Of course we also tried the Wings. We opted for Honey and had a small order, 5 pieces to be exact. Pretty good but for me the Drumstick is better.
Kimchi Fried Rice (P99)

I had an order of Kimchi Fried Rice to accompany my chicken. It was topped with nori (seaweed) strips and a fried egg. Spicy but really delicious. Nothing that can't be handled I think. It's a small serving, good for one person.
Hotteok (P100)
We had Hotteok or Korean Pancake for dessert. It came topped with lots of sunflower seeds, crushed peanuts, and cinnamon glaze. Nice and chewy, but after having one piece I suddenly saw an insect crawl out from under the seeds. It looked like those tiny critters which crawl all over uncooked rice grains. I called the server's attention and they offered to replace my order. I said I didn't want it anymore so they just took it off our bill.
We enjoyed our lunch at Kyochon. Be warned that it takes 22 minutes for every order of chicken to make it to your table. The wait is worth it because their chicken is damn good. I'll be back to try the Soy and Red series of chicken. When it comes to chicken, I think I like Kyochon better than Bonchon.
Kyochon
Lower Level, Estancia
Capitol Commons, Pasig City
660-3333
Like this post? Subscribe to this blog by clicking HERE.
Let's stay connected: