Two weeks after we had gotten back from Japan, we're still on a Japanese high. That said, the first thing we did as soon as everything reopened today was visit Kushikatsu Daruma in Uptown BGC.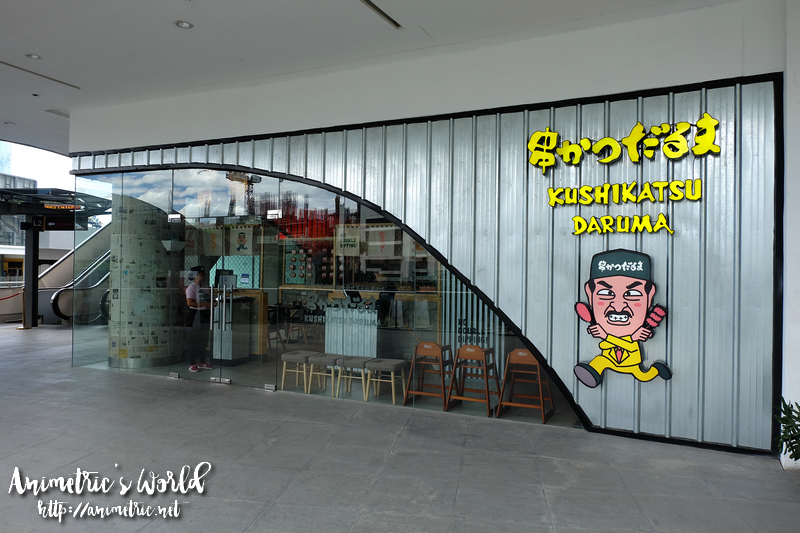 Kushikatsu Daruma is a famous kushikatsu place in Osaka, Japan that's been around since 1929. Kushikatsu is a Japanese dish of skewered deep fried meat and vegetables. Kushikatsu Daruma is located on the second floor veranda of Uptown BGC. I was immediately impressed by the quirky eye-catching facade.
The colorful and rather cartoony interiors were just as splendid.
Every table has a small metal pail (for sticks), an instruction sheet, and a covered metal pan containing kushikatsu sauce.
You're served complimentary vegetables consisting of carrot sticks, radish sticks, and lettuce while you wait for your orders. You can dip the veggies in the sauce. Just remember… no double dipping!
Okay so the first kushikatsu I ordered was Foie Gras (P199). It's the most expensive kushikatsu in the menu.
I submerged the Foie Gras kushikatsu in the sauce and took a bite. Perfectly crunchy outside and filled with tender foie gras inside, it was good… but something I'm likely to order only once lol.
We each ordered Chahan (P150) to go with our kushikatsu orders. My goodness, this is a meal in itself. Their chahan has tender pork pieces, crunchy garlic chips, and egg. It's soooo good.
We started off with the Beginner Level Set (P480 for 9 sticks). The set consists of Classic Kushikatsu (beef), Prawn, Chicken with Garlic, Chikuwa (fish cake), Tsukune (chicken ball), Tonkatsu, Leeks, Potato, and Camembert Cheese. If you order these individually the total is P491 so you save a little by getting the set. Crunchy outside and wonderful inside, every single one was yummy. They have an Advanced Level Set (P480 for 11 sticks) which includes animal innards like Chicken Gizzard, Pork Intestine, Chicken Heart, etc which we weren't interested in trying lol.
We dip the entire stick in the sauce before eating because you can't double dip.
We also ordered additional Classic Kushikatsu (P59) and Gyoza (P59). So amusing to eat whole gyozas (Japanese meat dumplings) battered and fried on sticks. Yes, they were all delicious.
Then we had some non-meat kushikatsu like Sweet Potato (P39), Camembert Cheese (P59), Potato (P39), and Mochi (P39). I was really curious about the Mochi but it turned out to be tikoy lol.
We also got an order of Yakiniku Beef (P190, ala carte) for a bit of variety. While I enjoyed the subtle flavor, I found it a tad too oily.
So far there are 3 categories of kushikatsu in the menu. Vegetables, non-meat food, and animal innards cost P39 per stick. Meat, fish, and a few other vegetables cost P59 per stick. Specials like Foie Gras and Japanese Oyster cost over P100 per stick.
My favorites? I'd go for Classic Kushikatsu, Gyoza, Camembert Cheese, Sweet Potato, and Leek (yes, leek — excellent palate cleanser!). Actually next time I go back, I'd order the Beginner Level Set and have their complimentary veggies on the side. Their Chahan is a must-try too. A glass of icy cold soda complements the kushikatsu nicely.
We had an enjoyable lunch at Kushikatsu Daruma. Love the modern cheery Japanese vibe and the interesting variety of kushikatsu. I wonder if I can ask for a serving scoop for the sauce because dipping just once just leaves me craving for more lol. If you want savor a piece of Osaka without having to travel, do pay Kushikatsu Daruma a visit.
Kushikatsu Daruma
2/F Veranda Uptown BGC
Bonifacio Global City, Taguig City
946-7374
Like this post? Subscribe to this blog by clicking HERE.
Let's stay connected: