One of the hottest places to eat and to be seen these days is KPUB BBQ at The Fort Strip. It's an eat-all-you-can Korean barbecue place which also turns into a very happening bar/club at night. I'm not really into the club scene and so given a choice, I choose to go to KPUB BBQ during lunch time when it's peaceful… lol. Besides, I'm allergic to alcohol so I can't drink anyway.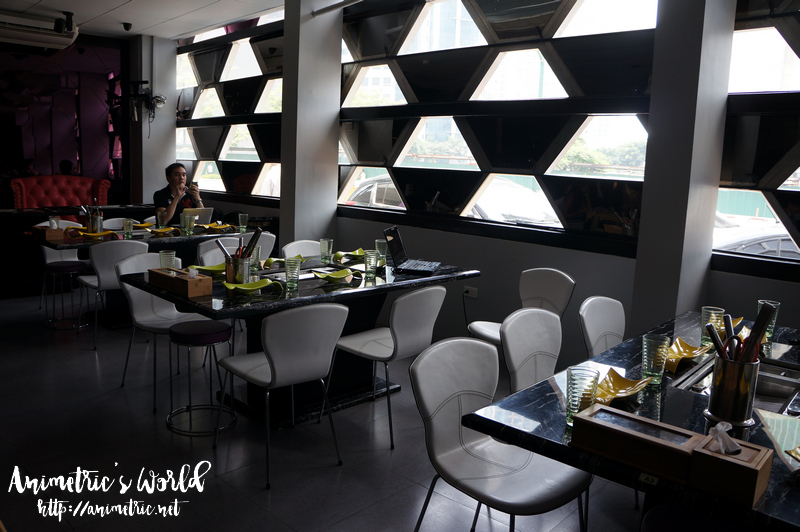 I like the funky windows. It looks even better from outside.
We picked a table near the funky windows so I can take photos properly. The inner areas of KPUB are quite dark and I don't like using the flash since it tends to wash everything out. This is actually my second time here. I wasn't really in the mood to blog during my first visit (besides I was seated in the dark area deep inside the restaurant back then) so it's only now that I'm posting about it.
So this is how the table is set up. There's an electric smokeless grill in the middle so you can cook.
Boxes of paper napkins and utensils are also on the table.
There are only two meat-all-you-can packages at KPub BBQ. There's the P499+ Eat and Run for 60 minutes where the clock will only start once the meat is served. The soup (see above), salad, banchan (Korean side dishes), rice, Steamed Egg (in other words, everything except the meat) will be served beforehand (maybe 10-15 minutes before the meats) so you have time to have some nibbles before the timer starts. As soon as the meats you ordered are placed on the table, you will be given 60 minutes to eat as much as you can. A minimum of two people must dine in order to avail of the P499+ Eat and Run for 60 minutes deal. Soup, salad, sauces, and banchan are all refillable. If you want the full experience, go for the P899+ No Limits package. Aside from the unlimited time, you will be given additional food options (at least 5 kinds of premium meats and Bibimbap as a choice when picking your rice).
There were 6 kinds of banchan placed in front of me. I love banchan. There was kimchi, anchovies, mashed potato with egg and raisins, cucumber kimchi… etc. You can ask for seconds… thirds… fourths… lol, as much as you can eat!
You also get Mixed Salad Greens with House Dressing.
They automatically serve you with a piping hot bowl of Steamed Eggs too.
You can choose from three kinds of rice — plain steamed white rice, Kimchi Rice, or Bibimbap (see above). Oh yeah, Bibimbap is not an option for the KPub P499 Eat and Run deal.
First serving of meat on our table was KPub Beef Kalbi (Marinated Short Ribs). This is one of the premium meats available only with the P899 No Limits package.
My favorite meat was the Chadolbaki (Beef Sukiyaki) since it was quick and easy to cook plus very tender.
We also had Ssam Gyup Sal (Sliced Pork Belly). I liked it cooked to a crisp so it's kinda bacon-ish, lol. Then I dip it in lot of sauce since it's kinda tasteless… but I still liked eating it.
There is a tastier version of the Pork Belly… Yangnyum Samkyupsal (Sweet and Spicy Pork Belly). We also had chicken (it's on the yellow plate in the photo) but I didn't eat any because I dislike chicken in general.
So we got to cooking and cooking… even if the grill is supposedly smokeless, you end up smelling like food anyway… your clothes, your hair… such is the price of meat all you can Korean BBQ. You can order a lot of other kinds of meat aside from those you see here on my post.
You are given these two yummy sauces to dip your meats in.
Yup, we pretty much grilled away. I was so full afterwards.
Both Meat All You Can packages include dessert, which come in the form of Shike (Sweet Healthy Rice Drink). I think I downed it in one gulp and I was kind of peeved because I couldn't get to the chewy rice grains at the bottom of the shot glass.
Take note that if you get the KPub P499 Eat and Run package and are unable to finish eating and leaving within 60 minutes you will automatically be upgraded to the KPub P899 No Limit package. That or you can pay P100 per person for an extra 30 minutes. However, servers will warn you when 45 minutes have passed so you can pace yourself accordingly. If you don't like the idea of pigging out you can also order ala carte, but I don't recommend that because it's more expensive and very limited. One order of Bibimbap is already P375 so you'll already be paying almost half of the P899 No Limit package. The meats also aren't available ala carte. There's only mostly bar chow, a few rice meals, and a whole lot of drinks.
We had the KPub P899 No Limits package and I was soooo frickin' full afterwards I couldn't eat dinner anymore by the time I got home several hours later. Next time though I think I will go for the KPub P499 Eat and Run 60 Minute Challenge because I wasn't too impressed with the "premium" meats and I think an hour is sufficient for me to get my fill since I'm perfectly okay with just the banchan, steamed rice or kimchi rice, Sukiyaki Beef and Pork Belly.
KPub BBQ
The Fort Strip
28th St. cor. 5th Ave.,
Bonifacio Global City, Taguig City
847-1961
Like this post? Subscribe to this blog by clicking HERE.
Let's stay connected: