School opening is just around the corner and I've been putting my children's things in order. I've got school bags, books, uniforms… I need to plan for every single detail — and that includes my kids' water bottle! I used to buy Zojirushi water bottles from either Hong Kong or Japan because like their Hawk school bags, I want them to use high quality water bottles that last.
It's a must for my kids to bring water to school because I don't want them to make drinking iced tea or artificial juices bought from the canteen a habit. Thank goodness their schools do not allow softdrinks. I actually get mad if they come home with untouched water bottles. For that purpose, I need a water bottle that's sturdy, stylish, and easy enough to use for my 7-year old. Then I met KOR… rather, the Philippine distributor of KOR sent me a sample KOR Hydration Vessel (water bottle) to review. I got a KOR Delta 750ml water bottle in Sunrise Orange.
The KOR Hydration Vessel is very easy to use because all you have to do to open it is press this plastic button.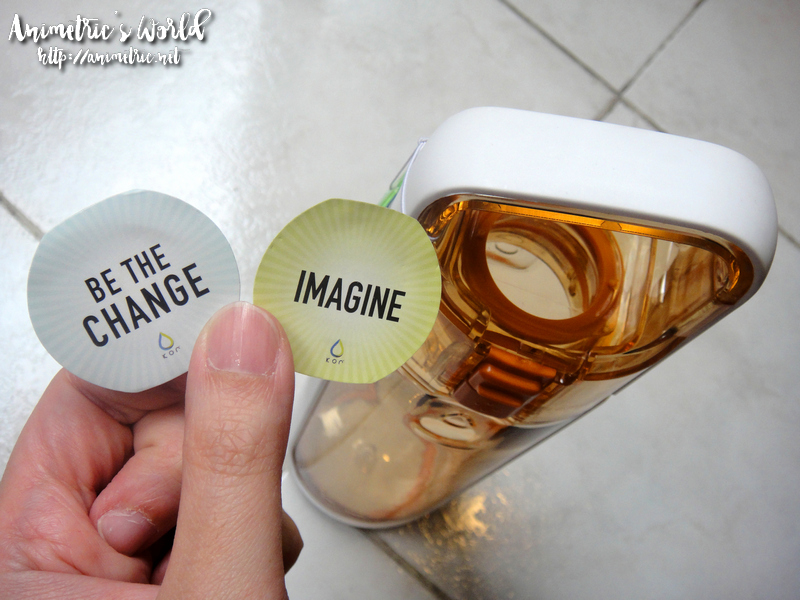 Each KOR Hydration Vessel comes with two (2) KOR "stones" too. KOR stones are disc-shaped tokens that have inspirational words written on them to help you remain positive. Why are they called stones? It's because they're printed on FiberStone® paper, a material that's tree-free, waterproof, and recyclable.
There's a compartment for putting in the stones on the cap of your KOR water bottle.
Voila, when you open your KOR water bottle, you see the message! The KOR water bottle's wide mouth makes it very easy to fill, refill, drink from, and wash. I wonder why no one else thought of it before. There are no detachable parts, caps to unscrew, or straws to clean.
You close it securely and you're good to go.
It also has a cushioned base so the bottle can stand on its own without tipping over.
I love the ergonomic design as it's comfortable to hold.
What I like about the KOR Hydration Vessel:
They're free of BPA (Bisphenol A), an industrial chemical used to make certain plastics and resins. It was found that BPA can seep into your food and drink. KOR water bottles use health-safe materials such as Eastman Tritan™ and food-grade stainless steel.
They come in several cool colors, designs, and sizes so you can find one that's right for you.
They're lightweight, child-friendly, and low maintenance.
They're completely water-tight, so no leaks!
The catch is, they're priced higher than your normal water bottle. A KOR Delta 750ml like the one I'm holding above costs P1,500. But I'm used to paying around that much for Zojirushi water bottles which lasted my kids at least 4 years so it's not really an issue for me. After all, that would come out to just P375 a year.
KOR Hydration Vessels are available in 500ml and 750ml sizes. If you're in the Philippines and you'd like to purchase a KOR Hydration Vessel, you can do so at
http://sunnysunday.com.ph/
Like this post? Subscribe to this blog by clicking HERE.
Let's stay connected: