Last December 31, hubby drove all the way to Clark Freeport Zone with the kids and I in tow. He wanted to look for High Efficiency (HE) detergent from the duty free stores there. We couldn't find any in Manila and he wanted to try using HE detergent with the new Speed Queen Washing Machine that we bought. I think I'll talk more about HE detergent in another post though, lol. For now, let me just share where we had lunch that day.
After visiting maybe three different duty free stores, it was already way past 1pm and we proceeded to have lunch at Koko Buri Restaurant in Clark. Since it wasn't really lunch time anymore the restaurant was pretty relaxed.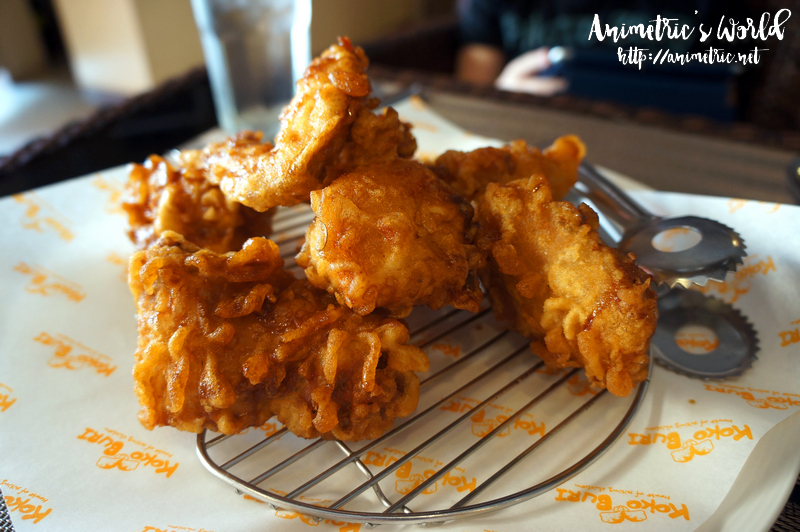 Koko Buri is a Korean-owned restaurant but isn't actually Korean. They don't serve kimchi, banchan, doenjang, and all the other stuff you would usually find in a Korean restaurant. Koko Buri offers more of Asian fusion cuisine, although they are most known for their Korean-style fried chicken (think BonChon Chicken). I may not like chicken but I like BonChon and so I ordered Soy Garlic Chicken (P290 for Half Chicken) to try. I was impressed. The chicken pieces are big and meaty, fried to crunchy perfection and coated a light soy garlic glaze. Our son and I shared this order and we both loved it. Amazingly, the chicken was still crunchy even when it wasn't hot anymore an hour later.
We had Taipei Beef Fried Rice (P190) to go with the chicken. It's fried rice with marinated beef pieces, egg, and minced veggies (carrots, bell peppers, etc.). Like the chicken, it was really delicious. One order proved too much for my son and I. We got to take home what was left over.
Hubby ordered Spaghetti Marinara (P270). It was served with garlic bread on the side.
It's a tomato-based pasta with lots and lots of assorted seafood — sizable pieces of squid, mussels, and shrimps. Hubby said he liked how it was nice, light, and fresh-tasting.
Our daughter opted for Beef Over Rice (P220). Tender beef strips cooked in shoyu (Japanese soy sauce) and ginger top steamed white rice. It's actually quite reminiscent of Gyudon, which you almost always find in Japanese restaurants. I had a small spoonful of the beef and I thought the ginger taste was quite pronounced (both kids aren't too fond of ginger). I was surprised when our little girl finished the entire serving.
All in all we had a pleasant and satisfying lunch at Koko Buri Restaurant. Prices are reasonable and serving sizes are above average. I really like their chicken too as I find it more crunchy yet more subtle in flavor (hindi nakakaumay) compared to other Korean-style fried chickens I've tried. I heard they opened a branch at The Fort although I haven't been there yet.
Koko Buri Restaurant
J. Abad Santos Highway,
Clark Freeport Zone, Clark, Pampanga
(045)499-5656
Like this post? Subscribe to this blog by clicking HERE.
Let's stay connected: