Now this is a challenge. I was tasked with cooking Knorr Sweet Style Spaghetti. Oh it wasn't hard. In fact, when I checked the recipe, I remember thinking… that's it? Lol! It's a challenge because everyone at home hates sweet style spaghetti. Even the kids prefer the more tart and tomato-rich Italian version. Our former helper used to make sweet style spaghetti all the time. Leftovers galore but that was the spaghetti she knew how to make. I hate throwing out food so I knew I had to tweak the original recipe somehow so the people at home would eat it.
Anyway these are the changes I made to the Knorr Sweet Style Spaghetti recipe. My kids hate ground pork, so I replaced with ground chicken. They don't want too much meat in their pasta sauce so I cut the amount of ground chicken to a little over half. That meant I also had to halve the number of Knorr cubes to be mixed with the meat. I just bought ready made sweet style sauce so I wouldn't have to deal with leftover tomato paste. I removed the 1 cup water because I didn't really need to thin the ready made sauce.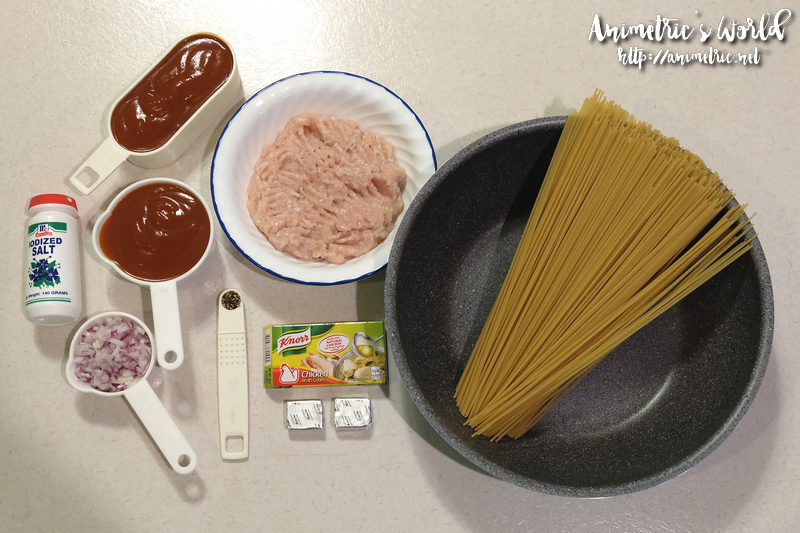 These are the ingredients. The procedure remains pretty much the same. I started with cooking the spaghetti according to package directions.
Then I started making the sauce. Cooking ground chicken is tricky because they stick together to form big pieces (think chicken nuggets). I used a wooden spoon to separate them as I sauteed even as I added the Knorr chicken cube. I kept stir-frying until the cube was dissolved.
Then I mixed in the sauce and simmered. The last additions are the pepper and salt. I mixed in the cooked spaghetti noodles before transferring to another container.
I topped the spaghetti with lots of mozzarella cheese to make it more appealing to my kids. Baked it for around 8 minutes so that the cheese would be all melty and gooey. Then I sprinkled some Spanish paprika and chopped fresh parsley on top.
Success! We had my version of Knorr Sweet Style Spaghetti for dinner and the kids didn't complain… whew! I was worried they'd refuse to eat it. Most kids I know like sweet style spaghetti though, so please feel free to try the original recipe as well.
I've been cooking meals for my family for a little over 2 months now. I think I've gotten the hang of it. We're eating better and spending less, despite the fact I'm buying everything from the supermarket. Thank you Knorr Philippines for giving me a chance to participate in the Knorr #LutongNanay advocacy.
Like this post? Subscribe to this blog by clicking HERE.
Let's stay connected: