As most of you know by now, I've been cooking. A lot. I even joked that bawi na my entire life of not cooking when our helper and cook of over 10 years suddenly left. To be honest, when I agreed to partner with Knorr for the #LutongNanay campaign, I was not expecting to cook everything all by myself. I thought our trusty helper will be there to guide me and help me so I was confident. I never imagined in a million years that it would just be me!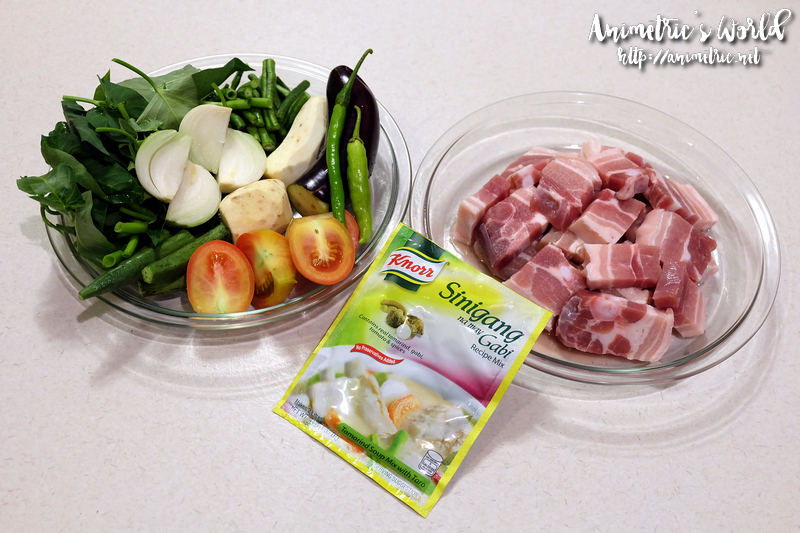 I've never cooked sinigang by myself. Ever. Oh I've eaten a lot of it. My lola used to cook sinigang all the time when I was growing up. I've always been pretty amazed by the mix of tastes and flavors present in one single dish. A warm bowl of hearty sinigang is especially comforting during rainy evenings — and we've been having a lot of those lately. It's very timely that I was slated to cook Knorr Sinigang na Liempo sa Sampaloc with Gabi this month. I went to the supermarket with the recipe in hand and bought all the ingredients in one go.
Positive thinking is what drives me when it comes to cooking. If she (our former helper) can do it, I can too! And I'll probably be able to do it better. At least that's what I tell myself. Nowadays you can learn everything via Google. I google the silliest things — "Do I wash pork before cooking?", "How do I wash vegetables?", and so forth. Google has been my faithful companion through this cooking journey.
I followed the Knorr Sinigang na Liempo sa Sampaloc with Gabi recipe to the letter. What do you know, a few minutes in and the broth was starting to smell like the sinigang our helper used to make.
More than half an hour later, it was actually looking more and more like sinigang. Oh joy!
A full hour later… voila! Achievement unlocked: I cooked Knorr Sinigang na Liempo sa Sampaloc with Gabi ALL BY MYSELF OMG.
The true test is if my family will eat it. It's extra challenging because they have never been fond of sinigang. I told them to at least give it a try. My daughter commented that sinigang is actually pretty good! We had Knorr Sinigang na Liempo sa Sampaloc with Gabi and steamed rice for dinner that night. Anyway let me share the recipe — promise if I can cook this, you can too! Knorr Sinigang mixes make it so much easier to whip up this delicious dish.
Knorr Sinigang na Liempo sa Sampaloc with Gabi
Ingredients:
· 1 kilo liempo (pork belly), sliced in 2 inch cubes
· 1 1/2 liter water
· 1 44g pack Knorr Sinigang na Gabi
· 1 bundle kangkong leaves
· 3 medium taro root (gabi), peeled and halved
· 3 medium ripe tomato, halved
· 2 medium yellow or white onion, quartered
· 2 cups string beans (sitaw), cut in 2 inch length
· 1 large Chinese eggplant (talong), sliced
· 12 pieces okra
· 3 to 4 pieces long green pepper (siling pansigang)
· Fish sauce (patis) to taste
Procedure:
1. Boil the water in a cooking pot.
2. Add the tomato and onion. Set the heat to medium and continue to boil for 15 minutes.
3. Add the pork belly and gabi. Continue to boil in low heat for 1 hour or until the pork gets tender. Add more water, if necessary.
4. Add the Knorr Sinigang na Gabi mix. Stir.
5. Add the long green chili and boil for 3 minutes.
6. Stir-in the okra, string beans, and eggplant and cook for 5 minutes.
7. Add the kangkong and fish sauce. Stir. Cover and turn off the heat. Let it stay covered for 5 minutes.
8. Transfer to a serving bowl.
9. Serve with warm rice.
10. Share and enjoy!
Now that I'm actually cooking, you can be sure we'll be having more #LutongNanay meals here at home. 😀
Like this post? Subscribe to this blog by clicking HERE.
Let's stay connected: