When I found out I had to cook Pork Menudo, I was not very happy about it. For starters, one of the ingredients is liver. Nobody here at home eats liver. We don't even use liver spread. Then the main ingredient was pork. I usually don't cook pork because our yaya can't have pork, being a 7-Day Adventist. Since there are just 5 of us at home I cook for everyone.
Lucky for me, Knorr doesn't mind me tweaking their Pork Menudo recipe to fit my family. Someone told me it's not Menudo if there's no liver. I did a lot of research and it seems the other ingredient that characterizes this dish is hot dog. Apparently, I'm not the only one who's confused which is which when it comes to Afritada, Menudo, Caldereta, and Mechado. Based on what I read online, liver, hot dogs, and raisins make Menudo.
I replaced pork and liver with chicken and hot dog. I also removed raisins because my kids refuse to eat them.
Even though I went for chicken and hot dogs in place of pork, I still used the Knorr Pork Cubes.
I was surprised at how easy it was to actually cook Menudo — I was done in no time! I might just do this again if I'm pressed for time.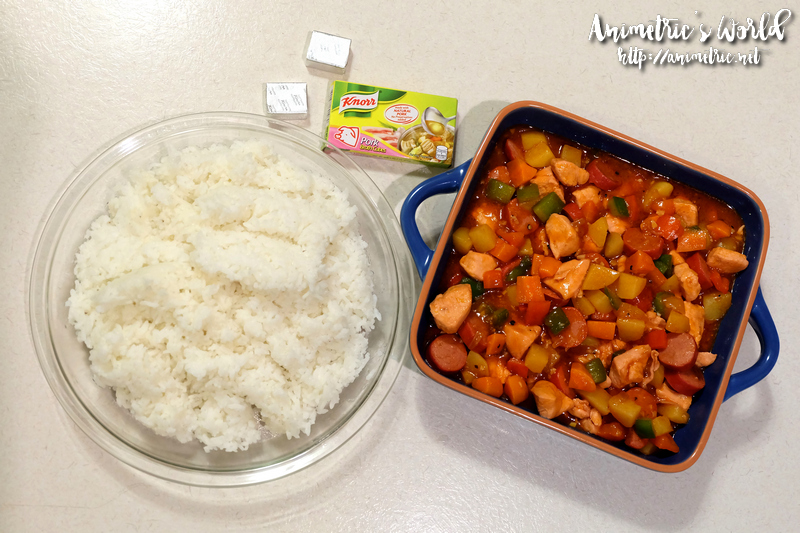 Tadaaah! I served it with steamed rice of course… it's the only way to eat Menudo!
The colors of this dish remind me of Christmas. Never in my wildest dreams did I ever dream I'd be cooking ulam one day. I always thought someone would be there to do it for me. I thought we could live on food delivery but we couldn't. Nothing really beats a homecooked meal.
Here's a rare photo of my son. He doesn't like his pics posted anywhere lol. It was a challenge to feed hubby and the kids Menudo because they're not really fond of Filipino food. They liked this version though!
Holiday potlucks coming up? Why not make some easy peasy Menudo to bring to the table? The ingredients aren't hard to find and it's pretty easy to cook even for beginners like me.
Like this post? Subscribe to this blog by clicking HERE.
Let's stay connected: