If you're craving for Korean food that goes much deeper than the usual double fried chicken and barbecued meats, you just have to visit Kko Kko Home. Kko Kko Home is Korean TV personality Grace Lee's restaurant. She conceptualized it along with her mom. Good old fashioned Korean home cooking levels up with modern flavors at Kko Kko Home.
I got to visit Kko Kko Home in Kapitolyo, Pasig.
We started off with Chicken Popcorn (P298 Half / P488 Whole) as our appetizer. You can have this coated with either Cheese or Fire Chili powder. We had cheese. OMG. It's so addictive! Like potato chips, it's hard to stop munching on them once you start.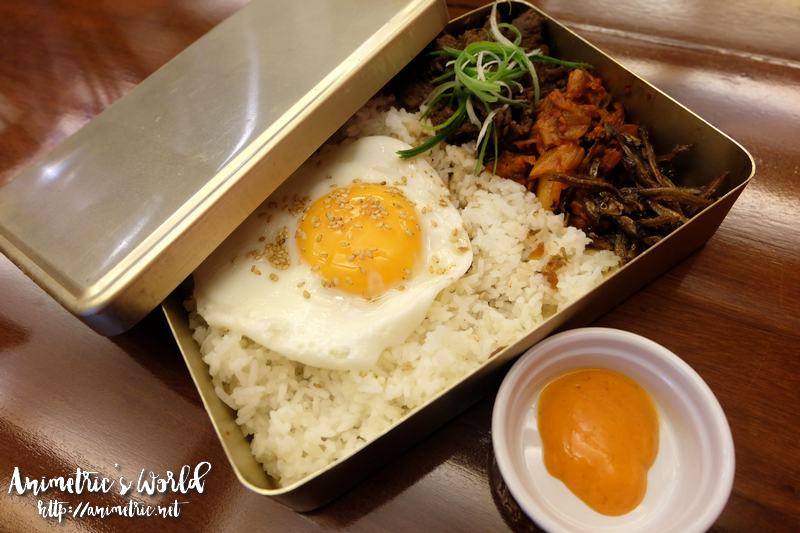 I also got to try their Beef Bulgogi (P238). It's served in a bento box. Beef, kimchi, and crispy dilis with fried egg topped rice make this a complete meal. According to the Kko Kko folks, the best way to eat this is to cover the box and shake it vigorously so everything comes together. Lol I find that messy so I'd rather use my spoon and fork to mix everything up.
Here's a closer look at my Beef Bulgogi. It's a pretty generous serving. At the rate I'm eating now, I think I'd have to share this with someone. I love the flavor combination of the savory beef, spicy kimchi, and sweet crispy dilis.
A must-try at Kko Kko is definitely the Chicken Cheese Fondue (P988 Whole / P658 Half). It's a hefty dish with boneless chicken chunks tossed in your choice of sauce, onion rings, fries, and a bread bowl full of gooey melted cheese.
My goodness… they melt several kinds of cheeses to create this yummy gooey concoction.
Grace Lee's mom demonstrated how the chicken should be dipped in the cheese. You use your chopsticks and dunk the chicken all the way down to the bottom of the bread bowl. This is so you can capture all the layers of flavors the different cheeses provide. It's soooo good! After you finish the chicken, onion rings, and fries, they can cut up the bread bowl so you can eat bread with cheese.
We also tried Yang Nyum (P368 Half / P598 Whole) which is super crispy fried chicken tossed in a sauce of your choice. This one is Classic Soy. Alternatively you can opt for Sweet Chili or Oh-My-Garlic. I was surprised at how good this dish is. Popular Korean fried chicken chains Bonchon and Kyochon cannot even hope to compare. Kko Kko Home's chicken has more depth when it comes to flavor and it's a lot less oily. Definitely a must-try.
Soon to be included in the menu is the Samgyetang or Chicken Ginseng Soup. I found the taste reminiscent of the hot, medicinal, and highly nutritious soups elderly Chinese folks would prepare. Being of Chinese descent, I remember having such soups in my grandma's house as a child. These days, it's my mother-in-law who is fond of preparing this kind of dish. Samgyetang is actually also a complete meal in itself since it has both chicken and rice. A very comforting dish, perfect for when you're not feeling well… like if you're feeling the onset of a cough, cold, or flu.
If you're not fond of crowded malls and small spaces, Kko Kko Home is perfect for you. Food is absolutely delicious. It's peaceful, spacious and homey so it's ideal for relaxed family meals or catching up with friends.
Kko Kko Home
67 West Capitol Drive,
Kapitolyo, Pasig
0917-8904268
Like this post? Subscribe to this blog by clicking HERE.
Let's stay connected: