One of the places I just had to visit during my recent trip to Japan was the Kitkat Chocolatory. There are a few stores scattered in different parts of the country and I chose to drop by the one in Seibu Department Store Ikebukuro.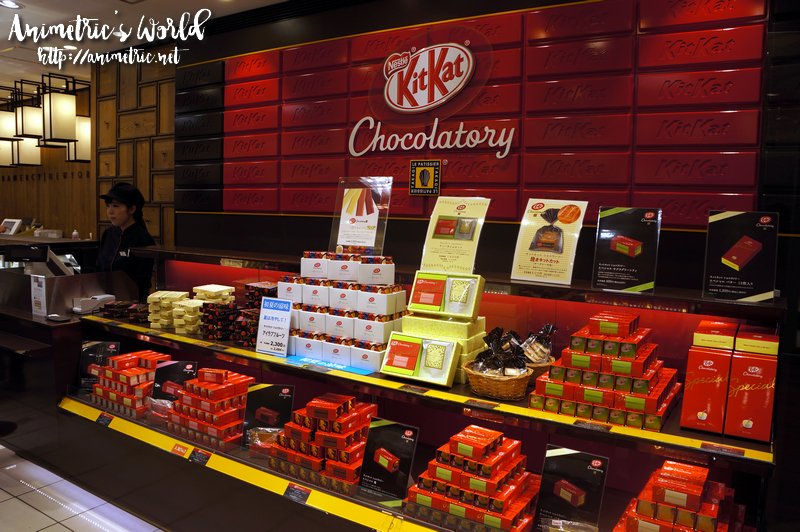 Expectation: A store teeming with a zillion Kitkat variants.
Reality: A small stall with Kitkat variants I could count.
Okay I admit it. I was disappointed when I saw this stall. I was expecting a big store with shelves full of unique Kitkat variants that I had never seen before. Instead there were two rows of a dozen kinds at most.
They had antique Kitkats on display.
Butter Kitkat
A box like this containing a dozen Kitkats costs 1200 yen (around P480). Kitkats sold at the Kitkat Chocolatory are supposedly made of higher quality ingredients compared to the supermarket variety so they are more expensive.
Smaller boxes containing 4 Kitkats cost 432 yen each (around P173). The supermarket variety Kitkat costs 235 yen (around P94) for a bag of 12 Kitkats.
They have Kitkat gift sets too. This one comes with Chahuubou Tea.
This is my Kitkat haul. I got almost every flavor available save for a mixed fruit one. I got 10 variants in all. Let me show you what I got:
Okay these Kitkat Chocolatory Sublime bars are the most expensive ones I got at 324 yen (around P130) each. There were 3 kinds there — Dark Chocolate, White Chocolate, and Dark Chocolate with Raspberry. I only got Dark and White.
Each box contains just 1 stick. Talk about pricey.
These sublime Kitkats are supposedly made of the highest quality ingredients.
I had a taste and well… they really are very smooth and sublime, but not worth P130 per stick. LOL.
Kitkat Chocolatory Special Butter
Next in quality and price after the Sublime line is Kitkat Chocolatory's Special line. I was so intrigued I got the biggest box available, a box of 12 worth 1200 yen (around P480). Too bad I can't read the hiragana inside the box.
Butter Kitkat looks like ordinary white chocolate. It also tastes like white chocolate which smelled a bit like coconut. Didn't strike me as buttery at all. I'm officially disappointed.
Okay next. I got a bunch of boxes containing 4 Kitkats each, each box was priced at 432 yen (around P173).
Can you guess what variant this is? It's Kitkat Chocolatory Special Ginger!
Verdict? Tastes like regular Kitkat with lots of tiny chewy and slightly spicy ginger bits. Okay I guess, but like the Butter variant it left me underwhelmed.
Okay… moving on to something pink… Kitkat Chocolatory Special Strawberry Maple!
Next to butter, Strawberry Maple is the variant that piqued my interest most. Love the pink and red wrappers! This variant is my daughter's favorite. It does taste like strawberry and maple syrup. I found it too sweet but my daughter was only too happy to eat them all lol.
Next is something green… Kitkat Chocolatory Special Sakura Green Tea.
This is the upgraded version of the cheap supermarket variety Green Tea Kitkat that we see here in the Philippines (except that here they aren't cheap at P230 per bag — they cost P94 per bag in Japan). It's the upgraded version because of the higher quality chocolate and the addition of sakura (cherry blossom). I don't know how they added that but I found this variant weird-tasting. On the up side, my hubby said this is the best Kitkat he has ever tried, describing it as elegant, incredibly smooth, and addictive. I disagree. Give me the cheap supermarket variety Green Tea Kitkat any day.
Kitkat Chocolatory Special Cream Cheese
I was kind of excited about Cream Cheese, even if I had already tasted Cheesecake Kitkat. No fancy photos and description inside the box for this one.
Again, another white chocolate looking variant. But this one is different, it comes across as tart and cheesy. I liked that it wasn't sweet. It even smells like cheese.
Last but not least we have Kitkat Chocolatory's Baked Cheesecake Kitkat. Unlike all the others, this variant comes in clear plastic wrappers.
You can clearly see the unique texture of this variant. It's baked so the outer coating has a biscuit-like texture. It tastes like the supermarket Cheesecake variant but this is priced much much higher — 432 yen (around P173 pesos for 4 pcs vs. P98 pesos for 12 pcs for the supermarket Cheesecake variant).
That about makes up my Kitkat Chocolatory haul. What do you think?
What do I think? Two words: Overrated. Overpriced. I think next time I go back to Japan, I will stick to supermarkets and airport Kitkats which are cheaper and in my opinion, yummier. I will most likely not go back to the Kitkat Chocolatory now that I've gotten it out of my system.
Kitkat Chocolatory
Seibu Department Store
1-28-1 Minami-Ikebukuro, Toshima, Tokyo
http://nestle.jp/brand/kit/chocolatory/store.html
Like this post? Subscribe to this blog by clicking HERE.
Let's stay connected: