I've tried a truckload of food delivery services this quarantine and one of our family's faves is Kitchen City Frozen Meals. Why? Well the dishes we've tried are pretty good. Their Family Size serving portion is just right for us too. Family size ulam prices start at P250, so it's very reasonable. Ordering Kitchen City Frozen Meals sure beats having to go ingredient shopping, prepping, and then cooking.
Anyhow, we tried four (4) dishes on our first order, but I'll be showing you the first three (3) that I served. First is the Crusted Parmesan Salmon with Lemon Butter (P950). This is actually their most expensive dish on the menu. After I took it out of the freezer I thawed it for a few hours. You can actually fast-track defrosting by popping in the microwave oven but I prefer not using the microwave oven so much.
This is the Family Size 600g serving, which is perfect for a family of four like ours.
I heat all my Kitchen City Frozen Meals over the stovetop. It takes less than 10 minutes.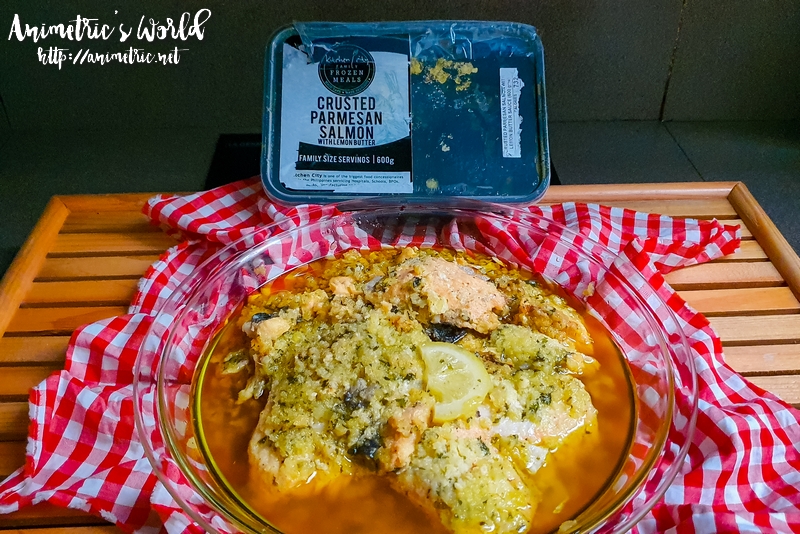 Tadaaa! Generous portions of Parmesan Crusted Salmon drowning in Lemon Butter Sauce. The kids loved this dish. The salmon was tender and you can actually taste everything in the dish's name — the parmesan, lemon, and butter! This is me trying to make it presentable lol.
We also tried their Roast Beef with Mushroom Gravy & Rosemary Marble Potato (P550).
So yummy! This is so much more worth the money compared to the frozen Conti's Roast Beef (also P500+) I bought some time ago. It was supposedly 512g but we felt we got maybe half of that in terms of meat content. I actually had to scrounge up more ulam after serving it because everyone was still hungry. Kitchen City Frozen Meals' Roast Beef was very satisfying and delicious, nobody was left feeling hungry afterwards.
Giant Swedish Meatballs with Peppercorn Sauce (P425) is my son's favorite. They're not exaggerating when they say giant. I had one gravy-drenched meatball with rice and I was okay already.
We all loved the peppery taste of this dish. It's filling too.
Okay so I've ordered from Kitchen City Frozen Meals a total of 3x already. I love that their delivery fee is only P75 wherever you are located. I make sure to order at least a week's worth of food for the best value for money. It's super easy to order via their website too. Their cut-off is 5pm for next day delivery. I love that all I have to do is thaw, reheat, and eat!
Kitchen City Frozen Meals has recently added desserts to their menu. They already have an extensive selection as is so you can pretty much get all kinds of meat, seafood, and veggie dishes. I love that they keep adding more stuff! I actually ordered their Frozen Decadent Cake (P350) but I'm serving it for dessert tonight so I have no photos yet. Will update this post when we do try it. 😀
Like this post? Subscribe to this blog by clicking HERE.
Let's stay connected: