One of the highlights of our recent trip to Japan was the Kirin Beer Factory Tour. Kirin is one of the biggest beverage companies in Japan. They have breweries all over the country. All of them conduct free tours. Since we were staying in Tokyo, the Kirin Yokohama Brewery was closest to us. A lot of people have been asking me how we set up our Kirin Beer Factory Tour and I'm more than happy to share the details.
The first thing I did was go to http://www.kirin.co.jp/entertainment/factory/yokohama/. If you click on the animated gif with the toasting glasses, you'll be forwarded to their calendar where you can book a tour online. The problem with this is the registration form is in Japanese.
What I did was e-mail them. They replied the next day. They told me to call +81-45-503-8250. I did and I was able to reserve 4 slots for the 3pm tour on March 31, 2017 in a minute.
I was dead set on arranging this factory tour because I feel my kids' schools have not exposed them in this aspect. They are in the 11th and 7th grades respectively and they've NEVER been on a factory tour. It's important to reserve slots. If you walk in and all slots are taken, they won't let you join.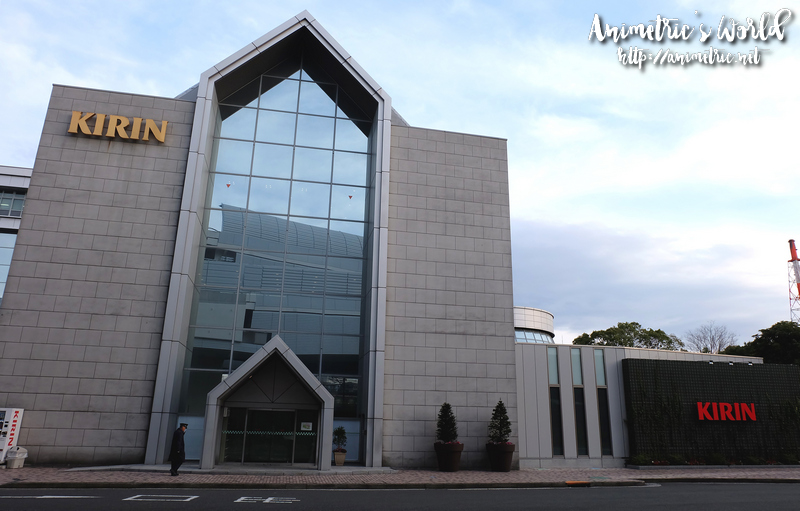 The Kirin Beer Yokohama Brewery isn't hard to find. According to Google Maps, the closest train station to it is Namamugi so that was where we got off. At Namamugi Station, there are signs with arrows leading to the direction of Kirin Beer Village. We followed the signs to the correct exit and used Google Maps from there. Just look up Kirin Brewery Yokohama Plant on Google Maps. Namamugi Station is about 1.2km away from the Kirin Beer Yokohama Brewery so it's a 10-15 minute walk depending on how fast you are. Please note that you have to be at the venue 10 minutes before your Kirin Beer Factory tour schedule. I suggest you allot extra time for travel especially if you're unfamiliar with the area. The Japanese are super prompt so they'll really proceed without you if you're late.
We were so happy when we finally got there!
We went in the reception area and we were given English brochures and a laminated print out of the entire tour. It's all in Japanese so you'll need to read as you go along. People below 20 years old are given Under 20 IDs so they won't be served alcohol. Adults 20 years old and up are given green Kirin pins to wear.
The Kirin Yokohama Brewery's reception area is really sleek and high tech. You can check out the interactive displays while waiting for your tour.
Everything's in Japanese but this table features Kirin Beer's main ingredients.
These are the other ingredients.
Finally we were ushered inside the complex. The Kirin Beer Factory Tour kicks off with a video about the history of Kirin. They told us we could photograph everything except their videos.
We passed by this super cool wall of beer which fizzes up every few minutes.
They took us to an interactive display of the two main ingredients used in Kirin Beer production — barley grains and hops. We could touch, feel, and smell them.
These are the barley grains. They passed around a bottle containing roasted barley which we could taste. Amazingly, they were pretty good… like nutty toasted cereal.
These are hops. They had a weird smell which reminded me of wet rags wahaha.
After getting intimate with the ingredients, we were led to a hall where we could see huge tanks. This is where technology comes into play. Instead of opening the tanks to show you what's inside, they have holograms projected onto that white surface around the tank. Mind blown.
After the demo, glasses of first press wort and second press wort were passed around for us to taste. Wort is liquid extracted from crushed and caramelized malt. Since these have no alcohol yet, even kids were allowed to drink. First press wort is flavorful and sweet while second press wort is bland and tasteless. I guess we can liken first press wort to extra virgin olive oil and second press wort to pomace. The common beer production procedure combines first press wort and second press wort. Kirin proudly employs the First Press Method which uses only first press wort for the best possible taste.
Yeast is added to the wort. Then the wort is fermented in the fermentation tank. After 1-2 months of maturation, beer is ready to be enjoyed.
As we were making our way through the brewery, we came across the Brewing Experience Classroom. You can brew your own beer here. They will send you the beer you crafted after 6 weeks.
The Brewing Experience Classroom is by appointment only. Since you need 6 weeks for your beer to be delivered, I don't think it's feasible if you're just visiting.
We were then taken to the packaging area. Only beer which have passed strict inspection standards are packed and shipped.
Our cheery Kirin Beer Factory Tour Guide showed us the 3 beers we could taste after the tour. There's also a selection of non-alcoholic drinks for people who don't or can't drink.
We were led to a tasting bar where we could request anything we wanted to drink.
Hubby and I sampled Kirin's Prime Brew. We were all given a small bag of Kirin cheese crackers too. Kirin's Prime Brew is so soooo good. I'm no beer drinker but wow, I wanted to finish the whole can. We also tried the Stout but it smelled like soy sauce and we didn't really fancy it.
We also tried their non-alcoholic drinks like Milk Tea, Rich Green Tea, Apple Juice, Mixed Tea, etc. The kids thought Kirin Milk Tea was the best milk tea they had ever tasted.
After enjoying our drinks, we had our photo taken at the Kirin Yokohama Brewery wall. There's actually a souvenir shop outside the tasting bar. I bought some Kirin Beer Jelly Chocolates lol. The tour was about 20-30 minutes long.
We all enjoyed our Kirin Beer Factory Tour. Educational, interactive, and fun, it's definitely one of the best things you can do with the family in Yokohama. It's hard to believe it's totally FREE. Next time we're back in Japan, I plan to arrange a Glico Factory Tour in Saitama.
Kirin Brewery Yokohama Plant
1-17-1, Namamugi, Tsurumi-ku,
Yokohama, 230-8628, Japan
+81-45-503-8250
Like this post? Subscribe to this blog by clicking HERE.
Let's stay connected: