I was invited to check out Kipling SM Aura a little over a week ago. Bags are my thing.  Not just any bag mind you, I want my bags branded! I pretty much don't care about the rest of my ensemble. My bag just has to be branded and imported… lol.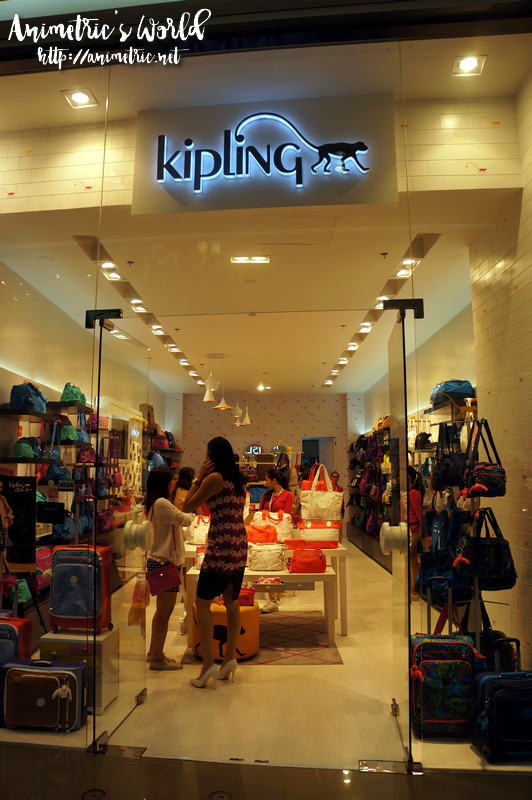 It was my first time to visit Kipling SM Aura.
The SPF14 (Summer Pre-Fall 2014) collection was in place at the center of the store, a festive mix of white and coral.
Aside from handbags and shoulder bags, Kipling carries travel bags and luggages too.
These bright blue and pink bags are all part of the SPF14 collection too.
I was decided on getting a Kipling Amiel bag before I went to the store (although the actual one I wanted was gold). Unfortunately, it wasn't available.
Since Amiel wasn't in stock, I had to check out my 2nd choice, the Kipling Orelie in Caffe Latte. It's a cute handbag that's very versatile. It costs P6,500.
I like it! I wanted it in gold bit it wasn't in stock.
Kipling has purses like this one too — they come in all sorts of colors and patterns!
The blue one in the middle of the photo above, the Kipling Super City Bag, is a career woman's bag and can fit a laptop. It costs around P11,000.
This is my third choice, Kipling Defea in Caffe Latte. It's a roomy, satchel-like bag. Everyone agreed it's more my personality. It costs P7,000.
It's definitely bigger than the Orelie, but it's just as lightweight.
But then I saw it the Beige Snakeskin version.
All Kipling Defea bags include a monkey charm like this one. Kipling Defea in Beige Snakeskin costs P8,000. It's nylon (most Kipling bags are), so it's dirt and stain resistant.
Can you guess what I chose in the end?
I went with the Kipling Defea in Beige Snakeskin. Why?
All my bags are in solid colors. I don't own a printed / patterned bag, this is the first. It should be a nice change.
It's bigger than the Orelie so it can accommodate more things.
Most of my clothes are in solid colors. A printedor patterned bag would serve as a nice accent.
Today is the last day of the SM End of Season sale at Kipling SM Aura and Kipling SM North EDSA — you can get up to 50% discount at Kipling stores in those malls today!
Thank you so much Kipling SM Aura for the bag!
Like this post? Subscribe to this blog by clicking HERE.
Let's stay connected: