I got married back in 1999. I didn't have a bridal shower because I was the eldest among us siblings and cousins on both sides of the family. My barkadas were comprised mostly of boys because well, my interests were not exactly girly. I liked stuff like Mortal Kombat, Dungeons and Dragons, and Magic The Gathering. The "in" thing back then was to get married in your mid-20s, so I got married at age 25.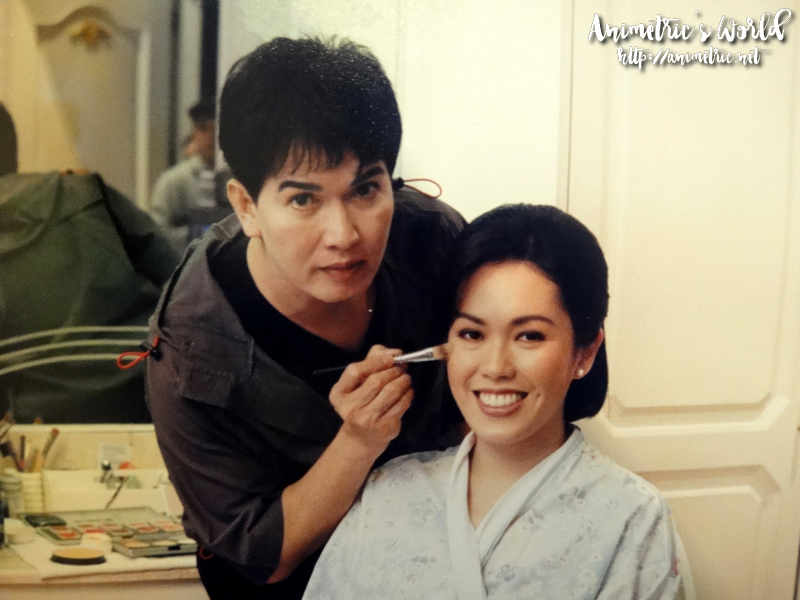 Fanny Serrano and I back in December 1999
I had it all planned out. My hair and makeup would be done by Fanny Serrano, my favorite makeup artist during the 90s. I reserved one year ahead because I didn't want just anyone, I wanted Fanny himself. I remember not really caring about all the other details except my makeup, hahahaha!  Those were the days. All you needed to do to look good on your wedding day was hire a good makeup artist. Prenup shoots and bridal showers? They weren't really being done during those days. How I wish they were so I'd have more tangible things to remind me of the moments leading up to my wedding day!
It's now 2016 and getting married isn't as simple as it used to be. You now have bridal showers, prenup shoots, despedida de soltera, rehearsal dinner… the list goes on and on. Since virtually everyone is a photographer now thanks to smartphones, every moment will be documented. That said, you need to look good practically ALL the time up until your actual wedding day. Hiring someone to do your hair and makeup for each occasion just isn't practical. You need to arm yourself with some basic techniques so you can DIY during times when going all out isn't really necessary. Check out my kit above — I can already look party-ready with just the above products. I'm not really a fan of piling on too much makeup.
You don't have to be a makeup artist to be able to create a polished look. When I don't have time (that's almost always), I just grab an eyebrow mascara and brush through my eyebrows following the direction of the hair's natural growth. Then I blend with a spoolie or eyebrow brush. Eyebrow mascara fills gaps, shapes, colors, and keeps brows in place so if you don't want to be saddled with a lot of products it's a good option. When you get your eyebrows right, you'd have already won half the battle lol. I always make a conscious effort to draw my eyebrows straight instead of upwards because I feel it makes me look younger.
I love multi-tasking products and so most of the time I don't need an eye shadow palette, my shadow liners (pens with eyeshadow puffs on one end and liquid liner pens on another) are all I need. My eye shadow technique is simple, I almost always employ the gradient method (darkest color on the lid closest to the lashline going lighter to lightest, blending upwards). Then I line just the upper lids to open up the eyes.
If you don't like eye shadows, an eyeliner, eyelash curler and mascara is also a good way of opening up the eyes. Always curl first BEFORE applying mascara. Curling after applying mascara will make you lose precious lash strands.
When I was studying makeup, my makeup teacher would tell us that when it comes to blush, the SM lady look is out. By SM lady, he means that harsh diagonal line you would see on most of well… SM salesladies' cheeks. Here's an easy peasy way of applying blush so it looks nice and natural. Smile. Then sweep blush upwards across the apples of your cheeks towards your ear. That's it!
With regards to applying lipstick, here's a tip I picked up from makeup school. After washing your face and doing your skincare routine, generously apply lip balm all over your lips. Then proceed to do everything else — apply BB / foundation, do your eyebrows and eyes, cheeks, etc. The lipstick goes on last and by then your lips would already have absorbed the lip balm making lipstick application a lot easier.
Aside from practicing my daily skincare routine, one thing I always do before applying makeup is brush my teeth. I drink coffee or tea every morning (depends on my mood). Both are dark-colored drinks that can stain teeth and so I need a toothpaste that can counter their effects. For me, that's Colgate Optic White.
Colgate Optic White has Whitening Accelerators which safely exfoliate stains and polish teeth. I love the fresh minty flavor too. My teeth feel so much cleaner whenever I use Colgate Optic White.
You need your pearly whites for the most important kikay tip of all — Smile! Smiling instantly lights up your entire face. Smiling makes you look so much prettier too and it doesn't cost you anything! You'll definitely look picture perfect if you smile.
You know, had bridal showers been in fashion during my time, I can't imagine how my boysquad (yes boysquad because all my buddies were guys) would've handled it. Maybe we would've had a video game themed one… I don't know, lol.
Do you have a friend or relative who's tying the knot? How would you like to throw her a bridal shower she'll never forget? Go get your girlsquad ready and make the bride-to-be smile and shine bright like Solenn with the help of COLGATE OPTIC WHITE!
Here are some ideas from Solenn's Bridal Shower to help you out:
Surprise Video link: https://www.youtube.com/watch?v=CLmBVcFlBW8
Bride & Breakfast link: https://www.youtube.com/watch?v=dMBqebHOCmk
All you need to do is UPLOAD A PHOTO of your bride-to-be friend on Instagram or Facebook and complete the statement:
"I want to make my friend (bride-to-be's name) smile bright with Colgate Optic White's help for a _________-themed bridal shower because ________________."
For more information on Colgate Optic White and #ShiningBridalShower, visit the Colgate website at http://www.colgate.ph, Colgate Philippines on Facebook, or @colgateph on Instagram.
Like this post? Subscribe to this blog by clicking HERE.
Let's stay connected: