So a couple of nights ago, I had dinner with two friends who choose to remain anonymous. They were in camera shy mode and did not want to appear on my blog, lol. We were dilly-dallying about SM Megamall trying to find a place to eat when I suggested why don't we try Kichitora? It's one of the few ramen establishments I haven't tried.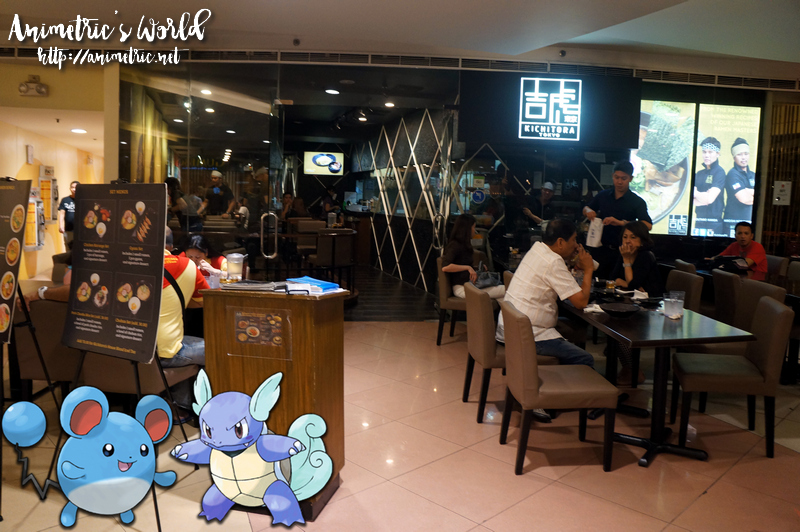 I shall hide my friends' identities under the aliases Marill and Wartortle, two of my favorite Pokemons. I had considered writing about having dinner alone but I decided that it's more fun to do it this way, hahaha. Kichitora is a Japanese franchise. This is actually their first branch outside Japan.
Like most ramen places, Kichitora was packed during dinner time. Luckily we didn't have to queue up.
We weren't feeling that hungry since we had drinks and pastries at Lucca prior, thus we decided to order small bowls of ramen.
Then I saw their small ramen sets on a separate menu. Small ramen sets let you pick a ramen variant of your choice (size small), a side dish (either 5 pcs. of gyoza, 3 pcs. of karaage, a small bowl of pork chashu rice, or a small bowl of chahan rice), and their signature dessert. If you choose the chashu rice or chahan rice you have to add P30 to your set. Anyway, I opted for the Paitan Zenbu no Se Set (P450) with gyoza.
I wanted to try their Paitan Zenbu no Se ramen because it's the bestseller. When Kichitora first opened, everybody was always saying that if I go to Kichitora I should try the Paitan ramen.
My friend Marill got the same thing — we both agreed that the noodles are very much like North Park Noodle House's egg-based Hong Kong noodles. It was cooked al dente but it tasted too much like HK noodles not the usual ramen noodles. The broth was very good, better than what I had at Santouka. The ramen egg is a fail. Yes, it looks moist and runny from the photo but it's actually bland and dry underneath. Ikkoryu's ajitama egg is still the best. You can choose to have either pork or chicken with Paitan and I chose pork (it's hidden underneath the seaweed sheet). I got a very big slice of pork which tasted like toasted asado but it was very tough so I couldn't really eat the whole thing.
The gyoza was okay. The wrapper is the thick and chewy kind, but the filling tasted like leeks more than anything. I shared the gyoza with my friends.
Their signature dessert is actually almond pudding topped with strawberry jam and fresh milk. The almond pudding itself is lovely — milky and creamy, just the way I like it. Unfortunately I think the strawberry jam ruins the entire experience. Next time I'll tell them not to put any.
My friend Wartortle ordered a small ramen set but he chose to have Karaage with it instead of gyoza. The karaage is served with a wedge of fresh lemon which I sprinkled all over. We got one piece each. It was surprisingly good — perfectly crunchy outside then tender and well-cooked inside.
I think the idea of offering small ramen sets is very good since it lets you taste more of their offerings without ordering and shelling out too much. Service was quick and satisfactory. My Kichitora experience was okay in general, but I think my top ramen places are still Hanamaruken and Ramen Nagi.
Kichitora of Tokyo
2/F Mega Atrium SM Megamall
Mandaluyong City
775-1100
Like this post? Subscribe to this blog by clicking HERE.
Let's stay connected: