This is my Kerasilk Hair Treatment with Iron experience at Azta Urban Salon. My hair takes a lot of abuse. I have it straightened regularly and I use hair color every few months. I have no choice because my hair is too unmanageable in its natural state. I've been seeing a lot of white strands which need covering… haha! White hair makes one look so much older than they really are. XD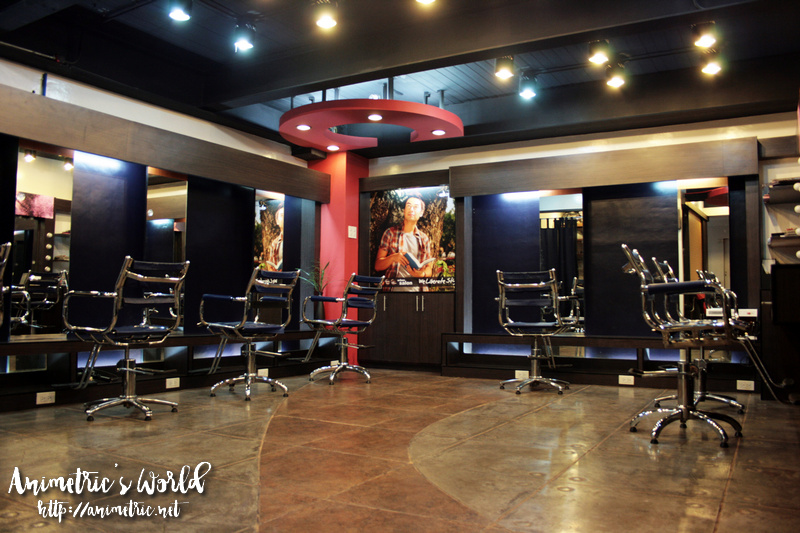 That said, I'm really happy that there is now a wide selection of hair treatments I can avail to address my hair concerns. Damaged hair like mine need extra attention aside from daily conditioning at home. For this post, I'd like to share with you my first ever keratin treatment — Kerasilk Hair Treatment with Iron — at Azta Urban Salon (photo above is the styling area of Azta Urban Salon in Katipunan). I've heard a lot about how keratin can do wonders in terms of hair repair and so I really wanted to try it out for myself.
Okay, so this was the state of my hair when I went to the salon last August 20, 2012. It was very dry. I was using moisturizing shampoo, conditioner, and treatment at home almost everyday and they weren't really helping me anymore. I hate it when my hair strands become crunchy, over-cooked sticks of… hair? XD
Anyhow, it's Kerasilk Hair Treatment with Iron to the rescue! It's actually Azta Urban Salon's version of the Brazilian Blowout. They started by shampooing my hair with Kerasilk Keratin Treatment Purifying Shampoo #1. Then they applied Kerasilk Keratin Treatment Reconstructor #2 onto my hair section by section. Kerasilk Hair Treatment moisturizes, repairs, eliminates frizz, and adds shine. I had to wait for the treatment to "set" for about thirty minutes. Surprisingly, they did not rinse off the treatment from my hair. Instead, they proceeded to blow-dry since my hair was wet.
After blow-drying, they took out a special Keratin iron and started ironing my hair straight. I was instructed not to wet or shampoo my hair for at least 48 hours after the treatment… 72 hours if I can manage. XD
My hair was definitely softer, smoother, and more shiny after the treatment. It's touchable again! 😀
Here's the thing. You almost always have great hair after walking out of the salon. That said, I always do the shampoo test. Two and a half days after treatment I finally shampooed my hair (I couldn't hold on until 72 hours because my hair was already so greasy and it felt gross!). I didn't iron it or anything, and look how it turned out! Still smooth, soft, and shiny and still a million times better than the hair I started with. Yay!
One session of Kerasilk Hair Treatment with Iron at Azta Urban Salon for hair that's as long and thick as mine would cost around P3,700. This price can go higher or lower depending on how long and thick your hair is. You're good to go in about 1.5 to 2 hours.
Let me clarify what the Kerasilk Hair Treatment with Iron is and is not:
It's not a straightening service. Yes, it will make your hair smooth and frizz-free. It also eliminates volume so your hair is not buhaghag BUT it won't eliminate kinks the way rebonding does.
It is a hair treatment, in the sense that it's good for your hair like hot oil or hair spa.
It's good for maintaining straightened hair (like mine) as it prolongs the straight effect. If you're in between rebonding sessions, it's good to have this.
It's been almost three weeks and my hair is still smooth, soft, shiny, and easy to manage. 😀
Azta Urban Salon
2/F SMRC Bldg., Katipunan Ave.,
(across Miriam College), Quezon City
434-6733
http://www.facebook.com/AztaUrbanSalon
Like this post? Subscribe to this blog by clicking HERE.
Let's stay connected: