About a month ago, Kenny Rogers Roasters launched the deliciously spicy Chipotle Fire Chicken. I love spicy food, so the Chipotle Fire Chicken is now my default order at Kenny Rogers. It's got just the right level of hotness and it's really flavorful. It's also served with Java Rice which makes it all the more special.
A few days ago, Kenny Rogers Roasters surprised us with even more spice in the form of their new secret sauce — the Effin Hot Gravy. Dare you ask for the Effin Hot Gravy to go with the Chipotle Fire Chicken?
To make it even more challenging, we were all asked to pick 2 cards.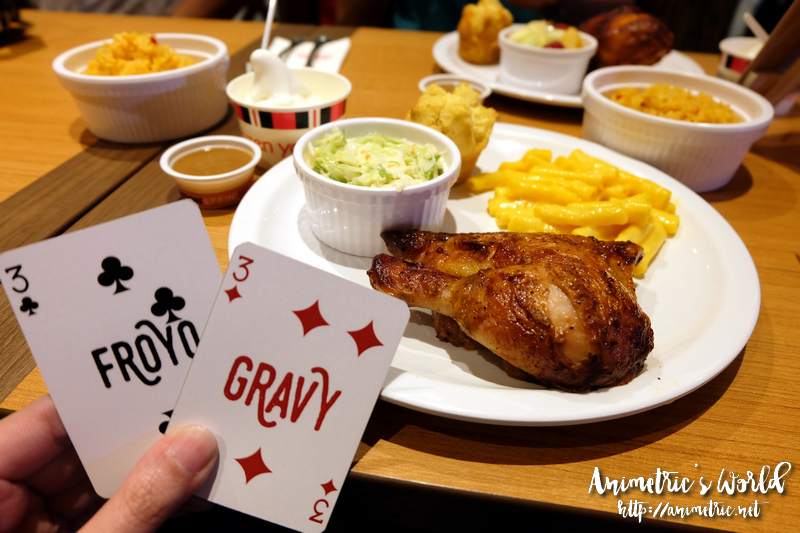 You're supposed to follow the numbers on the cards you picked. So this means, I'm to have 3 bites of Chipotle Fire Chicken with Effin Hot Gravy and 3 spoonfuls of Froyo to cool me down.
Challenge accepted. I did as my cards suggested but wow, I really liked the Effin Hot Gravy. It's a lot more flavorful compared to their regular gravy. It's even better than the spicy gravy they originally came up with to complement the Chipotle Fire Chicken. Effin Hot Gravy is da bomb. I ended up dipping everything there — my mac and cheese, corn muffin, java rice, coleslaw… lol. I didn't even need the froyo. Like I said, I love spicy food. I wanted to take home a bottle of Effin Hot Gravy hahaha.
See I wasn't even halfway through my meal and my Effin Hot Gravy is almost finished! It's so good.
The Effin Hot Gravy is available at all Kenny Rogers Roasters upon request (yep, you have to ask for it!) until March 15. If you need something to cool you down, just add P25 for a regular-sized plain froyo with any Chipotle Fire Chicken meal. This is a limited product offering so do try it out when you have a chance! Log on to http://kennys.com.ph to find the branch nearest you.
Like this post? Subscribe to this blog by clicking HERE.
Let's stay connected: