Around February this year, I watched Katy Perry give an awesome performance at the Super Bowl. I immediately googled if she was going to perform live in Manila anytime soon. She was — May 7, 2015 for the Katy Perry Prismatic World Tour. Tickets would start selling at TicketWorld on Feb. 13, 2015.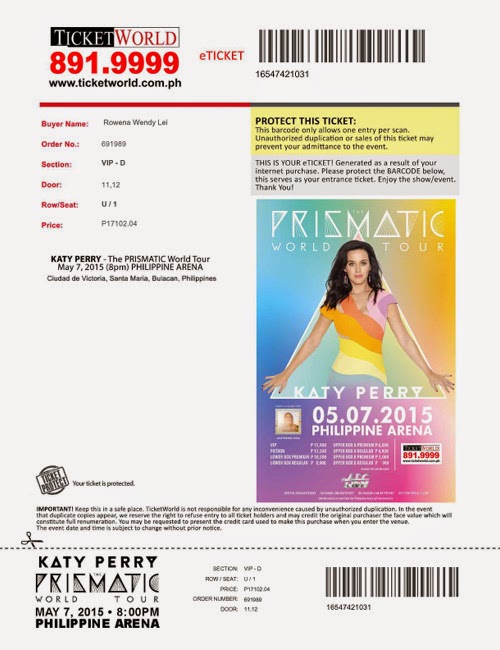 One of the things I've always wanted to do was watch a concert from the front row. Madonna would've been my first choice for that but somehow I knew that it was kind of impossible because Manila is never on her tour schedule. I decided Katy Perry would be it. I was dead set on watching Katy Perry live in Manila from the best seats in the house. I virtually camped at the TicketWorld website starting 9:45am last Feb. 13, 2015. As soon as 10am struck tickets were on sale.
I bought a couple of VIP tickets for myself and my hubby in section D (see marked area above). It was positioned in front of the edge of the runway-like stage. I had no second thoughts when I clicked BUY, lol. If I was going to do this once, I was going to do it right. I've never gotten the logic of watching from a really far away area with performers the size of ants when I look at them. The cheapest Katy Perry tickets were priced at P900. A mid-range ticket was P10+k. The most expensive was P15+k. I thought if I was spending P10+k for the middle area, I may as well go all the way. Heck I'm turning 41 this year and this is something I've never done. I just thought that in 40 years of existence and endless days of working like a dog, I've more than earned the cost of these tickets and the right to buy them for myself.
Mia Moretti of The Dolls
We arrived at 7pm. By then we had to park at a rocky lot more than a kilometer away from The Philippine Arena, jeez. We walked quite a ways before reaching the venue. Anyhow, the front act was foreign — The Dolls feat. Mia Moretti and Margo. They came out at around 8:20pm. Mia is this really kick-ass violinist and Margo is a DJ. The duo performed really great songs for about 45 mins. So far so good — even the front act is from New York!
By 9:30pm Katy Perry came out singing Roar, just like the way Roar was her opening song during the Super Bowl Halftime.
She might have started the song far from us but I knew she would spending a lot of time at the frontmost area of the catwalk-like stage where we were. She was SO CLOSE I could see her and I felt I could almost touch her. It was surreal.
If Katy Perry came out riding a gigantic robot tiger for the Superbowl Halftime, she had a big robot horse in this concert, lol.
Anyhow instead of bringing over the actual rappers Katy performs with for Dark Horse and ET, she brought their gigantic digitized versions onscreen and they pretty much dominated the background.
Yes she sang my favorite song E.T. (Extra Terrestrial)!
Amazing, she had several costume changes! She changed the arrangement of Hot N Cold and I wasn't too happy with the slower jazzier version.
I actually didn't take that many photos and I took only one short video because I don't see the logic of watching the ENTIRE concert from my tiny cellphone screen like what most people were doing. I mean, this fabulous person was right in front of me and I don't know if I'll ever get this close to her again… what a waste to be watching her from my cellphone or tablet. Whenever Katy was in our area I would snap a couple of shots and then watch her, not my gadget.
Anyway Katy picked this one lucky person in a fish costume named Marty to teach her a few Tagalog words. He almost fainted. I would've fainted. LOL. She said she saw his fish costume the moment the show started.
She sang God's Grace, The One That Got Away, and Unconditionally.
At this point Katy asked everyone to flash a light and wave! It was quite a sight to see the entire arena like this. I'm so blown away I still can't over last night.
I thought Katy looked very anime-sque here.
She brought her whole band actually… as well as her own crew like sound engineers plus the front act The Dolls are also touring with her.
Just like in her Superbowl Halftime performance, her finale was Firework. I knew she was going to end the show with Firework!
Anyway that was one EPIC concert. OMG so worth every single cent, definitely one of the best gifts I've ever given myself. Katy Perry rocks. May 7, 2015 actually marks the first year anniversary of Katy Perry's Prismatic World Tour and this was her 138th show.
On a side note, Philippine Arena's air-conditioning was pretty impressive — still cold even with a full house. A lot of my friends got stuck for hours when trying to go home though. It was a blessing in disguise that we were parked so far from the arena so we weren't trapped. We were back home by 1am.
Like this post? Subscribe to this blog by clicking HERE.
Let's stay connected: