The kids and I love munching on nuts. Nuts are easily the most available healthy snack item here. Every supermarket sells packed nuts in a wide variety of variants and flavors — plain, salted, garlic-roasted, spicy… etc. I'm always on the lookout for more imaginative ways of enjoying nuts. That said, I was super excited when I received these Kangaroo Nuts to try.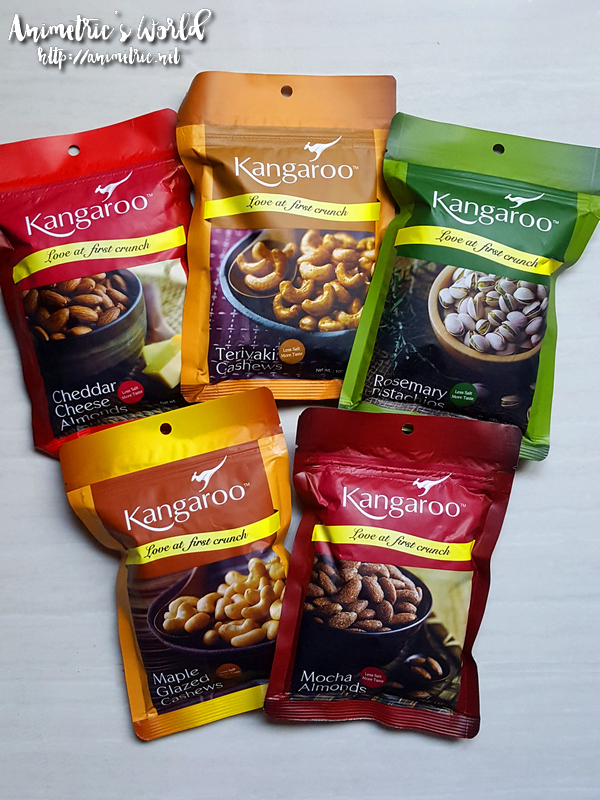 I got five (5) variants to try: Cheddar Cheese Almonds, Teriyaki Cashews, Rosemary Pistachios, Maple Glazed Cashews, and Mocha Almonds. So far we've tried Mocha Almonds and we loved them! The Mocha Almonds are not greasy and have a subtle chocolate-coffee scent and taste. Love that they're not overly sweet! Kangaroo Nuts are perfect for snacking when you're watching Netflix or reading a good book. You can add them in your salad too! We're so excited to try the other flavors!
Would you like to try Kangaroo Nuts? They have a booth (Booth #1230) at the World Food Expo (WOFEX) happening from August 3-6, 2016 in the SMX Convention Center. You can check out the full range of Kangaroo Nuts there until 7pm today! There are over 500 exhibitors at the WOFEX so you'll surely spot a lot of foodie finds.
Kangaroo Nuts offers products that are made from freshly-harvested top quality nuts seasoned with the finest natural spices and ingredients. Based on the Singaporean SRP, a 100g pack of nuts should cost P100+. I will confirm the Philippine SRP and update this post.
You can find Kangaroo Nuts at Rustan's Flowershop, Gaisano Country Mall, Fooda Saversmart Cebu, Gaisano Mall Davao, Gaisano Mall Cagayan, All Home, Gaisano Metro, NCCC, and Ayagold.
For more information and updates, follow Kangaroo Nuts Philippines on Facebook or @kangaroonutsph on Instagram. For wholesale orders, please call 6346467 or 6346475.
Like this post? Subscribe to this blog by clicking HERE.
Let's stay connected: