When I hear Herbalife, I think diet food. I don't know if that's accurate. So I checked, since I confirmed my attendance to the Herbalife healthy snacking event. I mean, now's a good time as any, right? Most of us are cooped up at home unless we're working or going on essential errands. Might as well learn something new and do something different. So I found out that Herbalife Nutrition is actually not a weight loss brand, although they have products for weight management. It's a nutrition brand that offers products and solutions for overall wellness.
I was so happy Herbalife Nutrition sent over all the ingredients for making Protein Bites. We would be guided by Susan Bowerman, a registered dietitian and board-certified specialist in Sports Dietetics and Obesity Weight Management.
Susan Bowerman discussed healthy snacking, explaining to us the difference between calorie-dense and nutrient-dense snacks. She pointed out that snacking, when done correctly, can be a healthy habit that prevents overeating during meals. This in turn helps reduce calorie intake for the day.
"To make your snacking habit healthy, make sure that your snacks are balanced with protein and healthy carbohydrates, have enough calories and protein to last until your next meal or snack and, of course, make sure they taste good," Bowerman said. "Choose nutrient-dense foods instead of calorie-dense foods."
Nutrient-dense foods such as lean proteins, vegetables, fruits, whole grains, and beans contain a lot of nutrition per bite. Calorie-dense foods such as fried foods, candies, sodas, and desserts have more calories per bite.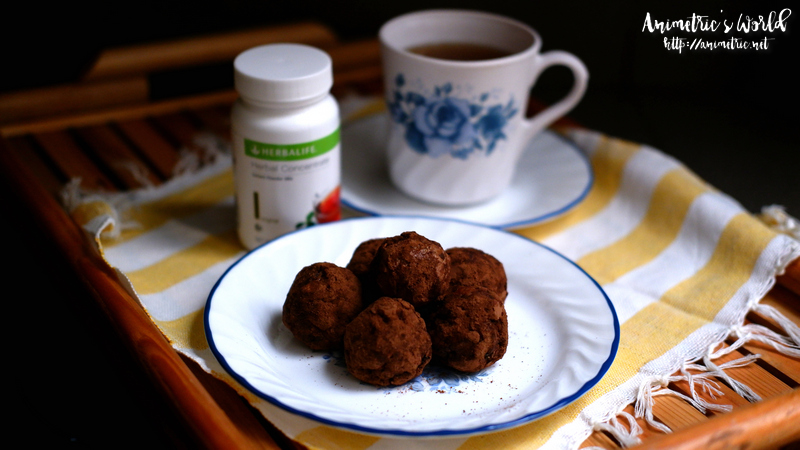 To put words into action, we made Protein Bites. I was literally kneading the ingredients with my hands so I wasn't able to take photos of the process. Here's the recipe:
Protein Bites
Ingredients:
1 tbsp each Flax Seeds and Chia Seeds
1 cup raisins, coarsely chopped
1/3 cup chocolate chips, coarsely chopped
1/4 cup chunky peanut butter
1/2 cup rolled oats
2 tsp vanilla
2 tbsp honey
6 scoops + 1 tbsp H24 Rebuild Strength
1 tsbp cocoa powder
Procedure:
Mix seeds together with 1/3 cup water and set aside. Mix together fruit, peanut butter, oats, vanillla, and honey in a large bowl. Add 6 scoops of Rebuild Strength, then add flax and chia seeds. Mix well and form into 1″ balls. Combine 1 tbsp Rebuild Strength and 1 tbsp cocoa powder in a small bowl. Roll balls in this mixture to coat. Makes about 30 balls.
This is the result of my efforts. OMG they're surprisingly yummy! None of us like raisins in this house but the combination of ingredients is so perfect for these Protein Bites… we couldn't stop munching on them! Susan was right, eating healthy doesn't mean eating bland tasteless food. Food can be delicious and good for you at the same time. She reiterated that there are many alternatives to chips and sugary drinks that are better for your health and taste great. 😀
On a side note, I also tried the Herbalife Herbal Concentrate which is a blend of green tea, orange pekoe, and black tea. Wow, it's really good! You can take it hot or cold.
To find out more about Herbalife Nutrition and their products, log on to https://www.herbalife.com.ph/.
Like this post? Subscribe to this blog by clicking HERE.
Let's stay connected: