The month of August was quite taxing for me. I was suffering from allergic cough. I coughed so frequently that it got to a point where my throat was already scratchy and painful. Then came Kamillosan Mouth Spray.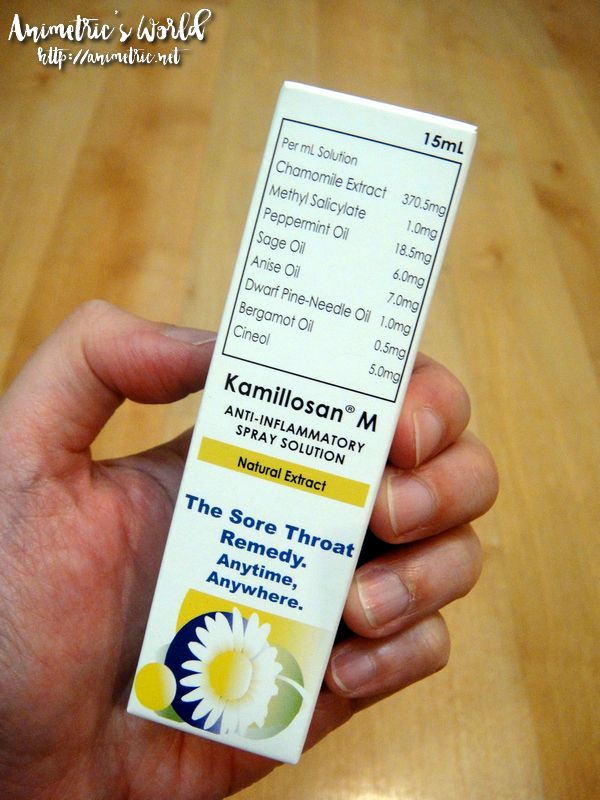 Kamillo San M Anti-Inflammatory Spray Solution (₱428 for 15ml)
Sample Room offered full-sized bottles of Kamillosan M Anti-Inflammatory Spray Solution for free. It's an all-natural sore throat remedy which you spray into your mouth. I got one to try. I was desperate. Drinking lots of water wasn't helping and I couldn't keep on taking Claritin for like one month straight just to suppress my allergic cough.
Kamillosan M Anti-Inflammatory Spray Solution is made of natural ingredients, it's pretty much mostly Chamomile Extract mixed with several different essential oils.
The bottle is pretty small, containing 15ml of product. The size is convenient enough for you to be able to take it anywhere. It fits in your bag, your pocket, etc.
To use, simply aim the nozzle into your mouth and spritz — the closer to your throat the better! I did and wow, I couldn't quite comprehend the bitter mentholated taste but the soothing effect it had on my throat was worth the funky flavor.
What I like about Kamillosan Mouth Spray:
It's all natural so I don't have to be afraid of chemical side effects.
It's really effective!. I felt relief instantly after spraying. My throat felt all better.
I stopped coughing! I mean wow, my allergic cough was torturing me and this made it stop for a few hours.
A little product goes a long way — 2 spritzes and you're good to go!
It's very easy and convenient to bring around.
Can treat not only sore throat but also canker sores and other kinds of oral inflammation (singaw)
Downside? The taste is really funky… really bitter yet mentholated at the same time — but the immediate relief is worth it!
Kamillosan Mouth Spray is available for about ₱460 per 15ml bottle at all leading drugstores nationwide. It's also available online on Lazada.
Like this post? Subscribe to this blog by clicking HERE.
Let's stay connected: