Meet my favorite eyeliner from the Japanese brand K-Palette — K-Palette Pantone BB001 or K-Palette Real Lasting Eyeliner in Brown Black (P795). Incidentally, it's K-Palette's newest eyeliner too.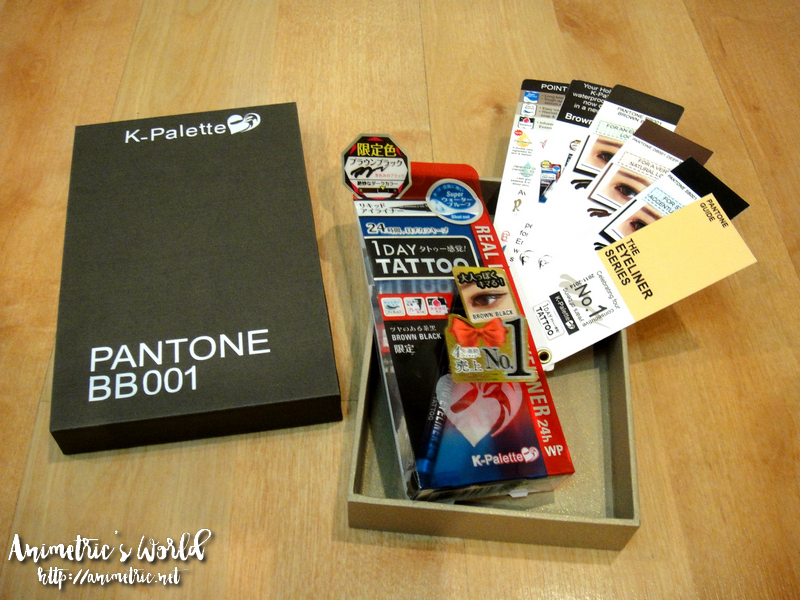 Anyhow I got the K-Palette Real Lasting Eyeliner in Brown Black for review some weeks ago. All I can say is it's kind of like potato chips, you can't stop once you start munching… or in this case, using.
Pantone BB001 Brown Black is the 3rd shade in the K-Palette Real Lasting Eyeliner family. The other two are Pantone DB001 Deep Brown and Pantone SB001 Super Black.
As always I love the packaging.
Even the pen is Brown Black in color. You will notice if you put the Brown Black pen side by side with the Deep Brown and Super Black pens.
Like its predecessors, it's got K-Palette's trademark pointed brush tip.
Here's how it looks when used to draw on the skin — not as dark as black but definitely darker than brown.
Here are before and after application photos of K-Palette Real Lasting Eyeliner in Brown Black. I love the effect on my upper eyelids. Not quite as harsh as lack but more definitive compared to brown.
This is definitely my favorite eyeliner from K-Palette!
What I like about K-Palette Real Lasting Eyeliner in Brown Black:
The shade is perfect — not too subtle and not too harsh. It transitions from day to night quite nicely.
It's reasonably priced. I consider an eyeliner that performs well and is below the P1k mark reasonable.
Love the formulation! I don't know if it's just me or if they improved the formula but this goes on more smoothly compared to K-Palette eyeliners I've used in the past. No flaking too.
It's pretty easy to use and precise. You can draw thick or thin lines, draw wing tips or cat's eyes… this eyeliner makes all kinds of looks possible.
It's long-lasting yet easy to remove. It completely comes off with pretty much any kind of makeup remover. You don't even have to rub or tug.
Downside? None really. It's all good! K-Palette Real Lasting Eyeliner in Brown Black is available for P795 at all Beauty Bar stores and Rustans Shangri-la, Makati, and Alabang Town Center. You can also buy online at http://shop.beautybar.com.ph/.
Like this post? Subscribe to this blog by clicking HERE.
Let's stay connected: