Several months ago, I reviewed the K-Palette Lasting Eyebrow Tint. It's quite a revolutionary eyebrow product. You paint it on your brows, let it set for 2 hours, and then peel it off. You would then end up with a temporary eyebrow "tatoo" for the lack of a better term. If you're not a fan of doing your brows every time you go out, this is definitely for you. K-Palette came out with a new shade for this product recently — 04 Smoky Brown.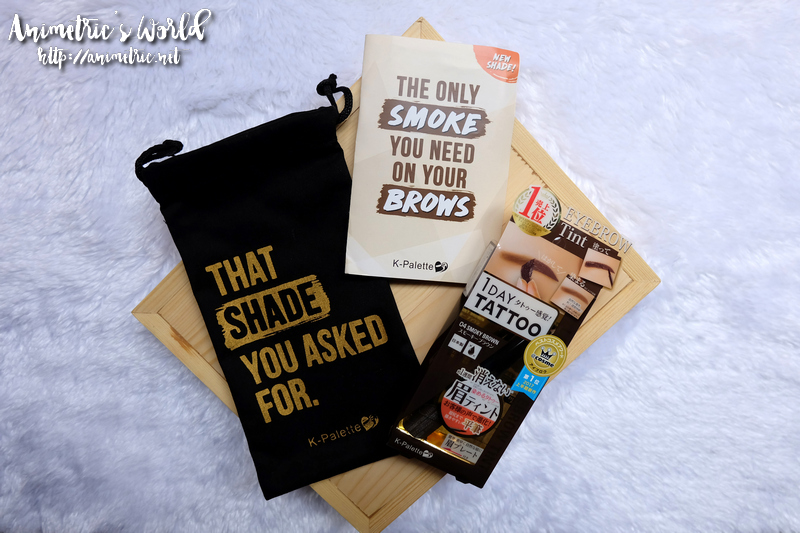 Dubbed as that shade you asked for, 04 Smoky Brown is THE shade for dark-haired girls (which is the vast majority of Asians). The previous three shades leaned towards the lighter side of the spectrum — blonde, brown, and red.
The packaging is exactly the same as the others.
There's no change in the way the product looks and smells.
Here's a swatch. Looks promising, the color is actually quite similar to the eyebrow pencil shades I use.
I removed the product after 5 minutes and this is the stain it left. Can you imagine what the result will be if you left it on for 2 hours?
So these are my eyebrows without any brow product on.
I paint on the K-Palette Lasting Eyebrow Tint in 04 Smoky Brown. Then I leave it on for 2 hours.
Here's an application tip. While the product is wet, you can clean up your application using a cotton bud with a cosmetic tip. It's the pointy tip you see on this photo. Really handy for fixing your eyeliner, eyebrow product, and even lipstick. It really does a much better job of helping you achieve a more precise application compared to a regular cotton bud.
After 2 hours, I peel off the tint. My eyebrows are significantly enhanced. From experience, the tint lasts for about 5 days. You can lighten it by wiping down with a bit of toner. Anyway you can check my full review of this product line HERE. I just want to add that it's okay even if your eyebrow painting isn't perfect — you don't need to be that precise. Simply brushing the product completely over your existing eyebrow hair will already yield results.
The K-Palette Lasting Eyebrow Tint is available for P895 per tube from Beauty Bar, Zalora, SM Beauty (North EDSA, Makati, Megamall, Aura, MOA), Rustan's, Watsons (Market! Market! and Robinsons Place Ermita), etc.
Since I'm celebrating my blog's 9th anniversary this February, I've decided to bring back my anniversary giveaways which I used to call Animetric's Favorite Things. I'm doing it a bit differently this year as I'll be giving away surprise bags from several brands I love and support. I won't tell you what's inside the bags but I will give you a preview.
So for my 1st giveaway (I'm looking at 9 surprise bags for my 9th anniversary), I am giving away a surprise bag worth almost P8,000 from K-Palette Philippines. The K-Palette Surprise Bag will have the K-Palette Lasting Eyebrow Tint in Smoky Brown which I reviewed here as well as several other eye makeup products (eyeliner, mascara, eyebrow pencils… you name it lol!). Since it's easier for me to monitor giveaways on Instagram, you will have to go to https://www.instagram.com/p/BeMj2C7DJXJ/ for the giveaway mechanics. 🙂
Like this post? Subscribe to this blog by clicking HERE.
Let's stay connected: