Finally… my first beauty review for 2016! It's from one of my favorite Japanese brands K-Palette. You know how I love their eyebrow and eyeliner products right? But what if… just what if they can combine eye shadow with eyeliner? Eye shadow is actually one product I can live without but if it's nice to have, why not?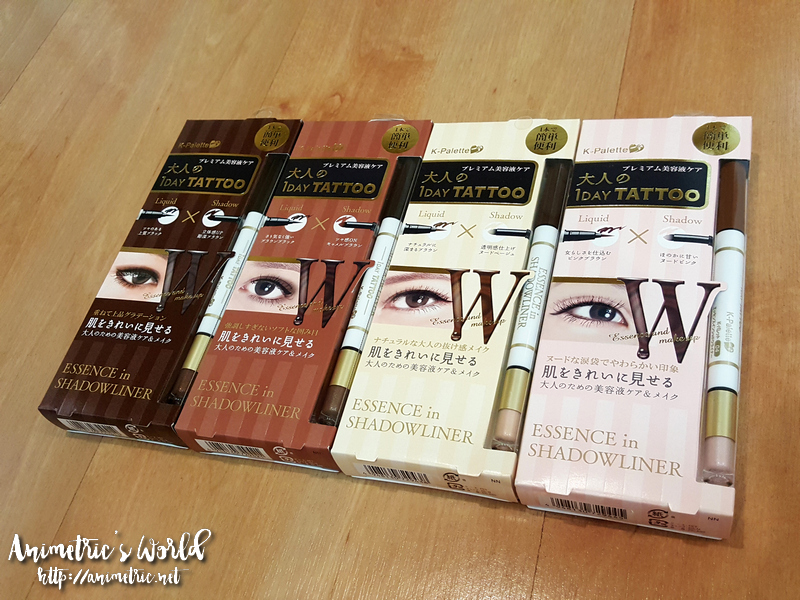 So anyway, sometime last year our lovely friends at K-Palette Philippines sent over these K-Palette 1 Day Tattoo Essence in Shadowliner products for me to try. What do you know, I got all four variants! Each one costs P950 but it's a 2-in-1 product that combines eyeliner and eye shadow. Interesting? Read on.
I love the packaging as always… simple yet informative! It sums up pretty much everything you need to know in a glance even if it's mostly in Japanese.
So the K-Palette Essence in Shadow Liner is a standard sized pen, similar to the K-Palette 2-Way Eyebrow (Powder + Pen) products.
It's got a brush tip for lining your eyes on one end.
On the other end is a powder tip with a pointy sponge applicator.
There are 4 combinations available and I've swatched them all on the photo above: Black (Liner) x Brown (Shadow), Brown Black (Liner) x Camel Brown (Shadow), Deep Brown (Liner) x Nude Beige (Shadow), Pink Brown (Liner) x Nude Pink (Shadow). You can mix and match them to achieve your desired look.
So here's a sample before and after shot using the Deep Brown liner, Nude Pink shadow, and Nude Beige shadow. I used the powder tip to dab the powdered eye shadow onto my lids and then used an eye shadow brush to blend.
Here's a closer look. The eye shadow is shimmery but not overly so.
This is the complete look I came up with using the K-Palette Essence in Shadow Liner. I love how it brightens and defines my eyes without looking overdone. I love it so much I think I'll be adding eye shadow to my usual looks from hereon out.
Products I used for the above FOTD:
Benefit Fake Up Hydrating Undereye Concealer in Medium
K-Palette Essence in Shadow Liner (used 2 of them, detailed above)
MAC Lipstick in Please Me
What I like about K-Palette Essence in Shadow Liner:
It's super convenient. It's so much easier bringing around and storing a pen as compared to a palette.
Very easy to use. All I need is one eye shadow brush for blending and I'm good to go.
It's pigmented. I don't need to apply a lot of product to achieve results.
It's versatile, you can already create a variety of looks with 1-2 pens.
Like all K-Palette products I've tried so far, it lasts until you take it off.
Downside? None really. Well maybe if you want more playful eye shadow and eyeliner colors (blues, greens, etc.), you're not getting them from this line.
K-Palette Essence in Shadow Liner is available at Beauty Bar stores, select Rustans and SM Department Stores, and UP Town Center Wellworth Department Store for P950 a pop.
Like this post? Subscribe to this blog by clicking HERE.
Let's stay connected: