Through the years, I've discovered that there are very few make-up products I can't live without. One of them is eyeliner (aside from the obvious BB cream, lol!). I love BB creams and I'm always using them but when I do, my face immediately brightens and I find that I need to enhance my eyes to reap the full beautifying benefits of BB cream.
I have the pleasure of reviewing two shades of K-Palette's newest eyeliner — K-Palette 1 Day Tattoo Real Lasting Eye Pencil.
First off, the blister packs are really easy to open because they just snap on and snap off. I usually have a hard time opening blister packs and I usually cut myself in the process so I really liked how convenient this one was.
As I've said, there are two shades — Deep Brown (top) and Super Black (bottom).
You twist the pencil to make the tip appear.
It's recommended that you twist out just 2mm of the pencil tip to use. The tip in this photo is too long, I ended up breaking it off when I used it… don't make the same mistake!
Anyhow, I swatched the two colors on my hand — Super Black (top) and Deep Brown (bottom). They're both highly pigmented, it was like writing with a pentel pen, wow! It reminded me of Bobbi Brown's Long Wear Eye Pencil except that this is HALF the price.
Here I am using the K-Palette 1 Day Tattoo Real Lasting Eye Pencil. See how one sold black stroke on the upper lashline can instantly enhance your eye? This is precisely why I can't do without eyeliner! It's one of the easiest ways create impact without using too many products.
I took this photo after I got home at night, my Jet Black eyeliner is still perfectly intact!
You can run water over it and it won't budge.
I even pumped some liquid soap over it.
I even rubbed all over, still not budging!
What I like about K-Palette 1 Day Tattoo Real Lasting Eye Pencil:
It's very smooth so it glides on your lids making it easy to use.
It's highly pigmented — it's as dark as a felt pen, wow!
It's reasonably priced at P795 per pencil (it's half the price of Bobbi Brown's Long Wear Eye Pencil as I've mentioned earlier).
It lasts throughout the day (and night!).
It's convenient because it's automatic — just twist to reveal more of the tip, no need to sharpen! I find sharpening eye pencils very messy and inconvenient.
It comes off a bit more easily with eye makeup remover (still not easy lol so I just use Pond's Cold Cream all over my eyelids) compared to Bobbi Brown's Long Wear Eye Pencil.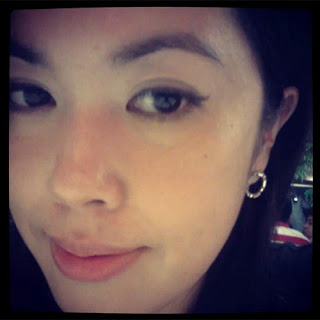 Downside? None really, except that it's a bit harder to make cat's eyes or flick the ends when you line but this is true for ALL pencils. The tip is flat by default so it's even trickier to do with this compared to the normal pencil with a sharpened tip. I find it much easier to do these things with liquid liner. Still, let me just say that this is probably the BEST eye pencil I've ever used.
K-Palette 1 Day Tattoo Real Lasting Eye Pencil is available at all Beauty Bar stores nationwide.

Like this post? Subscribe to this blog by clicking HERE.
Let's stay connected: