When PNoy announced that July 29 was going to be the official date of the Eidl Fitr holiday, I was ecstatic! It meant I would be able to go to the K-Palette 1 Day Magic event! I had initially declined because my kids get off school 4pm. The event was scheduled for 3pm. But since there were no classes, I was free to attend. I don't think I can live without K-Palette eyebrow products anymore, lol.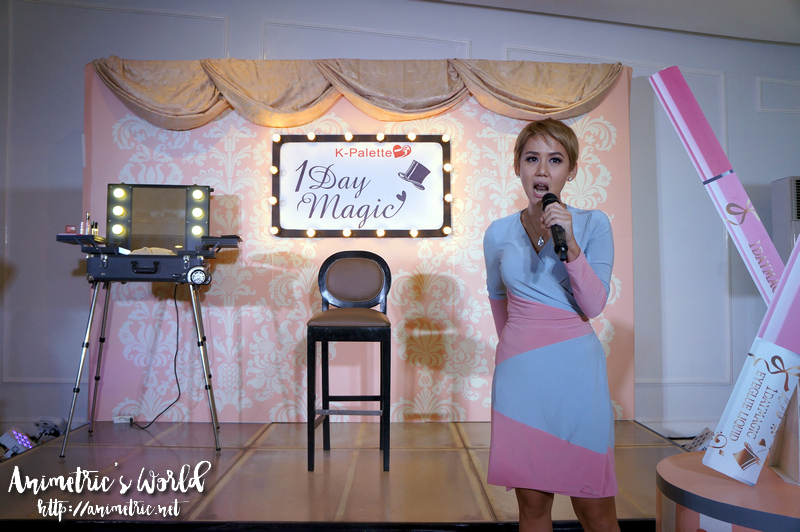 Four new products were introduced that day.
K-Palette 1 Day Magic Fiber Mascara (P895) – The wand has two ends, one for the fiber and one for the mascara. You brush on the fiber then the mascara and voila — super thick voluminous lashes!
K-Palette 1 Day Magic Liquid Eyeliner (P695) – Touted as the beginner's eyeliner, its brush tip is 3x thicker than the normal eyeliner's. You can get a thick, defined line with one stroke.
K-Palette 1 Day Magic 3D Palette (P895) – Blush, highlight, and contour… this palette has everything you need to create the illusion of a slimmer face!
K-Palette 1 Day Magic Eyelid Glue (P650) – The monolid solution… double eyelids in no time at all! If you already have double eyelids, you can use it as an eyelash glue so falsies stay in place!
K-Palette Philippines flew in Japanese makeup artist Sayaka Nagashima to demonstrate how the products are used.
I swear she makes everything look so easy.
The model looked Japanese after Sayaka did her magic. She didn't look the slightest bit Japanese when the demo started. So yes, with these K-Palette 1 Day Magic products, you can achieve a kawaii Japanese look. I can't wait to try them!
Here they are unboxed.
We had savory and sweet treats while the event was ongoing.
It's always a joy to be with friends!
Thank you K-Palette Philippines for having us!
I shall post reviews for all the K-Palette 1 Day Magic products very soon! These are all already available at all Beauty Bar outlets and Rustans The Beauty Source (Shangrila and Makati). You can also buy online at http://shop.beautybar.com.ph/.
Like this post? Subscribe to this blog by clicking HERE.
Let's stay connected: