Hello everybody! I want you to meet my new favorite eyeliner — K-Palette 1 Day Magic Liquid Eyeliner in Super Black. This product was actually described to me as eyeliner for beginners. While I'm not exactly a makeup novice, I want to do my makeup as quickly and easily as possible.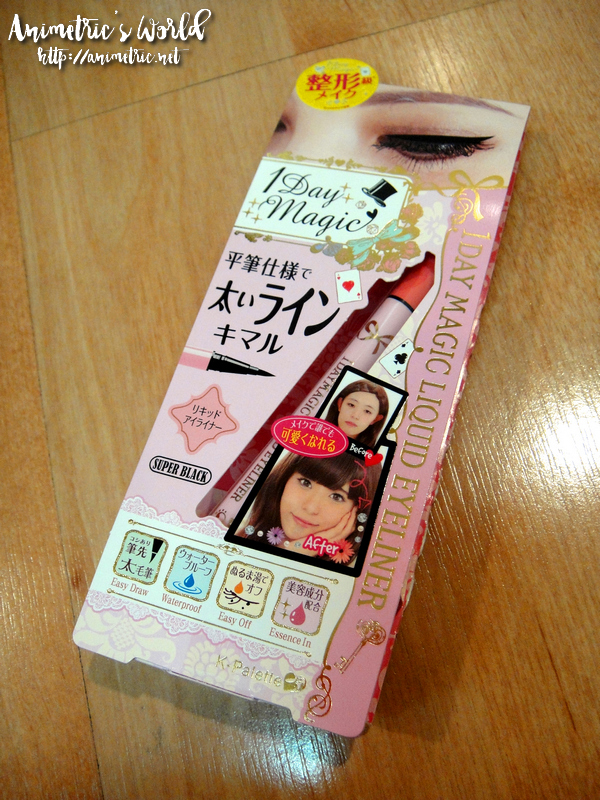 I love K-Palette 1 Day Magic Liquid Eyeliner's baby pink packaging!
The eyeliner pen itself is pink too.
What differentiates this from the other liners is the flat brush. Well flat on the side but with a pointed tip. Am I making sense?
You can draw a thicker line easily because of the flat brush tip.
Here's my before and after application photos.
I really love how easy it is to draw wing tips with this eyeliner.
What I like about K-Palette 1 Day Magic Liquid Eyeliner:
It's super easy to apply! I can line the entire length of my upper lid with a single stroke!
It's highly pigmented. They weren't kidding when they said Super Black.
It dries fast and it's waterproof.
It stays on until you remove it.
It's easy to remove.
I find it a lot easier to draw thick lines, cat's eyes, and wing tips.
It's reasonably priced at P695.
It contains 3 types of beauty essences which takes care of the delicate skin around your eyes: Hyaluronic Acid, Water Soluble Collagen, and Japanese Gentian Extract.
Downside? You can't use this to tightline. The back of the package says not for inner lining. I use this solely for my upper lids.
K-Palette 1 Day Magic Liquid Eyeliner is available for P695 at Rustans Makati, Rustans Shangrila, and all Beauty Bar outlets nationwide. You can also buy online at http://shop.beautybar.com.ph/.
Like this post? Subscribe to this blog by clicking HERE.
Let's stay connected: