I love Korean food just about as much as I love buffets. That said, when I got an invitation to check out the K-Food Festival happening at Novotel's Food Exchange Manila, I said yes. I've always wanted to check out this hotel buffet since it's quite near where I live. I'm no stranger to Novotel since I stayed at Novotel Kuala Lumpur when I went to Malaysia last year.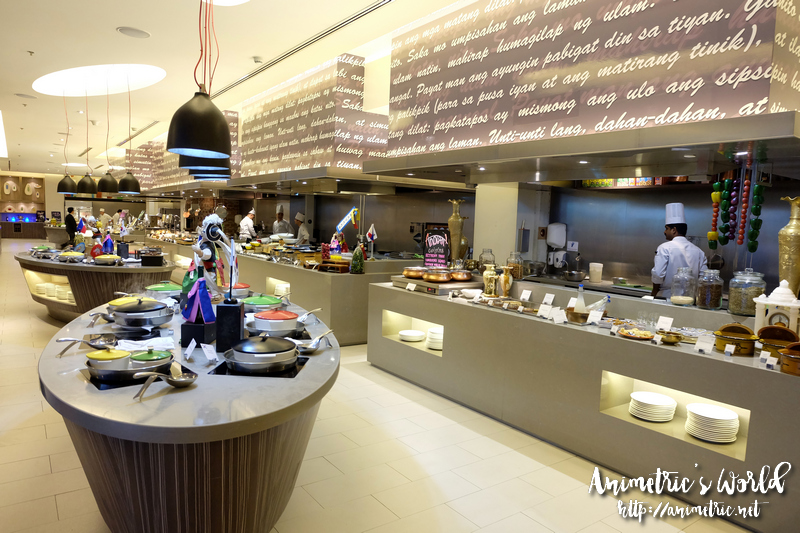 As is typical of hotel buffets, Novotel's buffet restaurant Food Exchange Manila is comprised of several stations. Since it's K-Food Festival from Feb. 21 to 27,  Korean food gets more than one station. Korean Chef Jong-Man Kim is the man of the hour for the K-Food Festival.
I think I encountered every conceivable kind of kimchi at the K-Food Festival, starting with Marble Potato Kimchi.
There's also Chives Kimchi (shown above), Cucumber Kimchi, etc. aside from the usual kimchi that's made of cabbage. They had several kinds of banchan too, ranging from sweet spicy dilis to glazed baby potatoes. There's no shortage of meat dishes too.
Pork Pan Fry
Beef Bulgogi
Korean Beef Barbecue
Korean Pork Barbecue
I was surprised to see them offer Korean Fish Barbecue too, I just didn't try it because I prefer beef and pork.
There's a grill station where they can cook your choice of meat for you too.
Of course, there are Korean sauces for you to pair them with.
The sushi bar had Kimbap, Korea's version of sushi which doesn't necessarily entail raw seafood. There are actually a lot more dishes I just couldn't cover every single one.
Aside from the array of Korean dishes, Food Exchange Manila's staples can also be enjoyed. There's pizza and pasta for starters. There's a salad station where you can DIY a salad or choose from pre-made ones.
 Fresh seafood? Check!
Check out their noodle station.
They even have a tea station where you can get your fill of refreshing iced teas. I liked Novotel's Signature Pandan Iced Tea.
What really surprised me about the Food Exchange Manila buffet was the dessert station. The usual baked goodies like cookies, cakes, and crinkles were present.
They have homemade ice cream and a halo-halo station in addition.
I really loved the freshly cooked Papadums I got from the Indian station. They went so well with the sauces and chutneys. Yum!
I had one go around the buffet area. I was already full after one plate.
What do you know they also offer freshly made Puto Bumbong for dessert. I had one plate of desserts and everything was SUPERB! The churros which I drizzled with the best butterscotch sauce ever, the chocolate crinkles, and even the homemade ice cream are all soooo good. Mind blown. I'm usually disappointed by the dessert station of most hotel buffets but Food Exchange Manila takes desserts to an entirely new level.
You can experience the K-Food Festival at Food Exchange Manila until Feb. 27, 2017. Rates are as follows:
Mon – Fri Buffet Lunch – P1,488 nett
Mon – Thurs Buffet Dinner – P1,588 nett
Fri Buffet Dinner – P1,888 nett
Sat and Sun Buffet Lunch / Dinner – P1,888 nett
Food Exchange Manila
G/F Novotel Manila Araneta Center
General Aguinaldo Ave., Araneta Center,
Cubao, Quezon City
990-7788
Like this post? Subscribe to this blog by clicking HERE.
Let's stay connected: