Chicago Typewriter is the 28th K-Drama series I've finished. Prior to this I watched Fight For My Way, which I found so-so. The lead characters didn't have much chemistry. It wasn't bad but it was very easy to get over. I thought I'd try Love Alarm and Stranger on Netflix afterwards but both put me to sleep during their first episodes. Then I spotted Chicago Typewriter while scrolling through K-Drama titles. I decided to watch it instead. I was hooked after 1 episode and I was able to finish all 16 episodes in 3 days lol.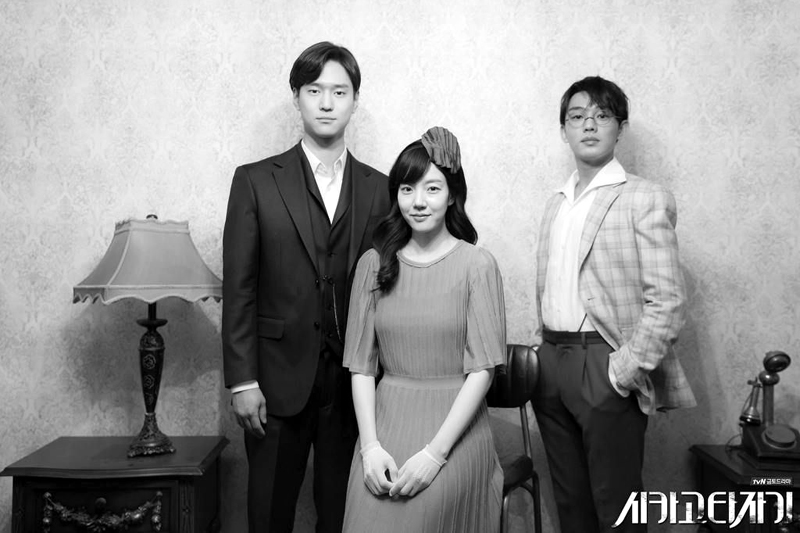 Chicago Typewriter is about 3 friends in the 1930's, during the time when the Japanese occupied Korea. Seo Hwi-Young is the leader of the resistance movement, Shin Yul is sort of the vice leader, and Ryu Syu-Hyeon is the sniper.
Hwi-Young is a medical student who decided to become a writer. Shin Yul is the owner of Carpe Diem, a pub which serves as the resistance movement's headquarters. Meanwhile, Syu-Hyeon the sniper moonlights as a lounge singer at Carpe Diem.
Hwi-Young is always shown working on his novel in 1930's Korea. He does this while planning all of the resistance movement's missions. Shin Yul and Syu-Hyeon unquestioningly follow his lead.
But Chicago Typewriter doesn't take place in the past. Everyone is in present day Seoul. Hwi-Young has been reborn into Han Se-ju, a famous bestselling author. Syu-Hyeon reincarnated as Jeon Seol, a champion shooter turned veterinarian. Shin Yul is now a ghost who is staying inside the old typewriter Hwi-Young used to write his novel back in the 1930's. So basically the story is about a boy, a girl, and a ghost.
All 3 protagonists keep experiencing flashbacks of their lives back in the 1930's… but none can completely piece together what happened to everyone. They soon discover that their present lives are very much linked to their past lives… and they must work with what they remember to find out what really took place so they can move on and live in the present.
Chicago Typewriter is a story about love, friendship, and bonds so strong that they transcend time. You switch back and forth between 2 different eras. The storytelling is pretty seamless and I found myself hooked after just 1 episode. Like the main characters, I just needed to find out how their story ended in the 1930's and how it will end in the present day.
Equal parts funny, touching, romantic, and overall very entertaining, this is definitely one of the most imaginative and well-crafted series I've watched. The characters are fleshed out so well. There is great attention to detail where the timelines are concerned… so you feel transported with the characters when they go back and forth through time. It's so easy to get caught up and feel what they're feeling. Highly recommended.
Chicago Typewriter is available on Netflix and Viu.
Like this post? Subscribe to this blog by clicking HERE.
Let's stay connected: