When I told my family and friends that I was going to Malaysia for Julie's Biscuits' Factory Tour, they immediately reacted with "Julie's Bakeshop?". Julie's Biscuits and Julie's Bakeshop are two really big brands here in the Philippines. They get interchanged and confused for each other a lot. I get it. Biscuits are, after all, baked goods.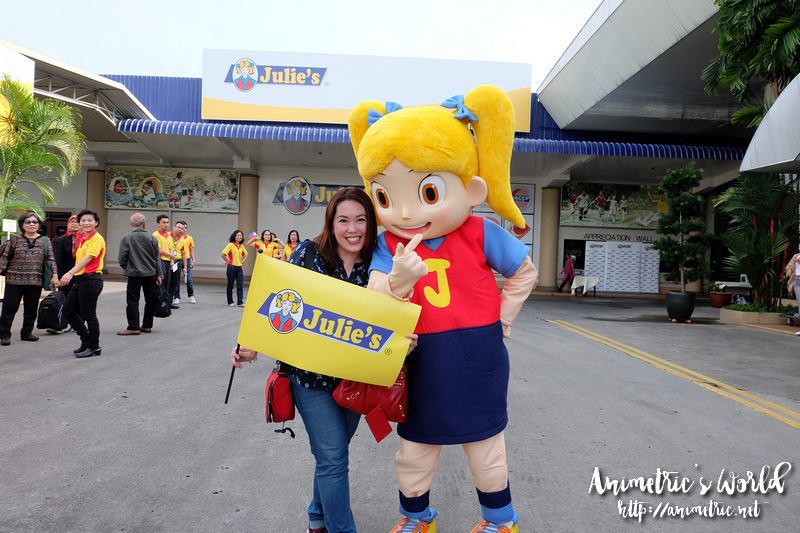 Anyway, Julie's Biscuits is the biggest biscuit exporter in Malaysia. This perky blonde girl beside me is Julie… from Malaysia.
Incidentally, both Julie's Biscuits and Julie's Bakeshop were established in 1981. No one copied anyone. It's pure coincidence. But the name Julie is where the similarity ends. Julie's Bakeshop has 500+ stores in the Philippines which sell an assortment of breads and pastries. Julie's Biscuits offerings include pre-packed cookies, crackers, wafers, and biscuits sold in supermarkets nationwide.
Our group got the warmest welcome ever at Julie's Biscuits' Factory in Malacca, Malaysia. They even performed a cute song and dance number for us!
We were ushered into a conference room. An information packet and a variety of Julie's Biscuits were waiting for us.
Julie's Biscuits Director Mr. Martin Ang personally addressed us to provide some background information. The company holds closely to their founder Mr. Su Chin Hock's belief that "What I don't eat, I don't let people eat". From procurement of raw materials to the baking process, they practice strict monitoring and control.
We were given coats, hair nets, masks, and shoe covers to put on prior to the factory tour. I've been to several factory tours but this is the first time I was required to put on a lot of gear.
How do you like my factory OOTD? Wahahaha…
As soon as we entered the production facility, I understood why we had to gear up. We were walking beside the machines. If I stretched out my hand I could actually touch the dough, the freshly baked biscuits, etc.
I saw the entire production process from dough mixing to packaging.
These biscuits are hot and freshly baked. We were allowed to try some off the production line! Yummy! I'm so impressed!
After the factory tour, we headed to Julie's Cafe within the compound for lunch.
We were treated to a buffet spread of delicious Malaysian food.
After lunch, we took part in a dessert-making activity.
We were tasked with making Julie's Fruity Layer Cake using Julie's Butter Crackers and their newest product — Julie's Hershey's Dark Chocolate Cookies. Julie's Hershey's Dark Chocolate Cookies are not yet available in the market.
All the ingredients were already provided so all we had to do was assemble a mini version of Julie's Fruity Layer Cake we could take home.
The recipe is very simple, I think I can make this at home as soon as the Julie's Hershey's Dark Chocolate Cookies are released into the market.
I topped mine with lots of kiwi slices and strawberries, my favorite fruits!
After our dessert-making session, Mr. Martin handed each of us a big bag of goodies from Julie's Biscuits!
I took all of these wonderful products home from Malaysia! So far our favorites are Julie's Le-mond Lemon Puff Sandwiches, Hershey's Chocolate Waffles, Julie's Peanut Butter Sandwiches (this is the all-time #1 bestseller in Malaysia), and Julie's Cheese Sandwich (they are cream cheese-filled yum!).
Christmas is coming! I think Julie's Biscuits will make great gifts! Julie's Biscuits are yummy, economical (less than P100 for a lot of the boxed biscuit variants), and easy to find. The packaging is very nice too!
Would you like enjoy the freshly baked goodness of Julie's Biscuits at home? You're in luck because I'm giving away three (3) Julie's Biscuits gift packs! Just follow the easy peasy Rafflecopter mechanics below:
a Rafflecopter giveaway
Giveaway is open to everyone who can pick up the prizes at BGC. Sorry but here is no option to ship, thank you and good luck!
Congratulations Bernadette Balino, Dez Yu-Del Rosario, and Elinor Semira for winning my Julie's Biscuits giveaway!
Like this post? Subscribe to this blog by clicking HERE.
Let's stay connected: