Hubby, the kids, and I spent our Sunday morning checking out JolliTown The Big Fun Event at SMX MOA. I must admit, I've never been to a Jollibee event this massive!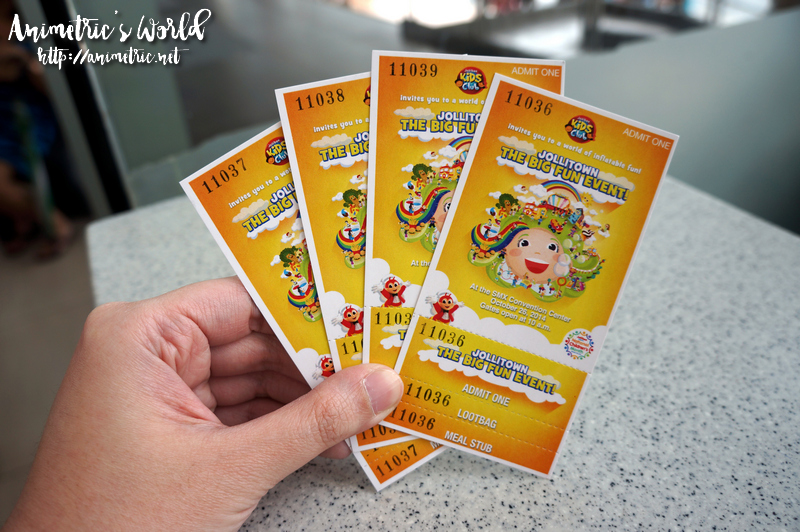 Attendees were all given JolliTown passports, bracelets, and loot bags.
Jollibee had the entire day planned out with JolliTown activities from 10am to 3pm — these were ongoing aside from all the inflatables and booths kids could go play in.
We were able to register and enter JolliTown by 11am.
The first thing that greeted us was the Jollibee Bob House, a big yellow and red bouncy inflatable house kids can explore and play in.
There were so many things to do we didn't know where to start, lol!
Toss a coin into the wishing well and get a toy! Actually, every station has a redemption area where you can get your JolliTown passport stamped after which you get a freebie!
We had the JolliTown passport stamped and we were given our choice of Rio 2 toy!
Photo opp at the Pipoy Puno area!
We watched this kid wear a velcro suit and bounce up so he could "cling" to the wall, lol!
Giant Jollibee Fries and Chicken Joy!
Kids were lining up for a turn inside this bubble dome where they could blow bubbles of different sizes.
How's this as an alternative for rock climbing? I like it! Definitely safer for kids!
Loot bags were bursting with freebies since attendees could claim something from each play area and there were over a dozen redemption stations! Wow!
Thank you Jollibee for inviting our family to JolliTown The Big Fun Event!
For more events and activities like this and updates, be sure to check out the Jollibee Kids Club at http://www.jollibeekidsclub.com. You can register your child for membership by filling up a form in participating stores and paying a fee of P100.
Like this post? Subscribe to this blog by clicking HERE.
Let's stay connected: