Last Saturday, Jollibee introduced its latest kiddie party theme — Hello Kitty! My little girl and I are both Hello Kitty fans. We're really pleased that now you can have a Jollibee Hello Kitty Party!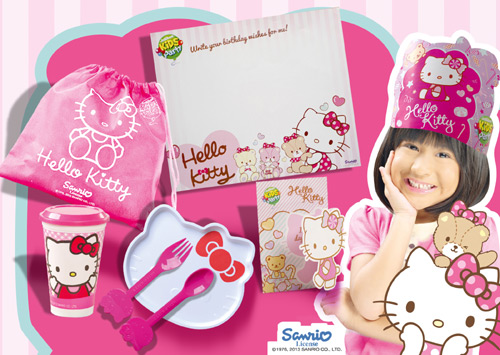 These are the party trimmings available for a Jollibee Hello Kitty Party! So cute… so pink… so girly!
My daughter and I went to the Jollibee Hello Kitty Party launch. We were ushered to a table full of art materials so kids could get creative while waiting for the main event.
Daughter's work of art, lol!
The function room was decked out in Hello Kitty-themed decor.
Celebrity mom Lexi Schulze hosted the launch.
There were lots of games and prizes!
All the kids had Jolly Spaghetti and Chicken Joy!
Jolly Hot Dog too!
I opted for Mushroom Pasta since I haven't tried it yet, although here in this photo it looks just like Jolly Spaghetti, haha! I got a Regular Yum with Cheese too but my daughter wolfed it down too fast.
We all had a Jollibee Sundae Milo Mix-In too. It was really yummy! 😀
The Jollibee mascots made their appearance and entertained everyone with a dance number.
She's new to me — she's Twirlie! I can only guess she has something to do with sundaes. 🙂
My daughter and I had a blast on our Jollibee Hello Kitty Party Saturdate!
At Jollibee, you can be flexible and Create-Your-Own-Package when it comes to kiddie parties. Aside from Hello Kitty you can also choose between Batman, Jollitown, and My Best Friend Jollibee as your theme. It's completely hassle-free because you can do all the planning and preparations online at http://www.jollibeeparty.com.ph/.
Thank you Jollibee for having us!
Like this post? Subscribe to this blog by clicking HERE.
Let's stay connected: