Ho ho ho. This has got to be my most showbiz-y post ever dear readers. It's all because I attended the Greenwich Pizza Thins launch all by my lonesome self, lol.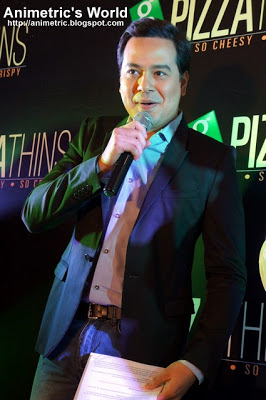 If you've been following me on Instagram and Twitter, by now you probably know that my seatmate last night at the launch was none other than Greenwich's main man John Lloyd Cruz. Sige na, sabi nga nila ang haba na ng hair ko, lol. Honestly speaking I did not even know he was going to be there. I've attended so many Greenwich events in the past (at least five na!) and well, he had only been to one… and come picture taking time eh… OMG.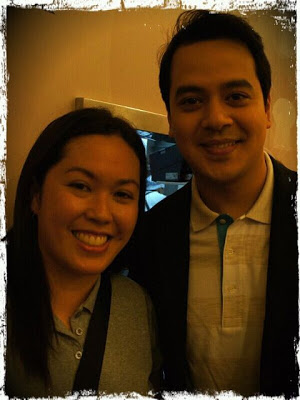 Ewww naman. Hello. This was back in 2012. Di na nga naka-adjust yun cam ko, ang taba ko pa. Para akong alalay ni JLC. Aaarrrrggghhh… for my foreign readers, this was taken back in 2012. Let's just say that in a photo opp with one of the country's biggest stars, I was fat and I looked like crap.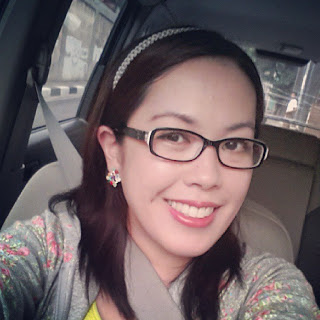 So anyway, I went shopping at Uniqlo last Sunday and I was excited to wear the outfit I bought, something I practically peeled off the mannequin, lol. I didn't have time to apply make-up so I just slathered on some CC cream and then filled in my brows, applied eyeliner and mascara, then capped it off with lipstick. I put on a headband and wore my glasses because I was driving.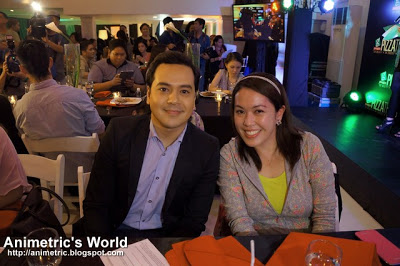 Since I was alone, I was offered a seat in front next to the stage so I could at least take nice photos of what would be happening. After some spiels by the hosts, John Lloyd Cruz went up and talked about Greenwich Pizza Thins, Greenwich's latest offering. Then he took a seat… the empty seat next to me because as I said, solo flight ako eh. I was not about to let this do over photo opp pass me by so I had a photo taken with JLC, take two! How coincidental na college look ang peg ko. LOLOLOL.

Don't judge me I couldn't type properly due to disbelief, lol.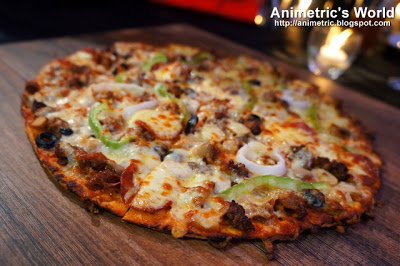 Then the Greenwich Pizza Thins were brought out.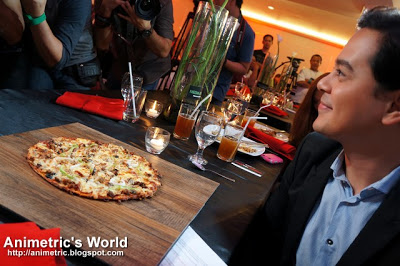 Of course since I was seated beside JLC the paparazzi all went to our table. Ako na ang pinakamalapit na photo, lol.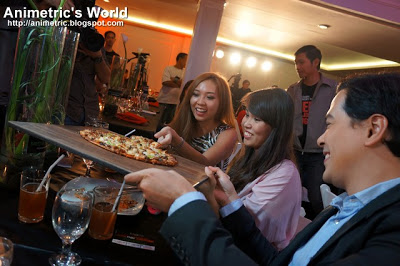 He served the girls from Mega Publications at the far end of the table. Of course they were all smiles. Hahaha.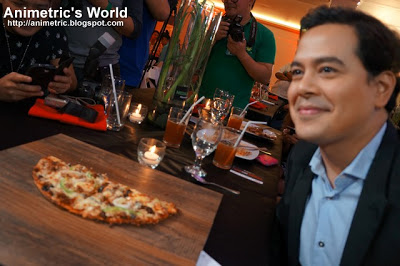 Sorry naman sobrang lapit di ako maka-focus.
Here's how the conversation went:
JLC: "Kain na!"
Me: "Parang di ko kaya kumain na andyan silang lahat (referring to the press people with huge cams in front of us)…"
But then I finally took a slice of Greenwich Pizza Thins after a while because it smelled so crazy good. There was a photo contest during the launch which involved you eating the pizza. I struggled with my slice while trying to take a selfie with my cellphone.
JLC: "Gusto mo ako na kumuha ng picture mo?"
For the life of me I cannot remember what I muttered, probably "Okay" and he did not really wait for my answer but reached for my cellphone and started to take photos. Kalurkey. And yes, the press people were snapping away while he was taking my photo with my cellphone.
So anyway, he got called to the stage again. I won in the raffle. I got called to the stage too. Ayun na. Since solo flight nga, wala na ako napagbilinan kumuha ng raffle photo lol.
Anyway, the Greenwich Pizza Thins are so incredibly unbelievably good!!! I couldn't get enough. The crust is thin and cheesy and wow, it goes so well together with the toppings, creating a delicious pizza experience. The most yummiest one yet from Greenwich. It's available in Signature Special, Hawaiian, Pepperoni, and All Meat starting at P198 for a double size pizza. My goodness, the Signature Special Greenwich Pizza Thins is my new favorite pizza. No kidding.
Try it! It's already available at all Greenwich stores. Just dial 5-5555 for delivery.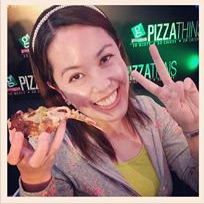 This was the photo taken by John Lloyd. LOL. I didn't win because someone did a headstand while holding the pizza. Di yun kaya ng powers ko. XD

Like this post? Subscribe to this blog by clicking HERE.
Let's stay connected: