Most of you probably know about my PAL promo fare tragedy by now. That's what happens when you get too excited over a seat sale. Anyhow, instead of paying P80k to rebook PAL tickets, I decided to just look for another alternative. I called up our family's trusted travel agent and asked if she knew of any airline promos going to Tokyo. She checked but there was none. Then she told me to try checking Jetstar. She said a lot of her clients are happy with Jetstar Airways. Their planes are spacious and new compared to other budget airlines.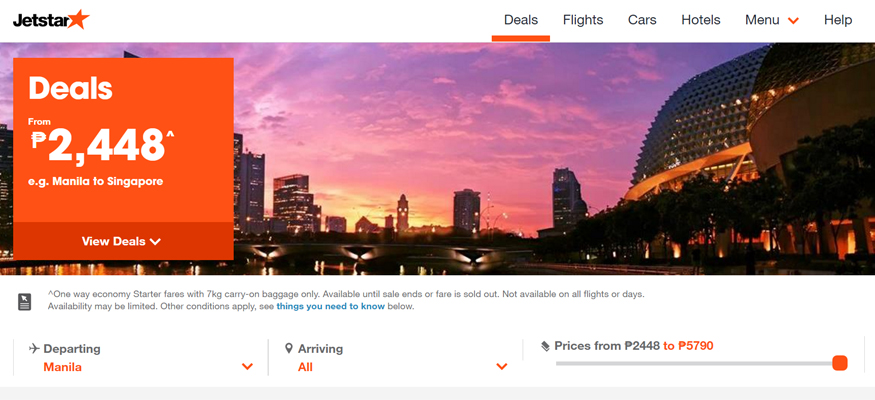 So I checked. Jetstar Japan operates all the Japanese legs of Jetstar Airways. They have flights to practically EVERYWHERE in Japan. Aside from the usual Tokyo and Osaka, Jetstar has routes to Sapporo, Fukuoka, Nagoya, Okinawa, etc. I couldn't believe my eyes when I saw that the dates we wanted for Mnl-Tokyo-Mnl had flights at P5+k per way. You have to add a little extra for taxes and baggage allowance. All in all we came out to P60k total for 4 roundtrip tickets to Japan. The PAL super promo fare I originally availed of summed up to P70+k. Take note that you will need to pay your travel tax at the airport.
I got an 12:50AM flight that was set to arrive in Tokyo at 6am. We stayed at the MIASCOR Lounge of NAIA Terminal 1 while waiting for our flight. The lounge had food and drinks so we were quite full when we boarded. I told the kids to sleep in the plane so they'd have energy for a full day when we landed. I noticed that the entire crew was Japanese. To my surprise, about 50% of the passengers were Japanese as well.
Like all budget airlines, food and drinks are for sale and there's no entertainment. If you want a kiddie activity pack, you'd have to buy that too. So really, this 12:50am flight was perfect because all we had to do was sleep until we landed. I did bring my iPad though just in case I couldn't sleep.
This menu has everything from sandwiches and instant noodles to chocolates and a packed lunch. I told my kids we'd have breakfast at Narita Airport instead of buying airplane food.
To give you an idea about the pricing, it's 500 yen (P220+) for a small sandwich, 250 yen (P110+) for sodas and juices, and 1,000 yen (P440+) for a packed curry lunch. Nothing looked particularly appetizing though.
Here with my sleepy travel companion lol. Kinda hard to take a clear selfie in a moving plane.
We landed in Narita Airport Terminal 3 at exactly 6:05am. It was a smooth flight and landing. We had breakfast at their nice and cozy food court. There were several nice stalls to buy food from. We rode a Tokyo Shuttle Bus to Tokyo Station. It's the most economical means of transfer from Narita Airport to Tokyo Station at 1,000 yen per person (P440+). For Tokyo Station, we took a train to Hatchobori Station which is the closest station to our hotel. The train ride cost only 170 yen (P75+) per person. We left Narita Airport Terminal 3 at 8am and was at our hotel lobby by 9:30am. Since most attractions open at 10am or 11am, it was perfect. We left our luggage at the hotel since check-in was at 3pm and headed for the Ueno area for some sightseeing.
Our flight back to Manila was delayed by about 30 minutes but it was generally okay. We left Japan at 8pm and landed in Manila close to midnight.
What I like about Jetstar Japan (I can't speak for the other Jetstars because I haven't tried them yet):
Our flights were generally prompt, save for a 30-minute delay on our return trip.
The flight attendants are very nice, courteous, and helpful.
The plane is pretty spacious. There's actually more leg room in the Jetstar plane compared to a Cebu Pacific plane.
Even if there's no sale or promo, you can find a reasonably priced flight.
You land and take off at Narita Airport Terminal 3, which is smaller and easier to navigate versus Terminals 1 and 2. Even if Terminal 3 services only 5 airlines, it's complete. They have a nice food court, souvenir shops, drugstores, convenience stores, and duty free shops.
Our baggage came out quickly, completely, and perfectly intact.
You can do web check-in for ALL your flights 24 hours prior to your first flight.
Downside? Nothing really, we were pretty happy with our entire Jetstar Japan experience and would gladly fly with them again. Check them out at http://www.jetstar.com.
Like this post? Subscribe to this blog by clicking HERE.
Let's stay connected: