OMG!!! I just got the best Christmas gift ever from my SPINNR / SMART Live More family — 2 VIP tickets to Jessie J live in Manila! Waaaah SMART bought the entire show so it's exclusive for SMART subscribers. They gave away a total of 3,000 tickets last Nov. 30 at SM Megamall.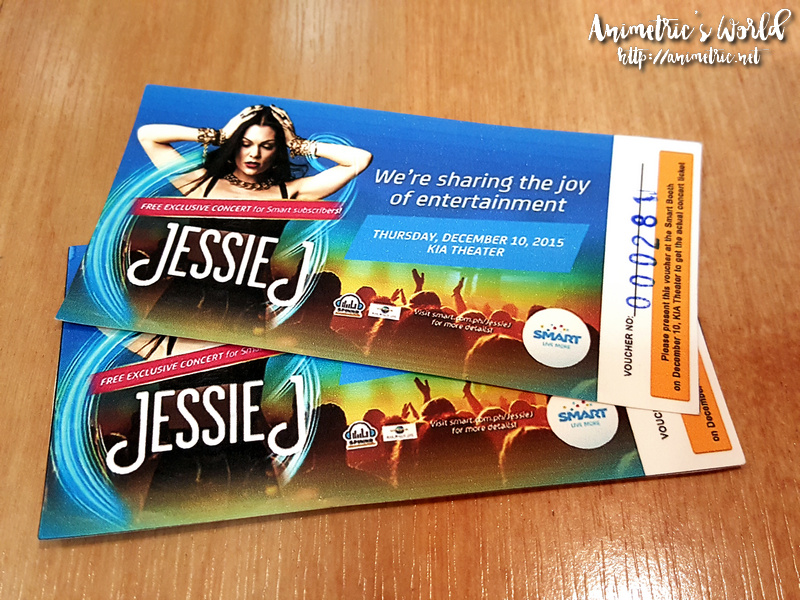 I told my friends jokingly "Quota na ako sa concert this year!". This 2015 I watched Katy Perry, Carly Rae Jepsen, and last night I got to watch Jessie J. Prior to Katy Perry, the last concert I watched was Wilson Phillips back in 2012.
We stayed at the VIP Lounge until Jessie J was about to come out. We skipped the front act. She kicked off the concert by singing "Domino". This actually isn't the first time I've seen Jessie J perform "Domino" live, I watched her sing it with Angie Miller at the American Idol 2013 finale in Hollywood.

I think they should ban freaking selfie sticks at concerts. I can cope with the outstretched arms and phones but damn selfie sticks just ruin the scene. Talk about inconsiderate. Jessie J was so close and everyone was wasting the chance to see her face to face, instead recording the entire thing while looking through their tiny screens. What I did was snap a few photos when she was singing songs I wasn't familiar with and I only recorded one song: "Flashlight", because my daughter likes it. Some jerk raised a big banner and blocked the view of everyone behind him (me included), thank goodness the Kia Theater security people confiscated it right away. She was so close I could see her face so clearly…
I liked Jessie J before this concert but now, wow, I'm a super fan. She's so down-to-earth and real. She really connects with the audience. She doesn't have any of that superstar diva vibe… just raw and uncut realness. I don't think I've ever felt so involved while watching a concert. And her voice. Wow. She has the most amazing voice. She can totally sing Whitney Houston songs (she actually sang "I Have Nothing" and killed it). She told us stories from her teen years (she was already writing songs then) and about how Whitney Houston is the reason why she is who she is now.
The energy level was through the roof!
Jessie J sang all the hits — "Domino", "Flashlight", "Bang Bang", "Price Tag", "Masterpiece"… plus I discovered some great new songs from her latest album Sweet Talker.
Jessie J just gives everybody warm fuzzy feelings. You feel really good while watching her perform. It takes a special kind of person to be able to do that.
There was one song where she told everyone to set aside their gadgets and just dance. She's sooo interactive, I love her! She gamely wore the Manila shirt some fans had made for her.
Jackie (Go Jackie Go) and I were like… hey we don't know this song… yeah… oh well… AAAAAAHHHHHHH! We probably screamed through most of the concert hahaha!
Winner! Jessie J Live in Manila 2015 by SMART Live More is a winner!
There weren't any fancy effects and cinematics, just good old-fashioned singing and dancing (and of course an awesome band). Die selfie stick die.
Thank you so much SMART Live More and SPINNR for the incredible Jessie J Live in Manila experience!
Like this post? Subscribe to this blog by clicking HERE.
Let's stay connected: